Congratulations, Sally Williams!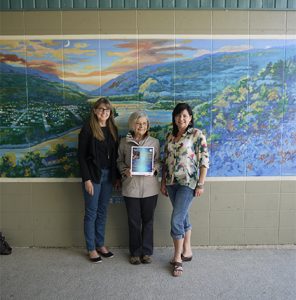 Sally Williams (Centre) is congratulated by Kootenay Gallery Executive Director, Val Field (Left) and Kootenay Gallery Board Chair, Audrey Maxwell-Polovnikoff (Right)
On April 29, Sally Williams's name was drawn live on The Goat FM by Georg  Oberprieler CEO of the Heritage Credit Union and Val Field, Executive Director of the Kootenay Gallery.  Sally won a trip for two to New York's Broadway District. See below to find out what her package includes.  In addition, Kate Enewold's name was drawn for a second prize of $100. We're happy for both of you.
Thanks to all those who sold and purchased lottery tickets, the Gallery raised close to $6,000.  These funds will  support our daily operations and our up-coming relocation project.
What her package includes
The prize includes a three night stay at one of the following participating properties or similar. Subject to availability: New York Hilton Midtown, Sheraton New York Times Square, The Roosevelt Hotel, New York City
For a night out on the town you will receive two orchestra or front mezzanine seats for your choice of the following current Broadway shows: Wicked, Jersey Boys, The Lion King, The Phantom of the Opera, or many others.
Enjoy dinner for two at one of the following four upscale popular New York restaurants: Blue Fin, Blue Water Grill, Dos Caminos, Isabella's
Coach Class round trip service for two from any of the following Canadian cities – Calgary, Edmonton, Halifax, Montreal, Ottawa, Quebec City, Regina, Saskatoon, Toronto, Vancouver, and Winnipeg to New York, NY.


Thanks to you, our community. We appreciate your patronage and your generous support. Thanks also to our sponsors!
BC Gaming Event Licence # 81838

 
Know your limit – play within it. 19+