---
Hours: Tuesday – Saturday 10am – 5pm.
December 1 – 24: Seven days a week 10am – 5 pm
Open all year-round except between December 25 and January 1.
We accept cash, local cheques, all major credit cards and debit.
Gift cards are available for purchase.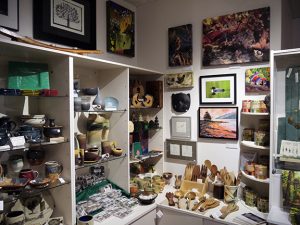 The Kootenay Gallery proudly offers exclusive gift items created by local artists and craftspeople. The Gift Shop has a broad range of gift choices suited for all budgets and is free to browse. We have a wide selection of paintings, photographs, jewelry, pottery, books , glass wares, wood work and more. It is well worth a visit for the Gift Shop alone.
SUPPORT OUR LOCAL ARTISTS AND CRAFTSPEOPLE
View a list of our Gift Shop Artists
Note to Artists and Craftspeople:
Items are chosen through a juried process. If you are a Kootenay artisan and would like the opportunity to display and sell your work in our gift shop, please call or email in advance to set up an appointment. We sell  work on consignment and offer a competitive commission rate and fair contract.