---
Exhibition Schedule 2018
---
March 2 – April 14, 2018
East Gallery
Alaska Variations
Paul Walde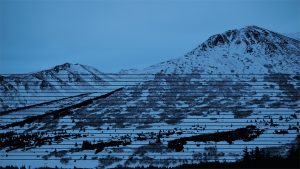 Alaska Variations was conceived as an "album" of performative sound and music compositions responding to the Alaskan landscape and elements within it. The scores combine scientific experimentation and observation with experimental sound and music practices and are a combination of instructional texts, standard notation, and graphic notation. The performances of these scores were captured as a series of audio/video recordings which when shown in combination with each other form a larger portrait of the landscape around Anchorage, Alaska.
---
West Gallery
Glaciogenic
Jill Pelto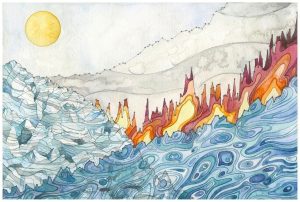 Scientific research and data fuel the content of my artwork. I create pieces to raise awareness about interesting and important environmental topics. The key topic in my portfolio is Climate Change data: melting glaciers, rising sea level, threatened species. I hope to cover both positive and negative issues which depict the reality of our current ecosystem.
---
April 19 – May 26, 2018
 
East and West Galleries
River Arts
Students of SD 20 and beyond, various artists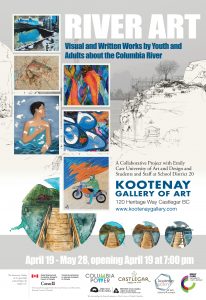 As the Columbia River Treaty comes up for renegotiation, we've asked local youth to reflect on the river, the dams and the history of both in relation to their lives. We have also invited professional artists who have created art work about the river to show along with our youth. Students from Twin Rivers Elementary, Stanley Humphries Secondary School, J. Lloyd Crowe Secondary and others will present their original art work. Please come and support our youth in their response to the challenge that has been given to them.
---
June 1 – June 8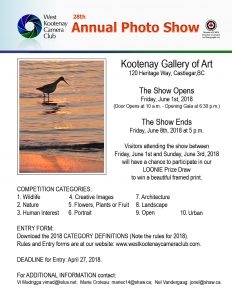 East and West Galleries
West Kootenay Camera Club Photo Salon
Photographic competition by members of the West Kootenay Camera Club
Join the Camera Club as they mount their annual photo show and competition. Local photographers enter their best work to receive feedback from professional adjudicators from the National Association of Photographic Arts. In its 21 year, this exhibition provides an opportunity for both professional and amateur photographers to present their recent photographic work in a professional gallery setting.
---
June 15 – July 28, 2018
East Gallery
Between the Trees
Carol Reynolds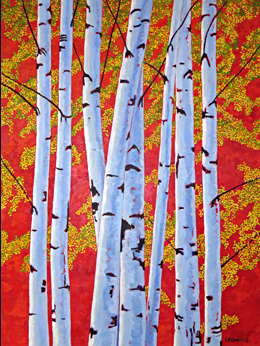 Nelson artist Carol Reynolds moved the hearts of her legions of West Kootenay fans this spring.  Reynolds revealed in an interview with Bill Metcalfe of the Nelson Star that she is living with dementia. Despite her diagnoses, Reynolds continues to live a full and joyful life and paint in her artist studio. This show will be a survey of Reynolds' art, including the work she has made recently.
---
West Gallery
DetermiNation
Sheldon Louis and Csetkwe Fortier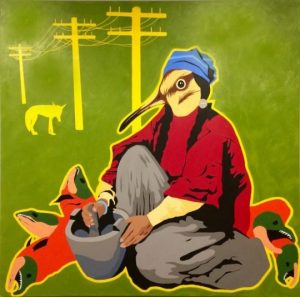 Genetic memories of origin guide two syilx artists to produce works about their inherent responsibilities to ensure the lifeblood of the salmon continues to flow.
With bright colours & bold images, they express the determination of the salmon & their people.
---
August 3 – September 15, 2018
East Gallery
Mapping Language
Natasha Smith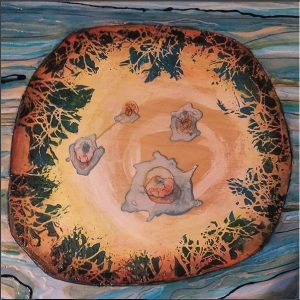 Mapping Language is an exploration in to the development of visual language, investigating the first scribbles as a key to the development of consistent symbols. In this body of work I muse on the question of how much of the development of visual language is instinctual and potentially universal in nature and what aspects are molded by the individual artist. Through identifying the recurring marks, images and symbols that constitute my personal visual language that have been created over my last 20 years of art-making, a personal iconography that maps experience and place is created.
---
West Gallery
GLOW
Sonia Haberstich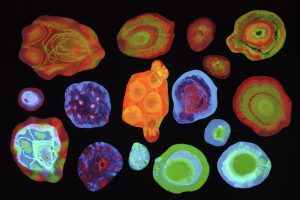 Glow wants to make visible what might otherwise not be. Glow evokes abyssal marine life, infra-red vision, X-rays and radiation therapies. It suggests another kind of vision, a stretching out of the visible spectrum. It speaks of the limits of vision, of perception and of knowledge. And it hints at realities that are not accessible if we choose not to see them.
---
September 21 – November 3
East Gallery
Pan-dulum
Deborah Thompson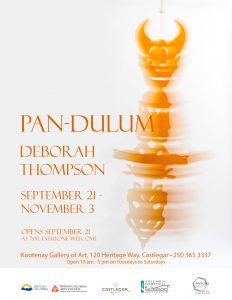 This show investigates the pandemic state of anxiety and its shadow of compassion that exists in our society. The project asks how do we meet the current state of global anxiety that is in and all around us? And hopes that in recognizing our own ambient anxieties we can then cultivate compassion for those most afflicted? The title came to me in a dream and relates to my experience of homeopathic healing practices. Can we find compassion to work with our collective madness?
---
West Gallery
Geologic Time
Carol Wallace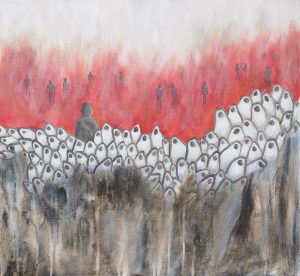 Imagery of fossil forms, some as old as 3 billion years, examines the vast concept of geologic time. Paintings include detail of delicate yet resilient early life forms, those that survived several extinctions. Our own insignificance is implied.
---
November 9 – December 24
 
East & West Galleries
Christmas at the Gallery
100+ artisans
This very popular exhibition and sale is a celebration of local and regional artists, craftspeople and collections. While providing artists with an opportunity to bring their work to the marketplace, this event attracts views and buyers from throughout the region. Christmas at the Gallery serves as an artists' showcase and audience-building event.
---