---
The Relocation Project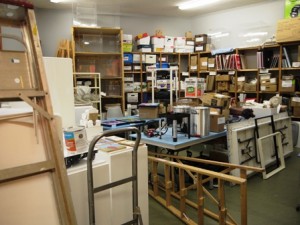 The Kootenay Gallery is bursting at the seams, as you can see from this photo of our storage room/ work space/ workshop room. We have initiated a project to explore the possibility of moving the gallery to a new location, within the city of Castlegar that is larger, more functional and more accessible to the public.
Recently, the Kootenay Gallery of Art engaged Paul Wiest, President of Cornerstone Management Consultant Group to assist the Relocation Sub-Committee to research and identify a needs assessment, create a feasibility study; complete with a range of the most feasible options to proceed with its plans to relocate the current Gallery. We are conducting this study to ensure that we do our due diligence. We want to proceed with accurate, well-researched information and avoid costly errors down the road.
Timeline of the Relocation Project
2013 – The Board conducts Strategic Planning and identifies that relocation is a strong option to promote the growth of the Gallery and a priority for their 3 year Strategic Plan.
2014 – A Relocation Sub-Committee is formed.
2014 – Two surveys are completed, one of Kootenay Gallery Members, one of Stakeholders involved in the Gallery (e.g. gift shop artists). 89% supported a move and the majority of respondents preferred a move to a downtown or central location.
2015 – A community Round Table is facilitated by Ann Damude.
Summary of Findings of Community Round Table
– From Report by Ann Damude
"Based on the feedback from the 19 members of the public in attendance at the Round Table and responses submitted by email, the Castlegar and area community is dreaming of an arts space that belongs to the community. It would be a warm, welcoming space that offers a wide variety of services to artists, aspiring artists, audiences and supporters of the arts. Although it would have a state-of- the-art visual arts gallery and a performing arts theatre, it would function more like a community arts centre, with workshop and studio spaces, meeting rooms, gardens and a café."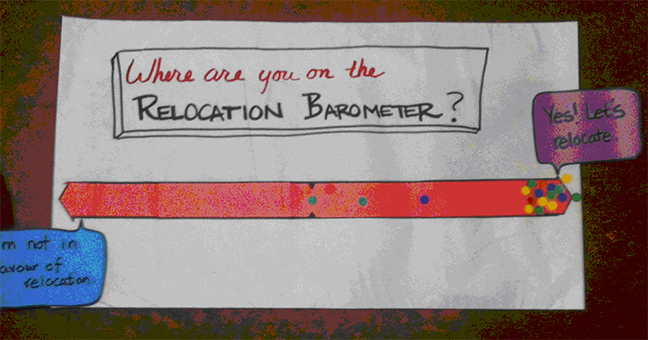 2015 – The Board approves the application of funding to hire a Consultant to conduct a Feasibility Study and Needs Assessment.
2016 – Funding for the Feasibility Study  is sought and received from four local granting bodies along with the Kootenay Gallery of Art's own contribution. A Request for Proposals is sent out to find a consultant to conduct a study and create a plan for the next phases of the project.
Current – A Feasibility Study is underway.