---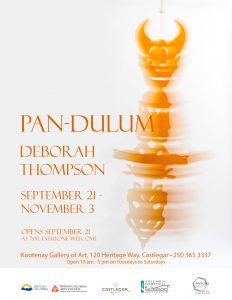 East Gallery
Deborah Thompson
September 21 – November 3
Artist reception at 7:00, September 21
My project, Pan-dulum: a call to unreason (formerly Like Cures Like) is a response to pandemic extremes of copious anxiety and ecstatic escape. These polar states are rooted in instinctual responses to the social and political climate of dis-ease and dramatic turbulence in which we live. These manifest in a variety of ways, acts of uncontrolled consumerism and avarice lifestyles on the one hand and potentially dangerous substance use and personal paths of rapture on the other hand. The title of the project, Pan-dulum: a call to unreason, departs from the mythic God Pan whose presence and actions brought out a state of Pan-ic and is a new source of wisdom born from unreason.
West Gallery
In-Between-Time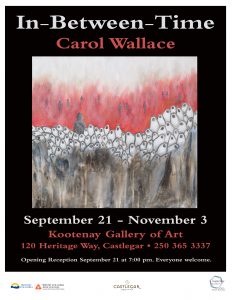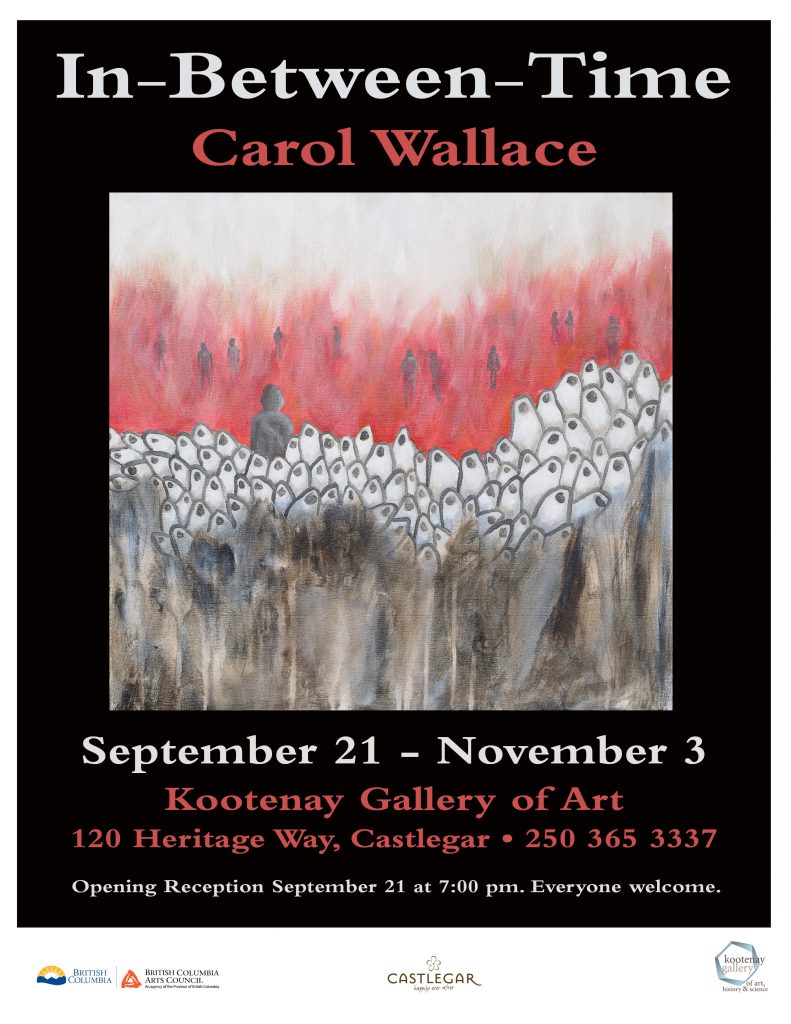 Carol Wallace
September 21 – November 3
Opening at 7:00, September 21
In-Between-Time references Earth's deep history. I am interested in early life forms, especially those that have survived extinction periods and their relationship to us currently living in an extinction period. Groups of people in the paintings are often juxtaposed with magnified fossil forms just below the surface, of which they are seemingly unaware.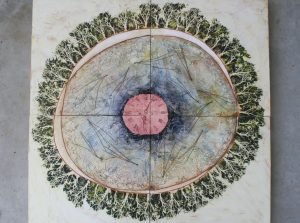 East Gallery
Natasha Smith
August 3 – September 15
Opens August 3 at 7:00 pm
Natasha Smith has been an important part of the art and culture scene in the Kootenays for more than 20 years. In her first solo show at the Kootenay Gallery, she says,
"Mapping Language is an exploration in to the development of my own visual language. In this body of work I muse on the question of how much of the development of visual language is instinctual and potentially universal in nature and what aspects are molded by the accumulation of experiences, memories and place. It is an investigation into ways to store this information and to document and reflect on discoveries by incorporating and referencing artworks created over my last 20 years of artmaking."
The exhibition continues until September 15.
---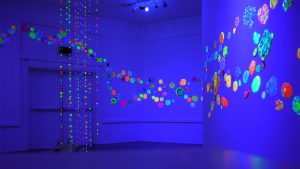 West Gallery
Sonia Haberstich
August 3 – September 15
Opens August 3 at 7:00 pm
Glow wants to make visible what might otherwise not be. Glow evokes abyssal marine life, infra-red vision, X-rays and radiation therapies. It suggests another kind of vision, a stretching out of the visible spectrum. It speaks of the limits of vision, of perception and of knowledge. And it hints at realities that are not accessible if we choose not to see them.
---
June 15 – July 28, 2018
East Gallery
Between the Trees
Carol Reynolds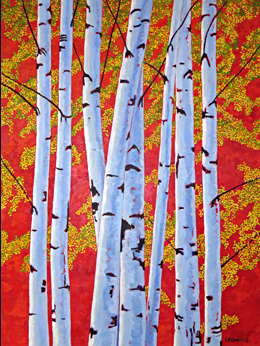 Carol Reynolds has adeptly captured the landscapes of both Nelson streets and Kootenay birch groves in her popular colour-rich canvasses.
The paintings on display include early pieces when she lived in Campbell River up to work completed this May in her Nelson studio.
---
DetermiNation
Sheldon Louis and Csetkwe Fortier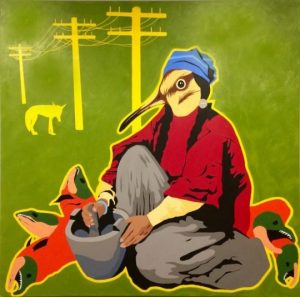 Genetic memories of origin guide two syilx artists to produce works about their inherent responsibilities to ensure the lifeblood of the salmon continues to flow.
With bright colours & bold images, they express the determination of the salmon & their people.
---
Annual Photo Show
June 1 – June 8
If the Photo Show is on, it must be Sunfest! The Annual Photo Show of the West Kootenay Camera Club is opening with a Gala on June 1 at 6:30. The show is open for one week only, from 10 am – 5 pm. The Gallery will be open on Sunday, June 3 but the Gift Shop will be closed for business. The Gallery will be closed Monday June 4.
The exhibition is a fabulous showcase of local professional and amateur photographic skills. Come and support our shutterbugs.
Find out more information about the show here.
---
April 19 – May 26
East and West Gallery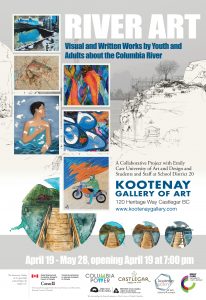 This year, Young Visions, the annual show of art by Secondary School students of SD 20 is taking a break for this year only while we present River Arts, a collaborative show with SD 20 students and staff, faculty of Emily Carr University of Art and Design and the Kootenay Gallery.
Find out more about this exciting collaboration here.
---
March 2 – April 14, 2018
East Gallery
Alaska Variations
Paul Walde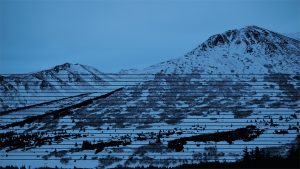 Alaska Variations was conceived as an "album" of performative sound and music compositions responding to the Alaskan landscape and elements within it. The scores combine scientific experimentation and observation with experimental sound and music practices and are a combination of instructional texts, standard notation, and graphic notation. The performances of these scores were captured as a series of audio/video recordings which when shown in combination with each other form a larger portrait of the landscape around Anchorage, Alaska.
---
West Gallery
Glaciogenic
Jill Pelto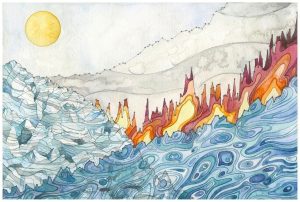 Scientific research and data fuel the content of my artwork. I create pieces to raise awareness about interesting and important environmental topics. The key topic in my portfolio is Climate Change data: melting glaciers, rising sea level, threatened species. I hope to cover both positive and negative issues which depict the reality of our current ecosystem.
---
See information about our Exhibition Schedule here.