---
See information about our current  Exhibition Schedule here.
---
East Gallery
Consumed by Clouds
Amanda McCavour
September 6 – November 2
The site specific work created at the Kootenay Gallery of Art explores thread's subtle quality versus it's accumulative presence.  This installation consists of multiple low hanging "clouds" or three dimensional scribbles that will be made entirely out of thread.  Each cloud will consist of hundreds of sewn elements inspired by "spirographs" that will hang from the ceiling with individual threads. This dense collection of sewn lines is made of saturated thread colours like neon green, yellow, orange and pink. These bright hues colour the space, creating a vivid atmosphere filled with saturated lines.  Viewers will move around the embroidered environment through paths and will be invited to lay underneath the installation. The pieces will move slightly with the movement of air, creating a surreal synthetic environment enveloping the viewer in line and colour.
West Gallery
I Love You
George Koochin
September 6 – November 2
Come in, relax and enjoy a moment of solitude as you ponder this "Kootenay love poem" – George Koochin's monumental visual meditation on "why there is life".
Exhibition June 20 – August 24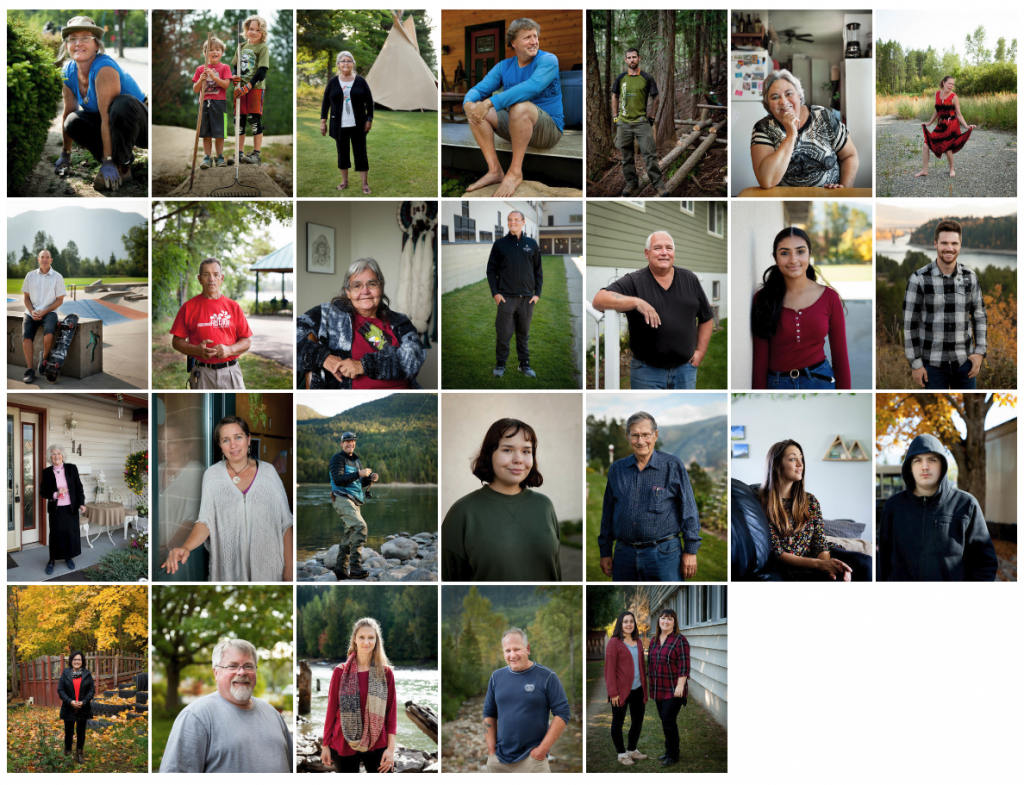 The Kootenay Gallery presents a new art project by Claire Dibble
The Hidden Hero Project is a community-driven art project undertaken by artist Claire Dibble as a commission from the Kootenay Gallery of Art. Castlegar and area residents nominated friends, family, neighbours and other deserving citizens for acts of kindness and generousity. The project received over 40 nomination. Twenty-six people were randomly selected to be photographed Dibble for this exhibition.
The resulting portraits will be shown in an exhibition at Kootenay Gallery which opened June 20 at 7:00 pm. Participants were introduced and received a certificate to mark the nomination. The Acting Mayor Dan Rye and Elder Debbie Bird were on hand to present the certificates. 
Come celebrate the people who live and give in our community.
For more details, visit hiddenheroproject.ca or contact the Kootenay Gallery at 250 365 3337/ kootenaygallery@telus.net.
We acknowledge the financial support of the Province of British Columbia.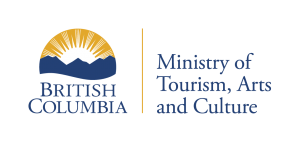 ---
Watershed Moments
From Source to Sea
June 20 – August 24

2000 km. 112 days. 14 dams. 1 kayak.
Over the winter artist Claire Dibble constructed a skin-on-frame kayak designed by Cape Falcon Kayak with the aide of her father Keith Dibble. On July 1, Dibble launched her kayak at the source of the Columbia River near Canal Flats.  She paddled the length of the river through the East and West Kootenays, across the international border until she arrived at the sea near Astoria, Oregon. 
Each week of the journey, Dibble took images of her quest and sent them to two galleries located along the river: the Columbia Art Gallery in Hood River, Oregon and the Kootenay Gallery of Art in Castlegar. The Kootenay exhibition included photos of her journey as well as documentation of her kayak construction and other ephemera.
For more information, click here
---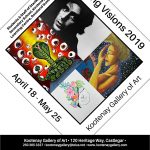 Young Visions
Secondary students and staff of Stanley Humphries SS, Kootenay Columbia Learning Centre and Rossland Summit School
April 18 – May 25
Opened April 18 at 7:00 pm. Catered by Ms Reddick's Class
---

Hildur M H Jónasson
March 1 – April 13
Opened March 1 at 7:00 pm
Hildur Jonasson sailed on the Tall Ship Antigua in the International Territory of Svalbard, near Norway, in 2017. Jonasson observed and embodied her experience in this place, previously unknown to her but in ways similar to her native Iceland. She has adeptly captured elements of that voyage and brings us along through a variety of forms and media – fabric, glass, and ink, among others.
Find out more here.
---

Helena Wadsley
March 1 – April 13
Opened March 1 at 7:00 pm
"I became curious about the trees that line the streets of my Vancouver neighbourhood. My interest was piqued when I discovered that these sturdy, middle-aged trees were actually Norwegian maples. Despite Canada's identity being strongly linked with the maple tree, these trees, which are a very popular planted tree across Canada, are not actually from here, though now firmly rooted. Canada is a constructed nation, built on colonialism and migration. I had been pondering ways to convey my
feeling of not having ancestral roots in this country, nor feeling connected to the birth country of my parents. Trees became the pivotal subject for me to explore the contrast between being truly of a place and perpetually feeling like a transplant."
Click here to find out more about this exhibition.
---