---
March 5 – April 17. 2021  
East Gallery…
 SubTerrane: Exploring Psychic Landscapes                                   
Paintings by Angèle Karosi
SubTerrane is a visual exploration of consciousness and intuitive creation. This series is represented as psychic landscapes, similar to geological mapping, with varying layers and buttresses, membranes and barriers, caverns and canyons.
West Gallery…
   Consumed  
Installation by Maureen Gruben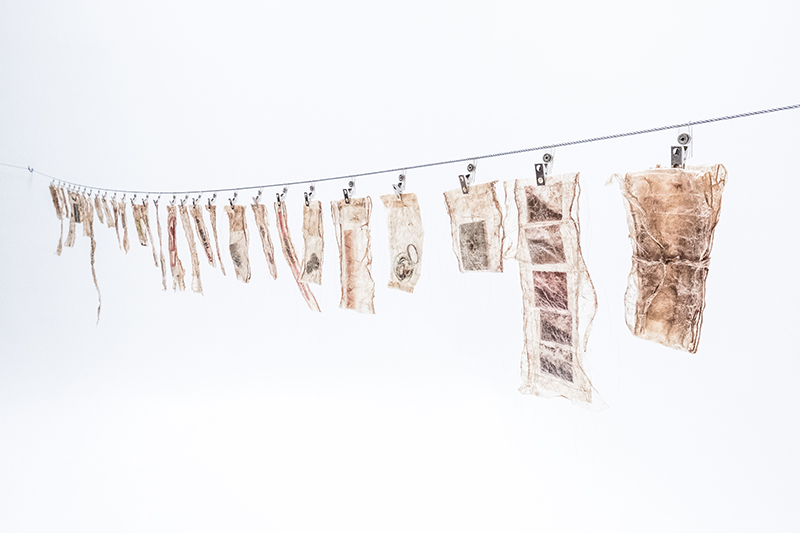 Focusing in on issues of accumulation and waste, Consumed (2017) addresses the immense volume of "things" we manage to gather around us in life, questioning the inscribed social values they bring with them and their cumulative impact on us. Gruben has stitched a wide array of items into translucent, papery segments of beluga whale intestine, which she dried herself according to a traditional process that has now fallen into disuse.
---
April 22 – May 29. 2021  
East and West Galleries…
  Young Visions 2021
Visual Art by Students and Staff from Stanley Humphries Secondary School, Rossland Summit School and Kootenay Columbia Learning Centres (Trail and Castlegar)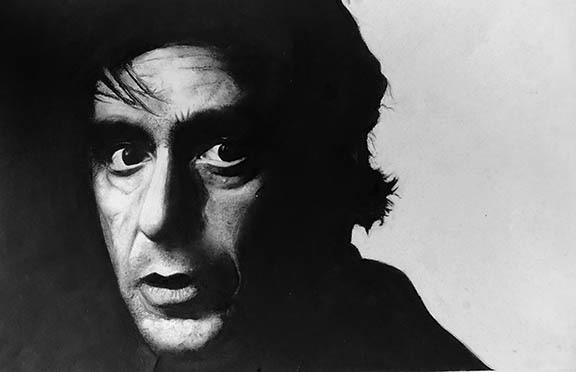 Young Visions is an important part of the Kootenay Gallery's community outreach program. In celebration of a year-long endeavour, the students and teachers from School District 20 are provided with the opportunity to exhibit their visual interpretations of life and community in the Kootenays. In mounting this exhibition, the gallery staff introduces the participants to the professionalism that is involved in an artist's career, and provides a site where the many talents of students and teachers alike can be presented to the community at large.
---
June 4 – June 11. 2021  
East and West Galleries…
West Kootenay Camera Club Photo Salon
Photographs by Members of the West Kootenay Camera Club
Join the Camera Club as they mount their annual photo show and competition. Local photographers enter their best work to receive feedback from professional adjudicators from the National Association of Photographic Arts. This exhibition provides an opportunity for both professional and amateur photographers to present their recent photographic work in a professional gallery setting.
---
June 18 – August 21. 2021 
Kootenay Gallery & Oxygen Art Centre present…
Overburden:
Geology, Extraction, & Metamorphosis in a Chaotic Age
Group exhibition featuring Gabriella Escobar Ari, Asinnajaq, Randy Lee Cutler, Tsēmā Igharas, Jim Holyoak, Keith Langergraber, Sarah Nance, Tara Nicholson, and Carol Wallace
This is exhibition is organized in co-curated by Genevieve Robertson and Maggie Shirley. It is presented in collaboration with Oxygen Art Centre.  The Oxygen portion of the exhibition runs June 1 – July 10, 2021 at the Oxygen Art Centre in Nelson. Details subject to change.
Overburden is the topsoil and vegetation that is removed before mining takes place. It also references our earth's current condition and the psychological burden that many people experience in the face of climate and other ecological changes. Overburden brings together a group of artists whose shared concerns address geology and its relationship to shifting climate patterns and resource extraction, in both a regional and global context. Artists respond to mining histories in the Kootenay area, arctic ice melt that is uncovering paleontological data, mining reclamation practices and glacial seismic events. While some artists bear witness to harmful extraction practices and an ever more unstable world, others seek to find caring, embodied and imaginative ways to come unto relationship with the geologic material under our feet and interwoven into our everyday. Through these artistic inquiries, the artists included in Overburden both disrupt and mimic methods of scientific research, and explore embodied, performative and material responses. What are the ways in which the earth is pushing back, disintegrating and metamorphosing in response to our actions? What role might artists play in articulating our anthropocentric paradigm and how can we begin to shift our thinking to one in which interdependence and care are central?
---
September 3 – October 30, 2021
East Gallery…
Morph    
Mixed Media by Twyla Exner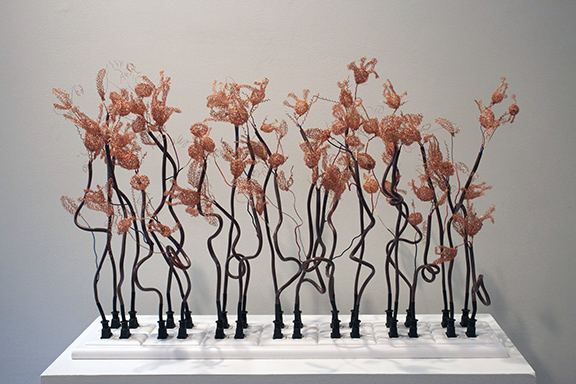 Morph brings together existing works and new works to inspire a creative dialogue around technology, waste, material, form, and process. Works are woven or crocheted using post-consumer telephone wire, copper wire, electrical and electronic components.
I am inspired by the curiosities of nature, compelled by the reciprocal systems of electronic refuse and captivated by the idea of technologies gone awry. I am interested in exploring the emotional and material impact of technology on individual consciousness and experience and the various ways in which it infiltrates or permeates and (re)configures tangible space.
West Gallery….
Leftovers
Digital Composite Photos by Ruth Parish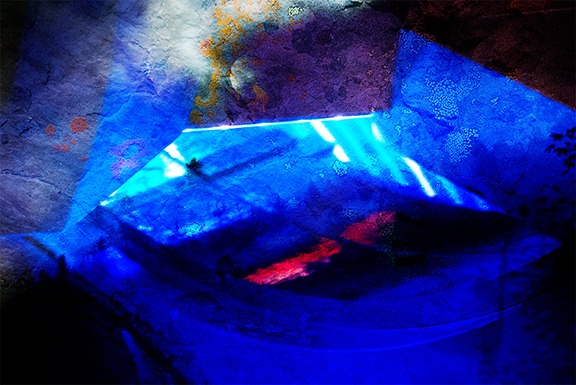 Leftovers is a series of thought provoking digital composite photographs depicting an imagined future archeology. When archeologists sift through the dust of the twenty-first century, what will they uncover? There are more people on earth than ever, making and discarding things every day. What clues, ruins and treasures will we leave? How will our leftovers describe us?
Curious adults and children, attracted by the intense colour and enigmatic layered images, puzzle out stories of their own. The goal of the series is to inspire viewers to imagine their own impact on the fossil record and to see time in a larger way.
---
November 12 – December 24. 2021
East and West Galleries…
Christmas at the Gallery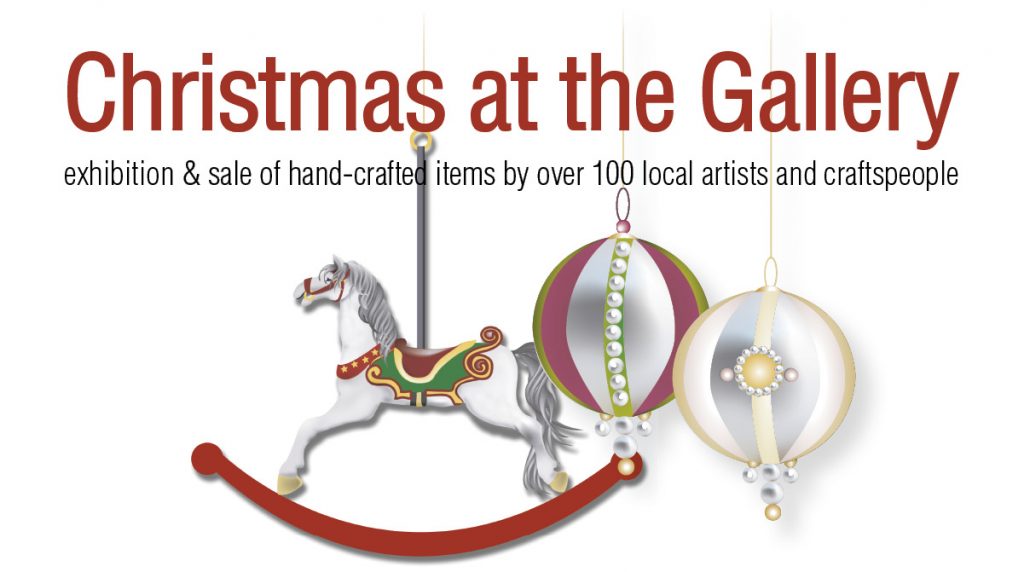 This popular exhibition and sale is a celebration of local and regional artists, craftspeople and collections. The Gallery offers a wide selection of hand-crafted gift items for the holiday season.