---
Current Exhibitions
---
Exhibition June 20 – August 24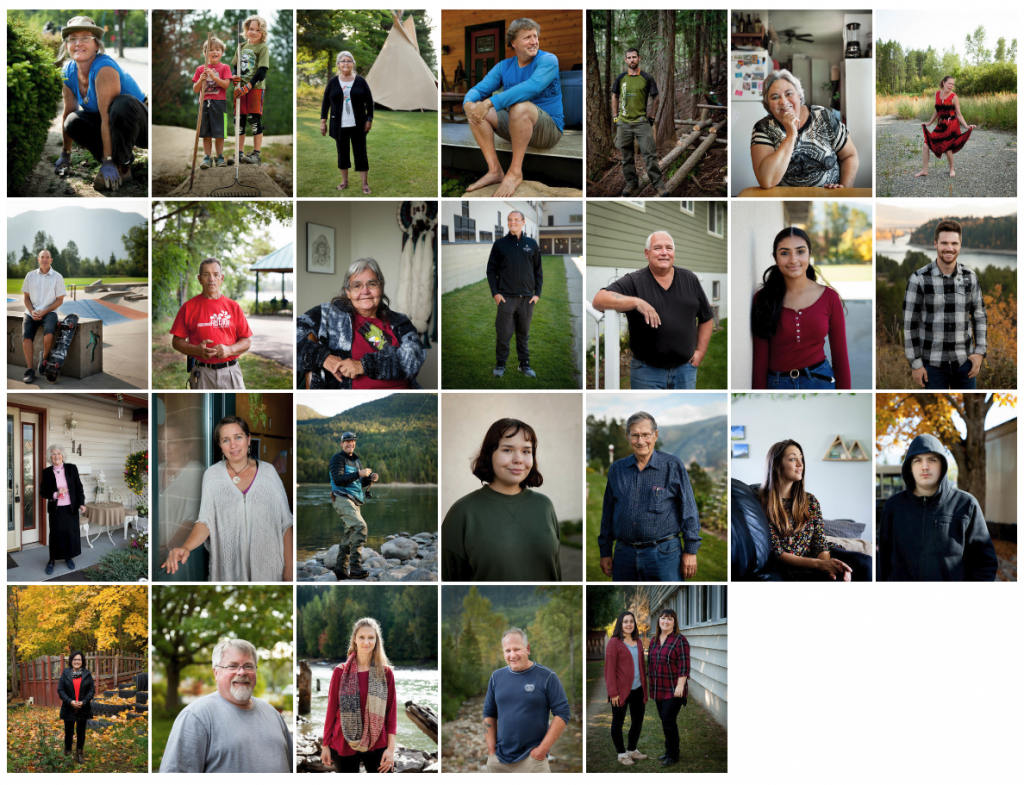 The Kootenay Gallery presents a new art project by Claire Dibble
The Hidden Hero Project is a community-driven art project undertaken by artist Claire Dibble as a commission from the Kootenay Gallery of Art. Castlegar and area residents nominated friends, family, neighbours and other deserving citizens for acts of kindness and generousity. The project received over 40 nomination. Twenty-six people were randomly selected to be photographed Dibble for this exhibition.
The resulting portraits will be shown in an exhibition at Kootenay Gallery which opened June 20 at 7:00 pm. Participants were introduced and received a certificate to mark the nomination. The Acting Mayor Dan Rye and Elder Debbie Bird were on hand to present the certificates. 
Come celebrate the people who live and give in our community.
For more details, visit hiddenheroproject.ca or contact the Kootenay Gallery at 250 365 3337/ kootenaygallery@telus.net.
We acknowledge the financial support of the Province of British Columbia.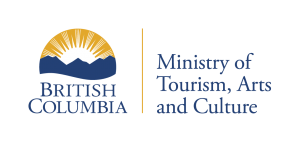 ---
Watershed Moments
From Source to Sea
June 20 – August 24

2000 km. 112 days. 14 dams. 1 kayak.
Over the winter artist Claire Dibble constructed a skin-on-frame kayak designed by Cape Falcon Kayak with the aide of her father Keith Dibble. On July 1, Dibble will launch her kayak at the source of the Columbia River near Canal Flats.  She intends to paddle the length of the river through the East and West Kootenays, across the international border until she arrives at the sea near Astoria, Oregon. 
Each week of the journey, Dibble will take images of her quest and send them to two galleries located along the river: the Columbia Art Gallery in Hood River, Oregon and the Kootenay Gallery of Art in Castlegar. The Kootenay exhibition will include photos of her journey as well as documentation of her kayak construction and other ephemera.
As Dibble approaches Castlegar on her voyage, estimated to be August 6, local kayakers, canoers and paddle boarders are encouraged to join her and paddle into Millennium Park.
For more information and to follow her travels, click here
---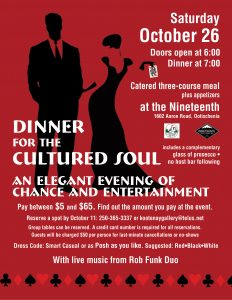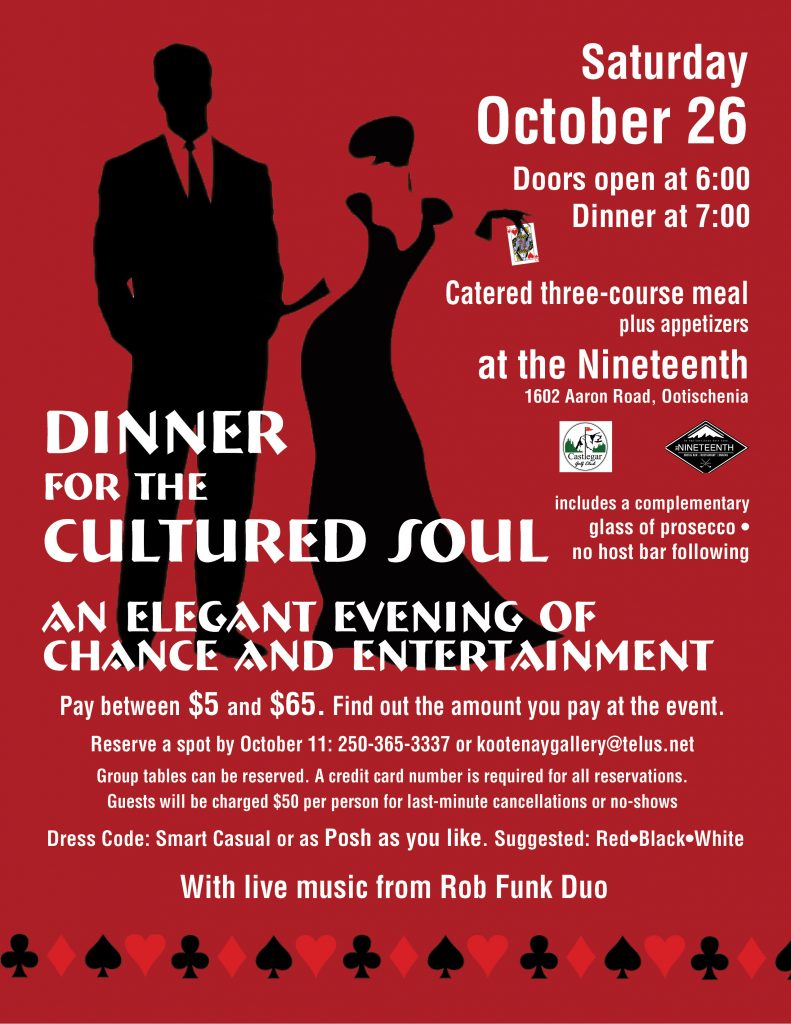 Dinner for the Cultured Soul
An Elegant Evening of Chance and Entertainment
Fundraiser for the Kootenay Gallery of Art
Saturday, October 26
at the Nineteenth
Doors open at 6:00 pm, dinner at 7:00 pm
For more information, check here.
Call the Gallery at 250 365 3337  or email us here with  credit card information to reserve your spot. Guests will be charged $50 per person for last-minute cancellations or no-shows.
Are you feeling lucky? Take a chance at the Dinner for the Cultured Soul.
---
Up-Coming Exhibitions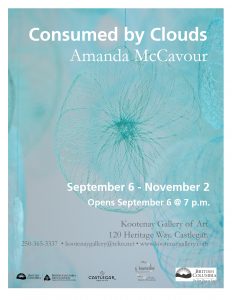 East Gallery
Consumed by Clouds
Amanda McCavour
September 6 – November 2
The site specific work created at the Kootenay Gallery of Art explores thread's subtle quality versus it's accumulative presence.  This installation consists of multiple low hanging "clouds" or three dimensional scribbles that will be made entirely out of thread.  Each cloud will consist of hundreds of sewn elements inspired by "spirographs" that will hang from the ceiling with individual threads. This dense collection of sewn lines is made of saturated thread colours like neon green, yellow, orange and pink. These bright hues colour the space, creating a vivid atmosphere filled with saturated lines.  Viewers will move around the embroidered environment through paths and will be invited to lay underneath the installation. The pieces will move slightly with the movement of air, creating a surreal synthetic environment enveloping the viewer in line and colour.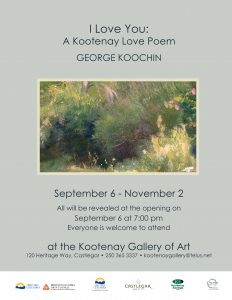 West Gallery
I Love You
George Koochin
September 6 – November 2
Come in, relax and enjoy a moment of solitude as you ponder this "Kootenay love poem" – George Koochin's monumental visual meditation on "why there is life".
---
What's New in the Gift Shop?
We offer a large selection of jewelry, in a range of prices, pottery by many of the ceramic artists in our region, a large selection of paintings and prints, glass work, wood work, knitted and woven goods and more!
There is no charge to browse the Gift Shop and members receive 10% off of purchases. Most major methods of payment are accepted, including Apple Pay.
---
The Gallery Lounge
We are so lucky to have a group of visionary and committed people helping us govern and lead the work of the Gallery. Here is a feature on our Board Member Judy Madelung so you can get to know her better and understand the work she is involved with at the Gallery. Read it here.
Past Interviews
---
Want your work in the Gallery or Giftshop?

We accept exhibition proposals by professional artists and curators who create critically engaging work. Read the Submission Procedures here.
If you are an artist or craftsperson who wants to sell your work in our Gift Shop, read about it on our Gift Shop page.
---
Renting the Kootenay Gallery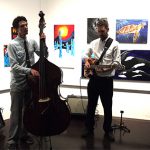 Did you know that the Kootenay Gallery is available for rent?
You can rent the large gallery, the small gallery or both. You can rent the workshop room for meetings or classes. The Gallery has been rented for meetings, seminars, business lunches, community events, a birthday party, a wedding shower and even a wedding.
For forms and information, click on the link below.
---
2019 Exhibition Schedule
It is a privilege for us at the Gallery to work with artists to bring exhibitions to the community each year. We hope the work we present is stimulating and inspiring. The schedule we are presenting this year offers art focused on the visitor experience with artists from away and from here.
The 2019  exhibition schedule  is available here.
We acknowledge the financial support of the Province of British Columbia.