---
COVID-19 Notice – Updated March 18, 2020
The Kootenay Gallery of Art will now be closed to the public until further notice.
Staff will be available to answer questions received by email or phone regarding future events and programming.
Please stay well.
Val Field, Executive Director
Current Exhibitions – Closed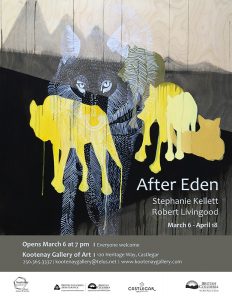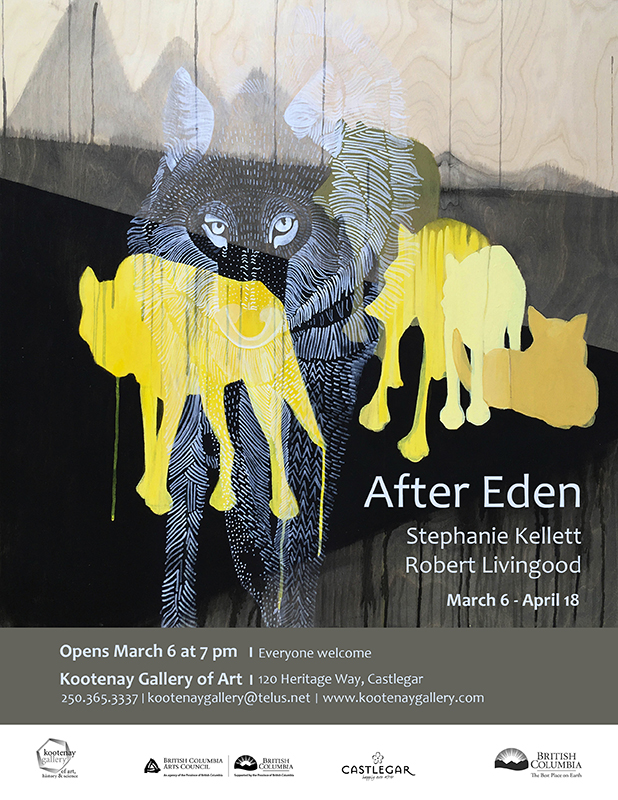 ---
Stephanie Kellett and Robert Livingood
March 6 – April 18
After Eden conjures spirits from a once whole and vital landscape, to remind us of what is leaving and what is left. Beautiful painted images of ghostly and silhouetted animals wander barren, burnt, and dripping landscapes. Spirit creatures move silently and purposefully towards us. Their acknowledgement of us helps us feel the potential of them disappearing entirely from the landscape. (more..)
---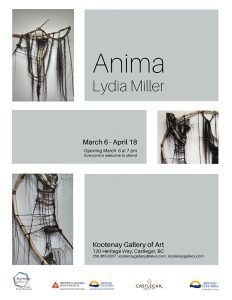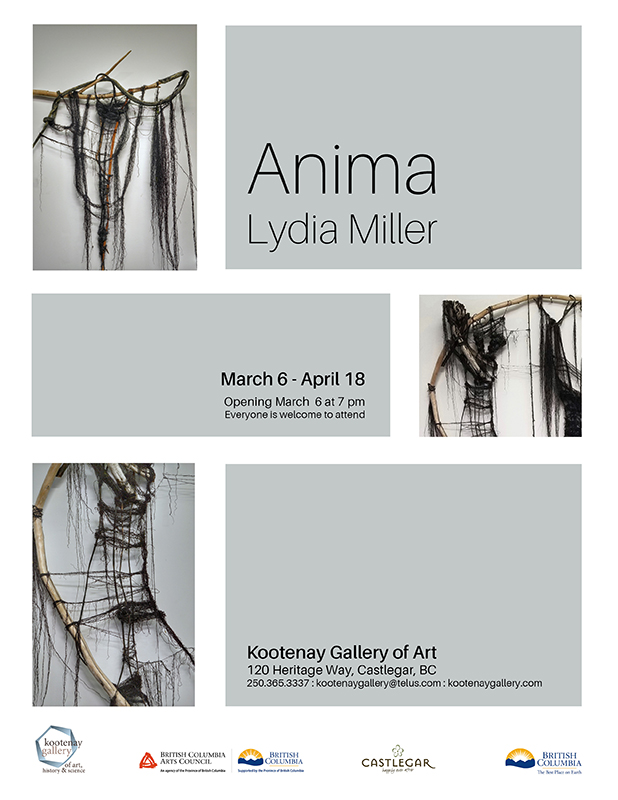 Lydia Miller
March 6 – April 18
In order to impel change, it is important to stay connected to our individual selves, to the environment that allows us to live, and to those who support us through our true vocations. My autonomy has been given existence through weaving: a process that functions as a metaphor for life and its survival. This series of sculpture acts as a transcript.  (more…)
---
Up-coming Events
Workshop presented in conjunction with the exhibition After Eden…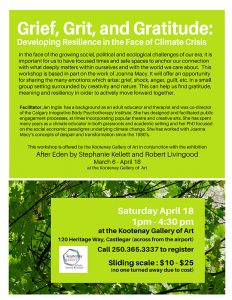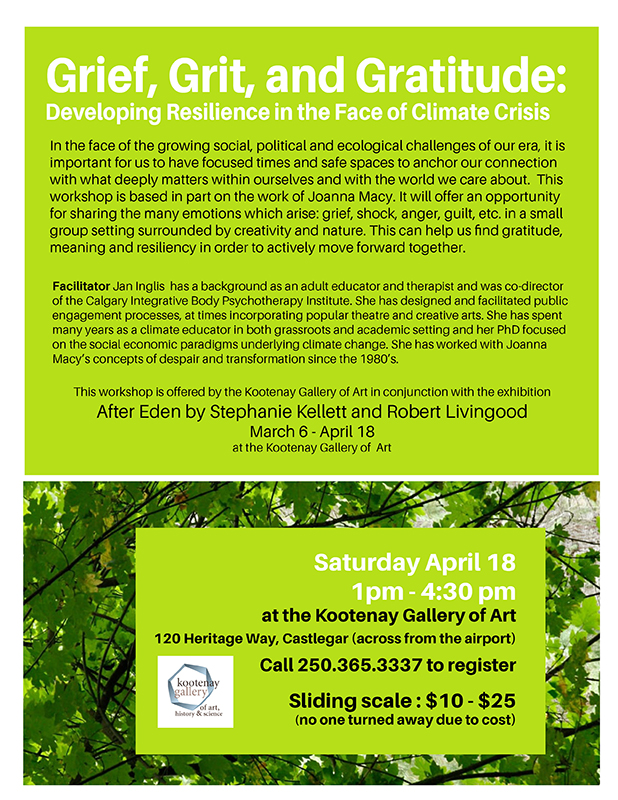 UPDATE will be available soon.
Grief, Grit and Gratitude: Developing Resiliency in the Face of Climate Crisis
Facilitated by Jan Inglis
April 18th from 1:00 pm to 4:30 pm
More info here.

CANCELLED
Celebrate National Poetry Month
with Linda Crosfield, Jane Byers and Susan Andrews Grace
April 15 at 7 pm.  at the Kootenay Gallery.  Admission by donation.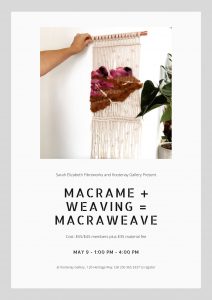 More info about status closer to the date
Macrame + Weaving = Macraweave
with Sarah Elizabeth
May 9 from 1:00 pm to 4:00 pm
Cost: $55/$45 (members) plus $35 material fee
More info here
---
What's New in the Gift Shop?
We offer a large selection of jewelry, in a range of prices, pottery by many of the ceramic artists in our region, a large selection of paintings and prints, glass work, wood work, knitted and woven goods and more!
There is no charge to browse the Gift Shop and members receive 10% off of purchases. Most major methods of payment are accepted, including Apple Pay.
What's New December '19 & January '20
---
The Gallery Lounge
We are so lucky to have a group of visionary and committed people helping us govern and lead the work of the Gallery.
Interviews
---
Want your work in the Gallery or Giftshop?

We accept exhibition proposals by professional artists and curators who create critically engaging work. Read the Submission Procedures here.
If you are an artist or craftsperson who wants to sell your work in our Gift Shop, read about it on our Gift Shop page.
---
Renting the Kootenay Gallery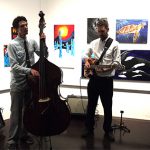 Did you know that the Kootenay Gallery is available for rent?
You can rent the large gallery, the small gallery or both. You can rent the workshop room for meetings or classes. The Gallery has been rented for meetings, seminars, business lunches, community events, a birthday party, a wedding shower and even a wedding.
For forms and information, click on the link below.
---
2020 Exhibition Schedule
It is a privilege for us at the Gallery to work with artists to bring exhibitions to the community each year. We hope the work we present is stimulating and inspiring. The schedule we are presenting this year offers art focused on the visitor experience with artists from away and from here.
The 2020  exhibition schedule  is available here.
It is available for download here.
The Kootenay Gallery of Art acknowledges exhibition support from their major sponsors: The BC Arts Council, City of Castlegar, BC Gaming, and the Columbia Basin Trust through the Columbia Kootenay Cultural Alliance
---