Current Exhibition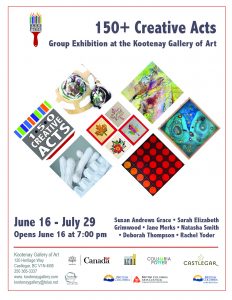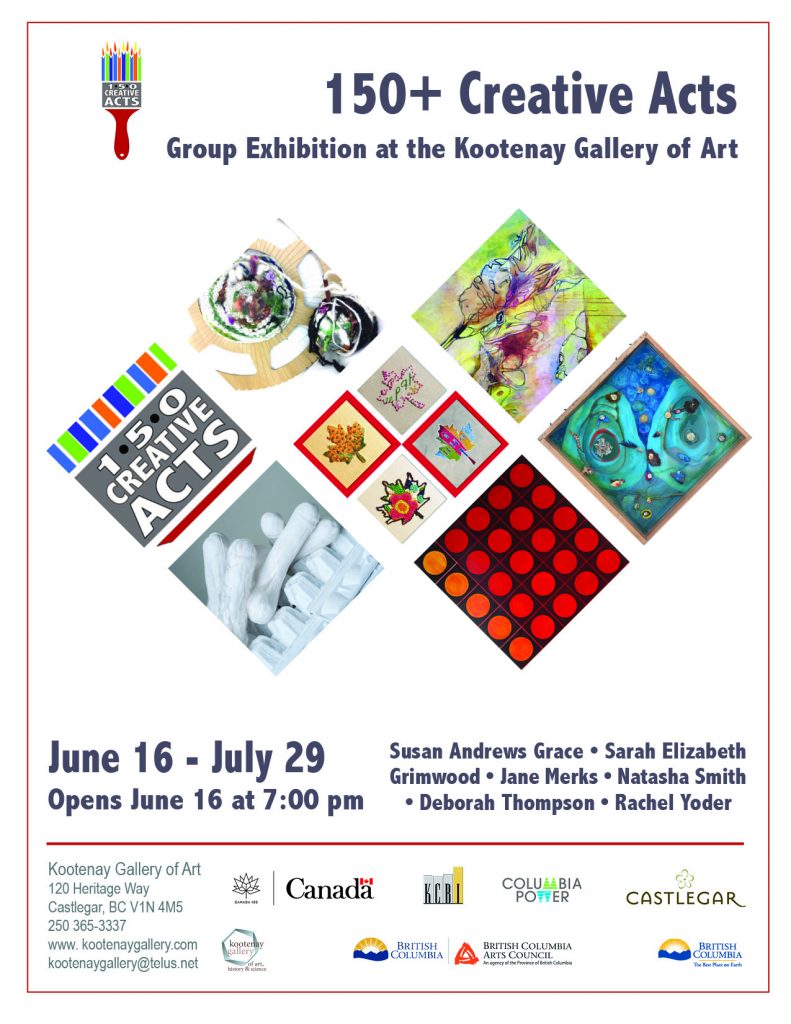 June 16 – July 29
Six artists from the region responded to the theme of 150 Creative Acts. They include Susan Andrews Grace, Sarah Elizabeth Grimwood, Jane Merks, Natasha Smith, Deborah Thompson and Rachel Yoder.  This  strong show is both diverse and intriguing. A must see.
Current  Community Project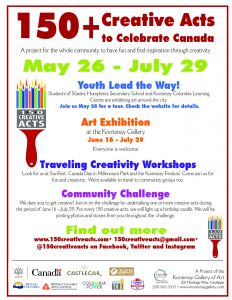 150+ Creative Acts to Celebrate Canada

Join us for a summer full of fun and creativity. Artists from Stanley Humphries Secondary School and Kootenay Columbia Learning Centre have created public art projects. We are now looking to you, the public to create through any means you want – painting, drawing, building, sewing, baking, engineering – any means. Below you can find out some of the related activities that are happening.
Not sure what to do or how to begin? Feel like you don't have the time? Look at our Resource Page to help you get started.
Traveling Community Workshop

For our final workshop at the Kootenay Festival occurred on July 22 at Millennium Park, we had a lot of fun. Thanks to all the people who participated in our community workshops and festival booth.
Community Challenge
Now – July 29
We dare you to get creative! Join in on the challenge by undertaking one or more creative acts during the period of June 16 – July 29. For every 150 creative acts, we will light up a birthday candle. We will be posting photos and stories from you throughout the  challenge so be sure to follow along on social media (@150creativeacts).
Check out the project website for more information and photos.
We acknowledge the financial support of the Government of Canada.
Nous reconnaissons l'appui financier du gouvernement du Canada.

Upcoming Exhibition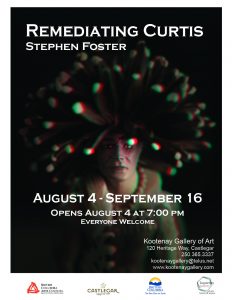 Remediating Curtis

Stephen Foster
August 4 – September 16

Opens August 4 at 7:00 pm
At the turn of the last century, Edward Curtis travelled the North American continent taking photos of the disappearing lifestyle of indigenous cultures. While his photographs brought awareness to the settler community of this immense cultural loss, Curtis often staged his photos and portrayed his subjects in a culturally-inaccurate manner. Artist Stephen Foster, of mixed Haida and European heritage, used Curtis' exaggerated body of work as a starting point to examine the colonial legacy entrenched in mass-media and North American popular culture. Foster has created an installation using video, sound and digital photo-montage to explore this topic.
Poetry Reading – Jordan Abel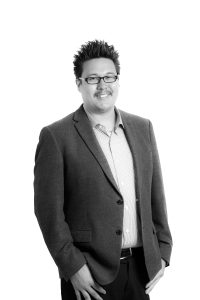 To coincide with this exhibition, we will host a reading by noted Nisga'a  poet,
Jordan Abel.
  Abel's latest book,
Injun
(Talonbooks, 2016) is a long poem composed of text from western novels published between 1840 and 1950. Abel found his text by searching the novels for the word "Injun" and reassembled and reconstructed the results into poetry. Among his many accomplishments, Abel recently won the prestigious Griffin Poetry Prize for
Injun
. We are proud to say that Jordan currently resides in Robson with his wife Chelsea Novak.
Due to his recent success, Abel is not available for the opening of the exhibition as previously announced. Abel will read August 24 at 7:00 pm at the Kootenay Gallery. This event is free. Donations gratefully accepted.


Class Act: Digital Arts & New Media Students
August 4 – September 16
Opening August 4 at 7 pm
The year-end show of the Digital Arts & New Media Program at Selkirk College featured exciting new work by students. The exhibition will feature selected digital 2-D images and a 3-d projection. While the world of digital technology may be foreign to some of you, these students are exploring the medium with passion.
 The Gallery Lounge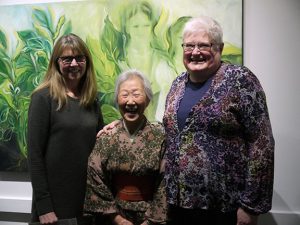 We are continuing our conversation series called 'The Gallery Lounge' which features stories and interviews with our Board Directors, staff and volunteers. We are so lucky to have a group of visionary and committed people helping us govern and lead the work of the Gallery. This month we are showcasing our Curator, Maggie Shirley so you can get to know her better and understand the work she is involved with at the Gallery.  Read it here.
Past Interviews

We are looking for exhibition proposals by professional artists and curators who create critically engaging work. Read the Submission Procedures here.
If you are an artist or craftsperson who wants to sell your work in our Gift Shop, read about it on our Gift Shop page.
2017 Exhibition Schedule
The new exhibition schedule has been set and is available here.
We acknowledge the financial support of the Province of British Columbia.