New! Find out what's happening in Castlegar here
---
Current Exhibitions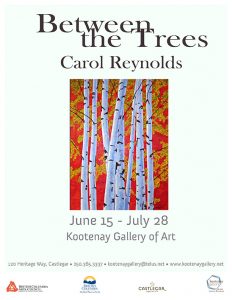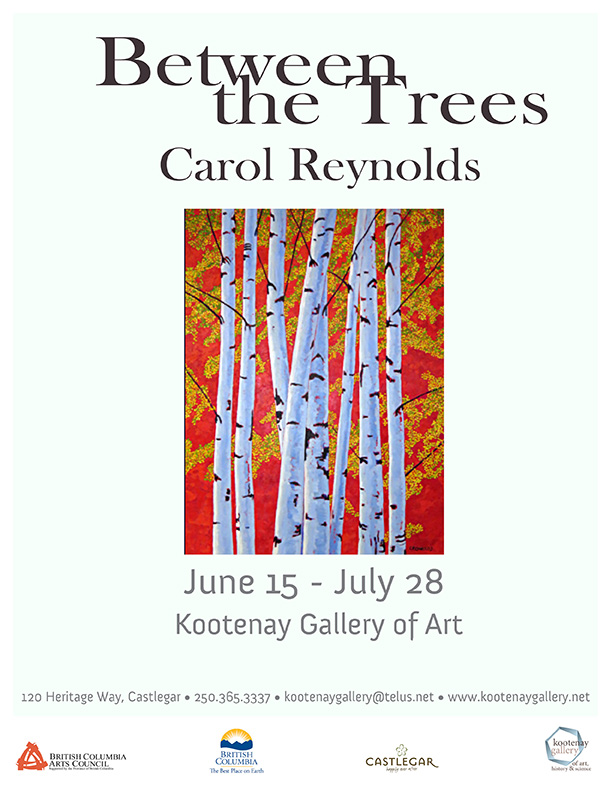 Between the Trees

June 15 – July 28
Opens June 15 at 7:00 pm
Carol Reynolds has adeptly captured the landscapes of both Nelson streets and Kootenay birch groves in her popular colour-rich canvasses.
The paintings on display include early pieces when she lived in Campbell River up to work completed this May in her Nelson studio.
Join us for the opening of the show at 7:00 pm on June 15. The exhibition continues until July 28.
---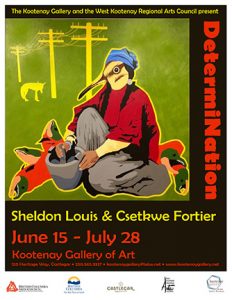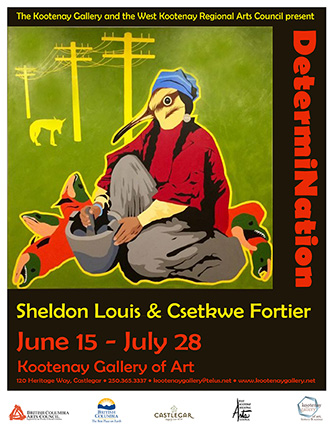 The Kootenay Gallery & West Kootenay Regional Arts Council present
DetermiNation
Sheldon Louis & Csetkwe Fortier
June 15 – July 28
Opens June 15 at 7:00 pm
DetermiNation is a collaboration between two indigenous Okanagan artists, Sheldon Louis and Csetkwe Fortier. Louis creates bold, graphic imagery while Fortier paints minimalist imagery on linen.
Join us for the opening of the show at 7:00 pm on June 15. The exhibition continues until July 28.
---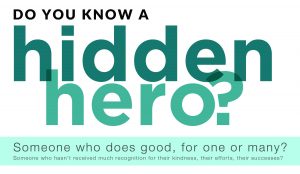 The Kootenay Gallery presents a new art project by Claire Dibble
Nominations due June 30
We're seeking nominations for everyday heroes in the Castlegar and area community.
Those heroes don't have to be saving lives or stopping crime, they can be people who contribute in small ways everyday.
Young or old, dear to you or a passing acquaintance, you're welcome to nominate as many people as you wish, of any age or background.
Make nominations before June 30 in one of the following ways:
– Call the Kootenay Gallery at 250 365 3337 (you can leave a message with your name, phone number, the name and number of the person you are nominating, as well as your reason for the nomination).
– Fill out a form in person at the Kootenay Gallery, Library, Rec Centre, City Hall or Circle of Indigenous Nations (COINS).
– Tag or mention your nominee on Instagram with the hashtag #hiddenheroesofcastlegar
– Tag your nominee in a post on our Facebook page (fb.me/hiddenheroproject).
– Fill out the online form at hiddenheroproject.ca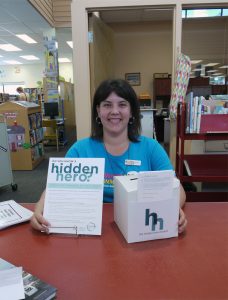 Photo: Librarian Laura Zaytsoff or others can help you with your nomination form.
The full list of nominees will be published online, and 25 people will be selected to be photographed and interviewed. The resulting portraits will be shown in an exhibition at Kootenay Gallery in the summer of 2019.
For more details, visit hiddenheroproject.ca or contact the Kootenay Gallery at 250 365 3337/ kootenaygallery@telus.net.
We acknowledge the financial support of the Province of British Columbia.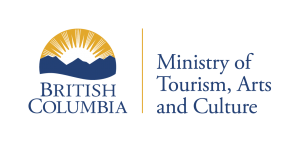 ---
What's New in the Gift Shop?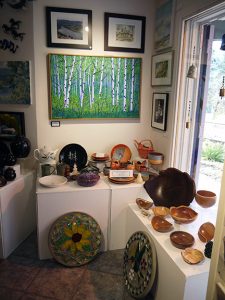 Our Gift Shop receives new stock every week and finds new artisans throughout the year. Each month in our newsletter, we feature what's new in the Gift Shop. You can read each month's entry by clicking on the link below. Or better yet, come in to the Gift Shop and see for yourself.
We offer a large selection of jewelry, in a range of prices, pottery by many of the ceramic artists in our region, a large selection of paintings and prints, glass work, wood work, knitted and woven goods and more!
There is no charge to browse the Gift Shop and members receive 10% off of purchases. Most major methods of payment are accepted, including Apple Pay.
---
The Gallery Lounge
We are continuing our conversation series called 'The Gallery Lounge' which features stories and interviews with our Board Directors, staff and volunteers. We are so lucky to have a group of visionary and committed people helping us govern and lead the work of the Gallery. This month we are showcasing our member at-large Marian Craft so you can get to know her better and understand the work she is involved with at the Gallery.  Read it here.
Past Interviews
---
Want your work in the Gallery or Giftshop?

We accept exhibition proposals by professional artists and curators who create critically engaging work. Read the Submission Procedures here.
If you are an artist or craftsperson who wants to sell your work in our Gift Shop, read about it on our Gift Shop page.
---
Renting the Kootenay Gallery
Did you know that the Kootenay Gallery is available for rent?
You can rent the large gallery, the small gallery or both. You can rent the workshop room for meetings or classes.  The Gallery has been rented for meetings, seminars, business lunches, community events, a birthday party, a wedding shower and even a wedding.
For forms and information, click on the link below.
---
2018 Exhibition Schedule
It is a privilege for us at the Gallery to work with artists to bring exhibitions to the community each year. We hope the work we present is stimulating and inspiring. The schedule we are presenting this year offers art focused on the local in either themes that are relevant to the region or in showcasing local artists or both. While there is a definite local flavour, the themes and the work of local artists have a wider, universal appeal as well.
The new exhibition schedule has been set and is available here.
We acknowledge the financial support of the Province of British Columbia.