Current Exhibition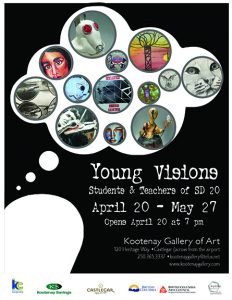 Students & Teachers of School District 20
April 20 – May 27
We are honoured again to feature art created by our communities' youth and their mentors. Teachers have carefully chosen a selection of work that has been created over the year and share it with the community. Students are from Stanley Humphries in Castlegar, JL Crowe in Trail, Summit School in Rossland and students from the Kootenay Columbia Learning Centres in both Trail and Castlegar.
Upcoming Exhibition & Community Project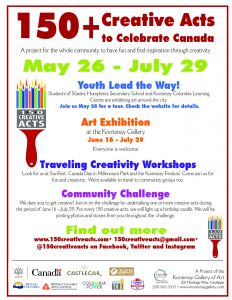 150+ Creative Acts to Celebrate Canada

Youth Lead the Way!
May 26 – 11 am
The project will launch in Spirit Square at Castlegar City Hall.

Join us for a tour of the public art projects created by local students, beginning at 12:15 in front of Mitchell Supply fence.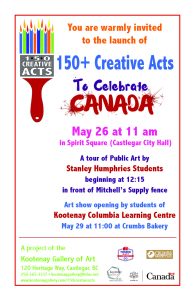 Art Exhibition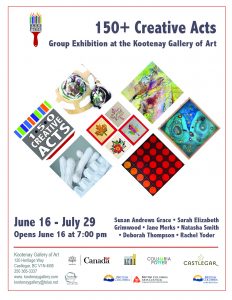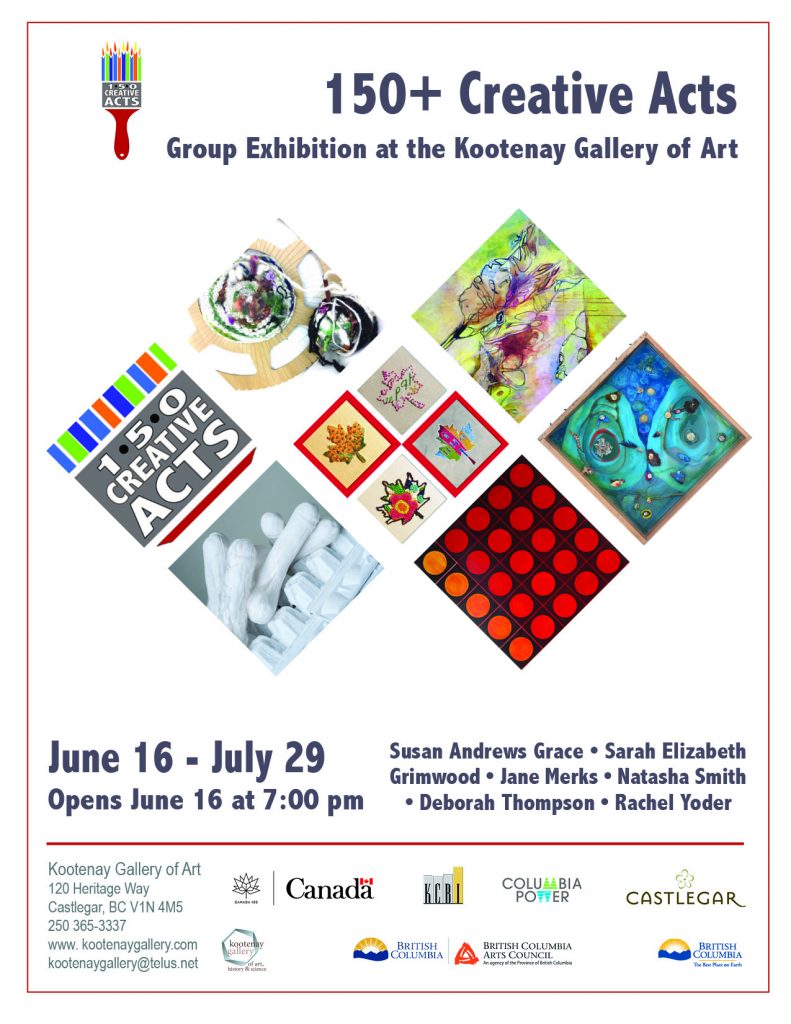 June 16 – July 29
Opens June 16 at 7:00 pm
Six artists from the region responded to the theme of 150 Creative Acts. They include Susan Andrews Grace, Sarah Elizabeth Grimwood, Jane Merks, Natasha Smith, Deborah Thompson and Rachel Yoder.  The show promises to be both diverse and intriguing.
Traveling Community Workshop

We'll be at community festivals this summer with a table of creative activities. Look for us at Sunfest, Canada Day at Millennium Park and the Kootenay Festival. If you would like us to bring activities to your community group, contact us and we'll see what we can do.
Community Challenge
June 16 – July 29
We dare you to get creative! Join in on the challenge by undertaking one or more creative acts during the period of June 16 – July 29. For every 150 creative acts, we will light up a birthday candle. We will be posting photos and stories from you throughout the  challenge so be sure to follow along on social media (@150creativeacts).
We will have more information and updates as the project progresses.
We acknowledge the financial support of the Government of Canada.
Upcoming Fundraiser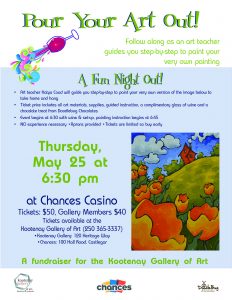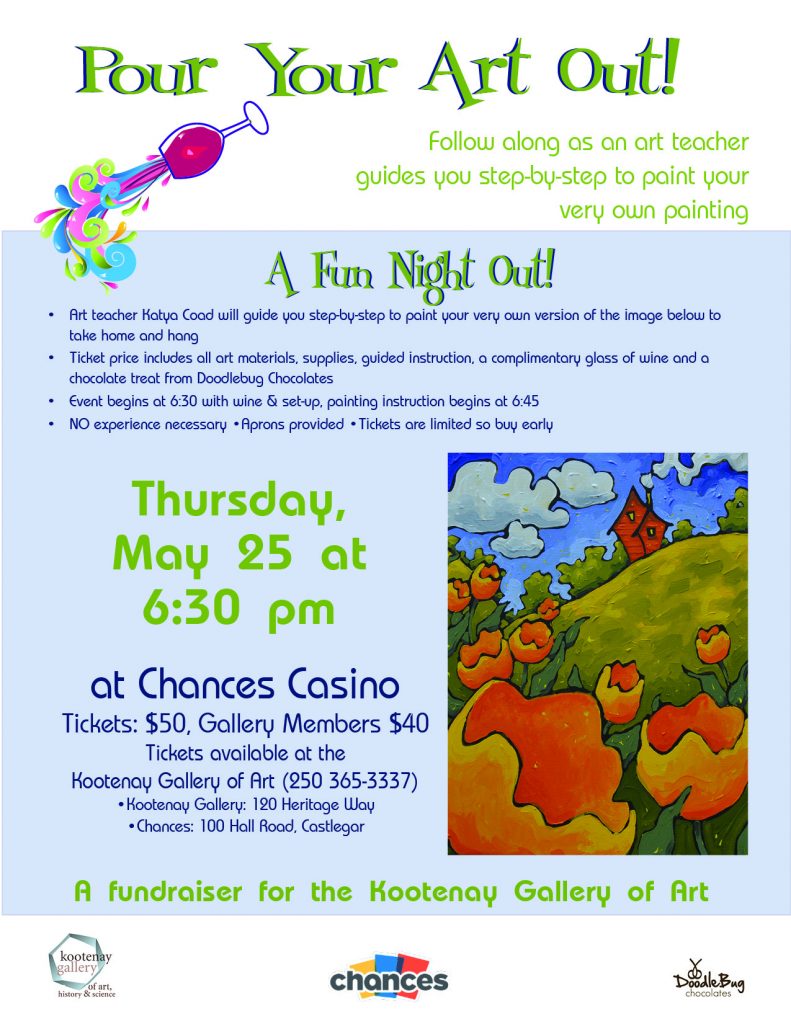 Pour Your Art Out!

with Sarah Elizabeth
May 25 from 6:30  – 9:00 pm

at Chances Casino
Join us for an evening of painting, wine, chocolate and FUN! Our instructor, artist Katya Coad will guide you step-by-step to create your own version of the lovely flower and cabin scene, as pictured on the poster
Members: $40
Non-members: $50
Contact us at 250.365.3337 or email kootenaygallery@telus.net to purchase tickets
Upcoming Workshop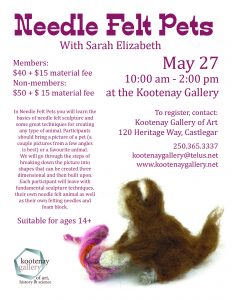 Needle Felt Pets

with Sarah Elizabeth
May 27 from 10 am – 2 pm

In Needle Felt Pets you will learn the basics of needle felt sculpture and some great techniques for creating any type of animal. Participants should bring a picture of a pet (a couple pictures from a few angles is best) or a favourite animal. We will go through the steps of breaking down the picture into shapes that can be created three dimensional and then built upon. Each participant will leave with fundamental sculpture techniques, their own needle felt animal as well as their own felting needles and foam block.
Members: $40 + $15 material fee
Non-members: $50 + $15 material fee
Contact us at 250.365.3337 or email kootenaygallery@telus.net to register
 The Gallery Lounge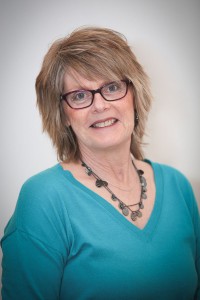 We are continuing our conversation series called 'The Gallery Lounge' which features stories and interviews with our Board Directors, staff and volunteers. We are so lucky to have a group of visionary and committed people helping us govern and lead the work of the Gallery. This month we are showcasing our Treasurer, Beth Hickey so you can get to know her better and understand the work she is involved with at the Gallery.  Read it here.
Past Interviews

Submission Deadline – May 12
We are looking for exhibition proposals by professional artists and curators who create critically engaging work. Read the Submission Procedures here.
If you are an artist or craftsperson who wants to sell your work in our Gift Shop, read about it on our Gift Shop page.
2017 Exhibition Schedule
The new exhibition schedule has been set and is available here.
We acknowledge the financial support of the Province of British Columbia.