---
Welcome
---
Current Exhibitions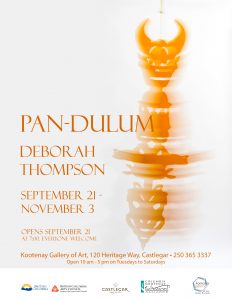 East Gallery
Deborah Thompson
September 21  – November 3
Artist reception at 7:00, September 21
My project, Pan-dulum: a call to unreason (formerly Like Cures Like) is a response to pandemic extremes of copious anxiety and ecstatic escape.  These polar states are rooted in instinctual responses to the social and political climate  of dis-ease and dramatic turbulence in which we live. These manifest in a variety of ways, acts of uncontrolled consumerism and avarice lifestyles on the one hand and potentially dangerous substance use and personal paths of rapture on the other hand. The title of the project,  Pan-dulum: a call to unreason, departs from the mythic God Pan whose presence  and actions brought out a state of Pan-ic and is a new source of wisdom born from unreason.
 West Gallery
In-Between-Time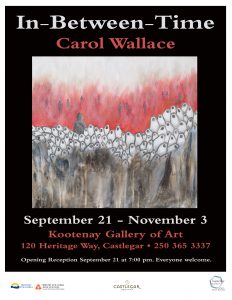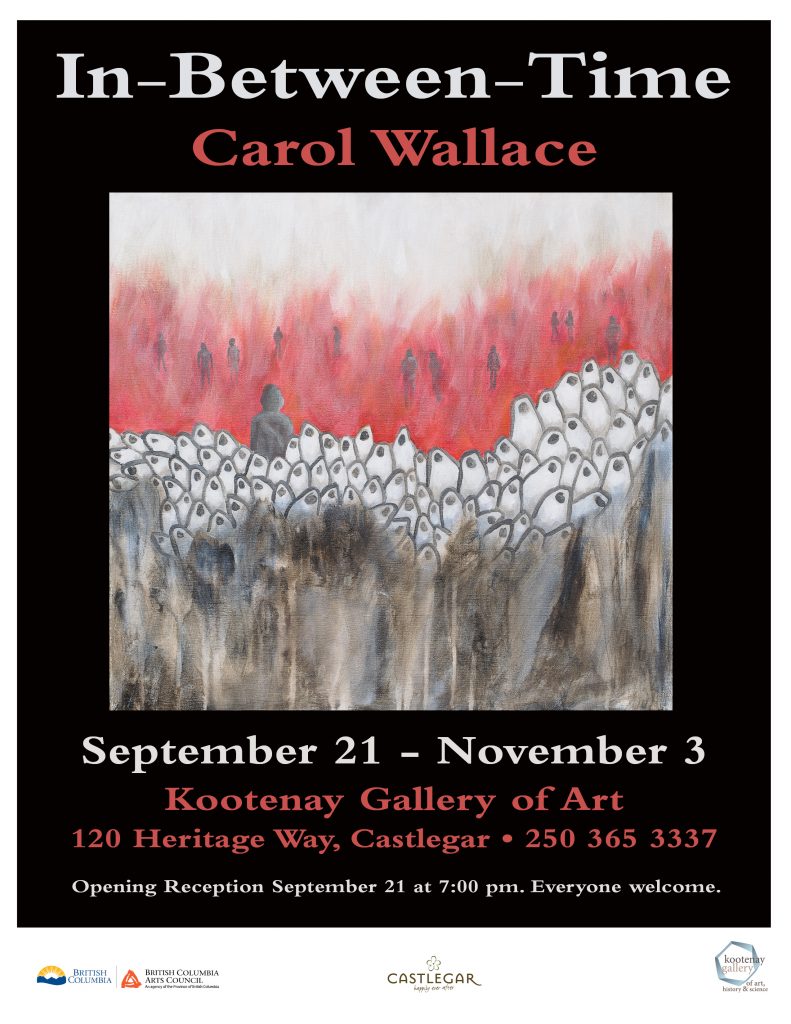 Carol Wallace
September 21 – November 3
Opening at 7:00, September 21
In-Between-Time references Earth's deep history.  I am interested in early life forms, especially those that have survived extinction periods and their relationship to us currently living in an extinction period. Groups of people in the paintings are often juxtaposed with magnified fossil forms just below the surface, of which they are seemingly unaware.
---
Up-coming Exhibition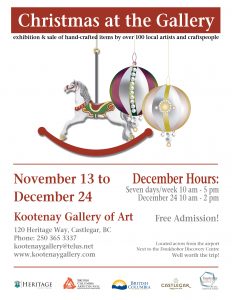 Christmas at the Gallery
November 13 to December 24
Opens November 13 at 5:00
Join us for our annual show and sale of a variety of arts and crafts from over 100 locals. Each year, the Gallery brings back your favourite vendors as well as new ones from around the Kootenays.  The array of gift items is astounding.
This year the Christmas opening will include a party to recognize the work of our volunteers. We hope you will come celebrate them.
Please don't forget the Gallery while you shop for seasonal gifts. You are supporting local artisans and the Gallery by purchasing your gifts here.
---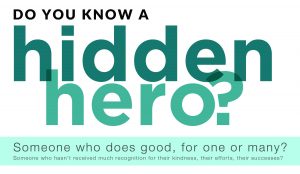 The Kootenay Gallery presents a new art project by Claire Dibble
Nominations for the Hidden Hero Project.
Castlegar and area residents nominated a number of heroes via drop off points in town and at the Gallery, by phone and by completing a form on the website. Thank you to all the nominators.
Here's a partial list of names we received in no particular order.
Meredith Messett, James McFadden, Gerry Rempel, Dave Sutton, Derm Jackman, Marie Croteau, Kay Gritchin, Leah Jackson, Harvey Batting, Zoe Mackay, Darlene Kilback, Cherri Carlson, Adriana Thelma Huerta, Bernice Kavik, Amanda Vanlerberg, Jenn Kooznetsoff, John Alton, Olga Jacinto, Sancy Buscariol, Elmer Verigin, Jax Senyk, Shile Senyk, Bob Sorenson, Walter Holuboff, Joanne, Baker, Leya Pearson, Lil Laarz, Bev Gillard, Olga Mehrer, Takaia Larsen, Kari Burk, John Shirley*, Darlene Kalawsky, Judy Wearmouth, Geoff Yule, Kay Jones, Moe Sauer, Lawrence Redfern
Please note: if you see your name on the list and we haven't contacted you, congratulations and we will be contacting you soon. If you nominated someone and it is not listed here, let us know.
The full list of nominees will be published online, and 25 people will be selected from the full list to be photographed and interviewed. The resulting portraits will be shown in an exhibition at Kootenay Gallery in the summer of 2019.
For more details, visit hiddenheroproject.ca or contact the Kootenay Gallery at 250 365 3337/ kootenaygallery@telus.net.
*John Shirley is no relation of our Curator, Maggie Shirley. Val Field was deservedly nominated but is not eligible due to her position at the Gallery.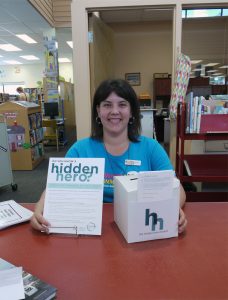 We acknowledge the financial support of the Province of British Columbia.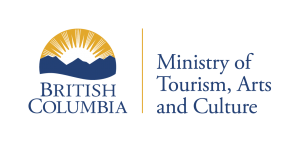 ---
An Elegant Evening of Chance and Entertainment
Saturday October 13
Doors open at 6:00 pm, Dinner starts at 7:00 pm
The Kootenay Gallery has an elegant evening planned for the gambler and risk-taker in you.
How much does it cost? As low as $5, as much as $65 – you won't know until you are instructed to open your envelop at the end of the night. Prefer to know earlier in the evening? You can bid on one of nine dinner plus prize packages, starting at a bid of $30 and receive a gift as well as dinner.
Call the Gallery at 250 365 3337 with a credit card number or email us here to reserve your spot.
Are you feeling lucky? Take a chance at the Dinner for the Cultured Soul
---
What's New in the Gift Shop?
Our Gift Shop receives new stock every week and finds new artisans throughout the year. Each month in our newsletter, we feature what's new in the Gift Shop. You can read each month's entry by clicking on the link below. Or better yet, come in to the Gift Shop and see for yourself.
We offer a large selection of jewelry, in a range of prices, pottery by many of the ceramic artists in our region, a large selection of paintings and prints, glass work, wood work, knitted and woven goods and more!
There is no charge to browse the Gift Shop and members receive 10% off of purchases. Most major methods of payment are accepted, including Apple Pay.
---
The Gallery Lounge
We are continuing our conversation series called 'The Gallery Lounge' which features stories and interviews with our Board Directors, staff and volunteers. We are so lucky to have a group of visionary and committed people helping us govern and lead the work of the Gallery. This month we are showcasing our Board Member Judy Madelung so you can get to know her better and understand the work she is involved with at the Gallery.  Read it here.
Past Interviews
---
Want your work in the Gallery or Giftshop?

We accept exhibition proposals by professional artists and curators who create critically engaging work. Read the Submission Procedures here.
If you are an artist or craftsperson who wants to sell your work in our Gift Shop, read about it on our Gift Shop page.
---
Renting the Kootenay Gallery
Did you know that the Kootenay Gallery is available for rent?
You can rent the large gallery, the small gallery or both. You can rent the workshop room for meetings or classes.  The Gallery has been rented for meetings, seminars, business lunches, community events, a birthday party, a wedding shower and even a wedding.
For forms and information, click on the link below.
---
2018 Exhibition Schedule
It is a privilege for us at the Gallery to work with artists to bring exhibitions to the community each year. We hope the work we present is stimulating and inspiring. The schedule we are presenting this year offers art focused on the local in either themes that are relevant to the region or in showcasing local artists or both. While there is a definite local flavour, the themes and the work of local artists have a wider, universal appeal as well.
The new exhibition schedule has been set and is available here.
We acknowledge the financial support of the Province of British Columbia.