---
Current Exhibitions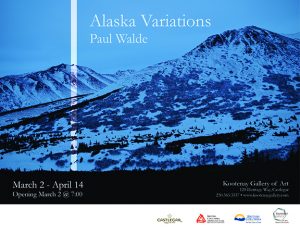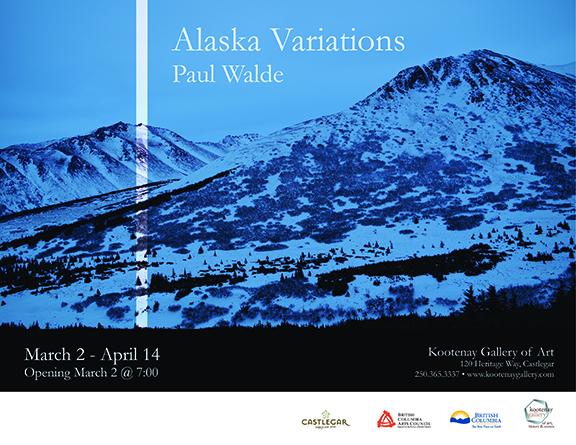 Paul Walde
March 2 – April 14
Alaska Variations was conceived as an "album" of performative sound and music compositions responding to the Alaskan landscape and elements within it. The scores combine scientific experimentation and observation with experimental sound and music practices and are a combination of instructional texts, standard notation, and graphic notation. The performances of these scores were captured as a series of audio/video recordings which when shown in combination with each other form a larger portrait of the landscape around Anchorage, Alaska
Kootenay audiences may remember Walde for his opus Requiem for a Glacier, composed about and created on the Jumbo Glacier. Alaska Variations is a follow-up work. Walde is a Visual/Sound Artist and is Associate Professor at the University of Victoria, Visual Arts Department.
---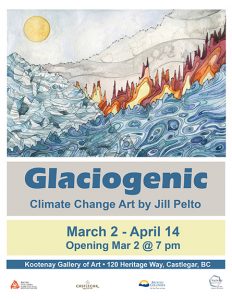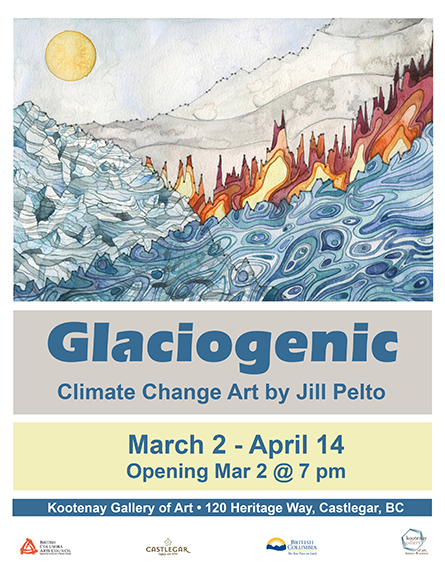 Jill Pelto
March 2 – April 14
"Scientific research and data fuel the content of my artwork. I create pieces to raise awareness about interesting and important environmental topics. The key topic in my portfolio is Climate Change data: melting glaciers, rising sea level, threatened species. I hope to cover both positive and negative issues which depict the reality of our current ecosystem."
Jill Pelto is currently in post-graduate studies in Climate Science. She has accompanied both her father and her brother on research trips to study the Columbia Basin glaciers on both sides of the border. This is her first exhibition in Canada.
---
Get-away Lottery – Choose One of Two
Winner chooses from a New York Broadway Get-away or a Sports Fan Package!
Only 125 Tickets Being Sold

The Broadway Get-away is a three-night trip to New York, including tickets to a  Broadway Show, luxury hotel, a dinner package and flights.
The Ultimate Sports Fan Package allows you access to over 5000 regular season MLB, NBA, NFL, NHL or Non-Major PGA Golf Tournament. It includes a high-quality hotel, two lower level tickets to a sports event of your choice and flights.
Tickets are $100 and are on sale til March 12, 2018. The prizes will be drawn live on air on The Goat FM on March 16.
Tickets are available from The Heritage Credit Union (Castlegar Branch), the Kootenay Gallery of Art or from the Kootenay Gallery Board Members
Find out more information here, including a downloadable PDF.
Contact the Gallery at 250-365-3337 or kootenaygallery@telus.net .
---
With Michelle Reddick

March 20, 21, 22 and 27, 28, 29
Our spring camp is back, this year being taught by Michelle Reddick who is an artist and student at the West Kootenay Teacher Education Program. This is a great way for 8 – 12 year old artists to learn a variety of art techniques and have fun in a structured environment.
The Kids' Camps are all full for this year. Thanks for your interest. Please try again next year.
Kids' Camp Description and Registration Form
---
Tickets for individual shows –  $9 available at the Gallery or at the Old Theatre
March 26 –  To Be Announced
Tickets for the Monday Night at the movies series are $9 at the door
Thank you, as always to Lowell and family at the Old Theatre. Be sure to save some room for popcorn with real butter for sale at the concession.
---
The Gallery Lounge
We are continuing our conversation series called 'The Gallery Lounge' which features stories and interviews with our Board Directors, staff and volunteers. We are so lucky to have a group of visionary and committed people helping us govern and lead the work of the Gallery. This month we are showcasing our member at-large Marian Craft so you can get to know her better and understand the work she is involved with at the Gallery.  Read it here.
Past Interviews
---

We accept exhibition proposals by professional artists and curators who create critically engaging work. Read the Submission Procedures here.
If you are an artist or craftsperson who wants to sell your work in our Gift Shop, read about it on our Gift Shop page.
---
2018 Exhibition Schedule
It is a privilege for us at the Gallery to work with artists to bring exhibitions to the community each year. We hope the work we present is stimulating and inspiring. The schedule we are presenting this year offers art focused on the local in either themes that are relevant to the region or in showcasing local artists or both. While there is a definite local flavour, the themes and the work of local artists have a wider, universal appeal as well.
The new exhibition schedule has been set and is available here.
We acknowledge the financial support of the Province of British Columbia.