Current Exhibitions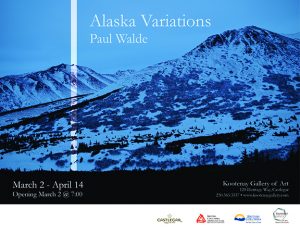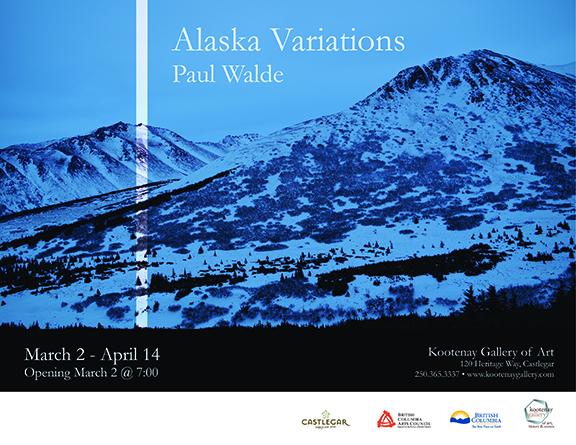 Paul Walde
March 2 – April 14
Alaska Variations was conceived as an "album" of performative sound and music compositions responding to the Alaskan landscape and elements within it. The scores combine scientific experimentation and observation with experimental sound and music practices and are a combination of instructional texts, standard notation, and graphic notation. The performances of these scores were captured as a series of audio/video recordings which when shown in combination with each other form a larger portrait of the landscape around Anchorage, Alaska
Kootenay audiences may remember Walde for his opus Requiem for a Glacier, composed about and created on the Jumbo Glacier. Alaska Variations is a follow-up work. Walde is a Visual/Sound Artist and is Associate Professor at the University of Victoria, Visual Arts Department.
---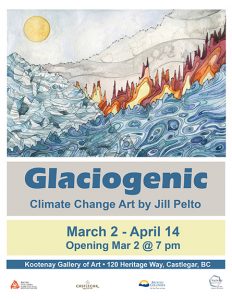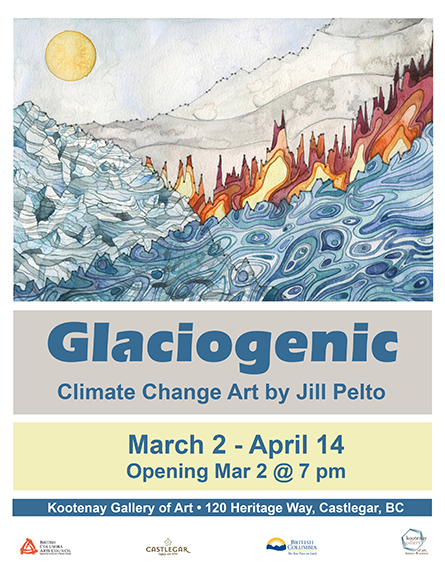 Jill Pelto
March 2 – April 14
"Scientific research and data fuel the content of my artwork. I create pieces to raise awareness about interesting and important environmental topics. The key topic in my portfolio is Climate Change data: melting glaciers, rising sea level, threatened species. I hope to cover both positive and negative issues which depict the reality of our current ecosystem."
Jill Pelto is currently in post-graduate studies in Climate Science. She has accompanied both her father and her brother on research trips to study the Columbia Basin glaciers on both sides of the border. This is her first exhibition in Canada.
---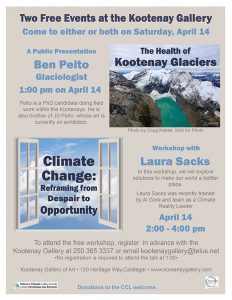 Up-coming Events April 14
The Health of Kootenay Glaciers
A public talk with Ben Pelto at 1:00 pm
Ben Pelto, brother of artist Jill Pelto and PhD Candidate will talk about his research into glaciers of the Columbia Basin.
Climate Change: Reframing from Despair to Opportunity
A workshop with Laura Sacks at 2:00 pm
The workshop will explore 3 critical questions: must we change, can we change, and will we change? Participants won't get stuck in the paralyzing space of despair. Instead we will explore solutions to make our world a better place. The workshop leader, Laura Sacks was recently trained by Al Gore and team as a Climate Reality Leader, the only one in the West Kootenay. She has a background as a water scientist and organic farmer, and currently spends her time on climate advocacy
Both events are free to attend. If you would like to attend Laura's workshop at 2:00 pm, please register with the Kootenay Gallery at 250-365-3337 or kootenaygallery@telus.com. There's no need to register for the public talk with Ben.
Everyone is welcome to attend.
---
Get-away Lottery
The winners of the lottery are Joe and Cathy Fouchard who will be traveling to New York City.

The name drawn on air was Rebecca Vassilakakis, who is Joe and Cathy's daughter. This caused a bit of confusion but it was all sorted.
Thank you to everyone who purchased a ticket. This was an important fund raiser for the Gallery.
Thanks to our sponsors, The Heritage Credit Union and The Goat FM.

The Broadway Get-away is a three-night trip to New York, including tickets to a  Broadway Show, luxury hotel, a dinner package and flights.
---
Up-coming Exhibition
Opening April 19 at 7:00 pm. Everyone Welcome

April 19 – May 26
This year, Young Visions, the annual show of art by Secondary School students of SD 20 is taking a break for this year only while we present River Arts, a collaborative show with SD 20 students and staff, faculty of Emily Carr University of Art and Design and the Kootenay Gallery.
Find out more about this exciting collaboration here.
---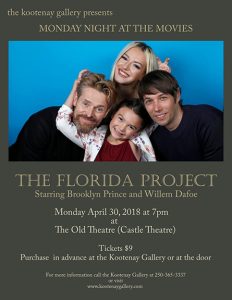 April 30 –  The Florida Project

Tickets for the Monday Night at the movies series are $9 at the door
"The Florida Project tells the story of a precocious six year-old and her ragtag group of friends whose summer break is filled with childhood wonder, possibility and a sense of adventure while the adults around them struggle with hard times." (Rotten Tomatoes)
Thank you, as always to Lowell and family at the Old Theatre. Be sure to save some room for popcorn with real butter for sale at the concession.
---
The Gallery Lounge
We are continuing our conversation series called 'The Gallery Lounge' which features stories and interviews with our Board Directors, staff and volunteers. We are so lucky to have a group of visionary and committed people helping us govern and lead the work of the Gallery. This month we are showcasing our member at-large Marian Craft so you can get to know her better and understand the work she is involved with at the Gallery.  Read it here.
Past Interviews
---

We accept exhibition proposals by professional artists and curators who create critically engaging work. Read the Submission Procedures here.
If you are an artist or craftsperson who wants to sell your work in our Gift Shop, read about it on our Gift Shop page.
---
2018 Exhibition Schedule
It is a privilege for us at the Gallery to work with artists to bring exhibitions to the community each year. We hope the work we present is stimulating and inspiring. The schedule we are presenting this year offers art focused on the local in either themes that are relevant to the region or in showcasing local artists or both. While there is a definite local flavour, the themes and the work of local artists have a wider, universal appeal as well.
The new exhibition schedule has been set and is available here.
We acknowledge the financial support of the Province of British Columbia.