Current  Exhibition
 
Coinciding with the international Peace & Justice conference hosted by the Mir Centre (Selkirk College), the exhibition is a survey of Kootenay/Columbia artists whose work provokes questions, conversations and ideas about building the world we want. Artists featured are: Amy Bohigian (animation), Kari Burk (digital collage), Julie Castonguay (sculptural photography), Genevieve Gagnon (socially engaged project), PJ Gilhuly (charcoal and acrylics), Tanya Pixie Johnson (paper cutting), Ian Johnston (ceramics), Tsuneko Kokubo (acrylic painting), George Koochin (sculpture) and Judy Wapp (collage).
Opens September 23 at 7:00 pm.  Everyone is welcome.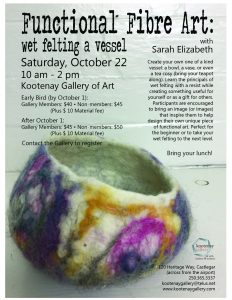 Functional Fibre Art: Wet Felting a Vessel
Create your own one of a kind vessel: a bowl, a vase, or even a tea cosy (bring your teapot along). Learn the principals of wet felting with a resist while creating something useful for yourself or as a gift for others. Participants are encouraged to bring an image (or images) that inspire them to help design their own unique piece of functional art. Perfect for the beginner or to take your wet felting to the next level.
Early Bird (by October 1):
Gallery Members: $40 • Non-members: $45
(Plus $ 10 Material fee)
After October 1:
Gallery Members: $45 • Non-members: $50
(Plus $ 10 Material fee)
Saturday, October 22 from 10 am – 2 pm. Bring a lunch!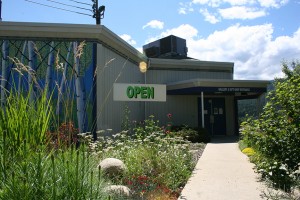 The completed Feasibility Study report by Paul Wiest of Cornerstone Management Consulting has been received by the Relocation Committee. Once we have met and reviewed the report ourselves, we will give you an update.