The Kootenay Gallery Gift Shop is currently open 10 am – 5 pm Tuesday to Saturday.
Our exhibition schedule begins in March.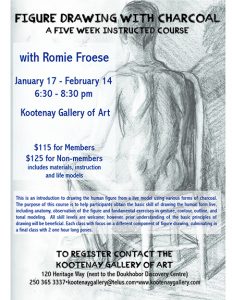 A Five Week Instructed Course is now FULL.
For those of you who have registered, you can get a course description here.
Classes run on Tuesday evenings from January 17 – February 14 from 6:30 – 8:30 pm
Wet Felted Roses Workshop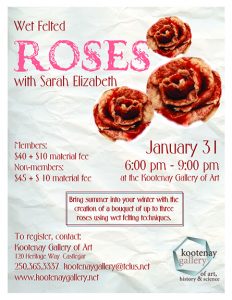 By Sarah Elizabeth
Bring summer into your winter with the creation of a bouquet of up to three roses using wet felting techniques.
January 31, 6:00 pm – 9:00 pm
$40 for Members plus $10 material fee, $45 for Non-members plus $10 material fee
To register, contact the Gallery at 250.365.3337 or email us at kootenaygallery@telus.net
Save the Date!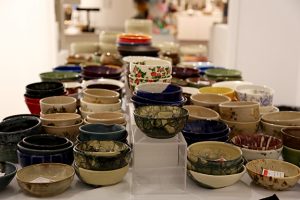 Soup for the Cultured Soul
The chefs return to the Gallery for another Soup for the Cultured Soul. Local chefs will compete to get your vote for favourite soup. You get a beautiful bowl, lots of delicious soup to taste, bread and wine. This year's event will be on February 25. Save the date and watch for more information.
Photo by Rachel Schmidt
New Blog Post – The Gallery Lounge
We are excited to introduce a new conversation series called 'The Gallery Lounge' which will feature stories and interviews with our Board Directors, staff and volunteers. We are so lucky to have a group of visionary and committed people helping us govern and lead the work of the Gallery. This month we are showcasing our Board Chair, Audrey Maxwell Polovnikoff, so you can get to know her better and understand the work she is involved with at the Gallery.  Read it here.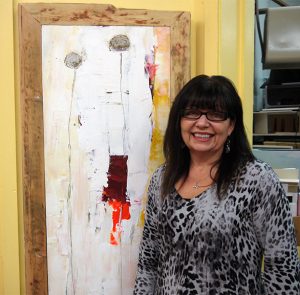 New Submissions Procedures
Artists and curators! We have updated our Submissions Procedures. We are now accepting submissions via email. Read the new Procedures here.
2017 Exhibition Schedule
The new exhibition schedule has been set and is available here.