Current Exhibitions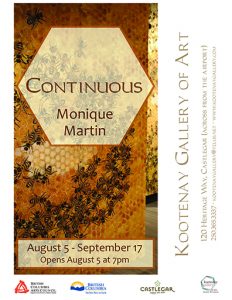 Monique Martin
Continuous by Saskatoon artist, Monique Martin consists of a series of large floor-to-ceiling linocut prints along with a sound and smell aspect throughout the gallery space that gives visitors a sense of what the inside of a bee hive looks like.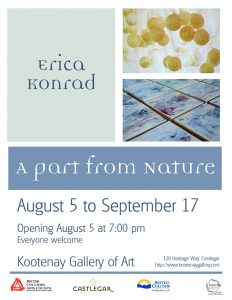 Erica Konrad
A part from Nature includes monotypes, paintings, photographs and free standing sculptures, all processed with encaustic.  Konrad states about her work, "(a)s we lose our connection with wild spaces and species, using beeswax as the primary medium is intentional, to serve as a reminder to the viewer that we are part of the cycle itself, part of the wild, embedded in, anchored to, part of."
Upcoming Exhibition
 
Coinciding with the international Peace & Justice conference hosted by the Mir Centre (Selkirk College), the exhibition is a survey of Kootenay/Columbia artists whose work provokes questions, conversations and ideas about building the world we want. Artists featured are: Amy Bohigian (animation), Kari Burk (digital collage), Julie Castonguay (sculptural photography), Genevieve Gagnon (socially engaged project), PJ Gilhuley (charcoal and acrylics), Tanya Pixie Johnson (paper cutting), Ian Johnston (ceramics), Tsuneko Kokubo (acrylic painting), George Koochin (sculpture) and Judy Wapp (collage).
Opens September 23 at 7:00 pm.  Everyone is welcome.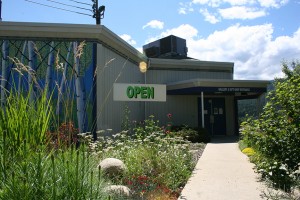 The completed Feasibility Study report by Paul Wiest of Cornerstone Managment Consulting has been received by the Relocation Committee. Once we have met and reviewed the report ourselves, we will give you an update.