---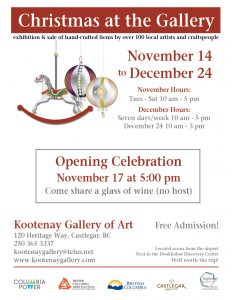 Current Exhibition
Christmas at the Gallery
November: Tues – Saturday 10am – 5:00pm
December: Open every day 10am – 5:00pm
It's that time of year again when we fill all the galleries with the work of artisans. Come and browse their work and find unique holiday gifts. The Gallery is open Tues – Saturday from 10 – 5 in November. In December, we are open 7 days a week from 10 – 5 until Christmas Eve when we are open 10 – 3.
---
Tickets for individual shows –  $9 available at the Gallery or at the Old Theatre
Nov 27 – The Commune
Dec 18 – The Trip to Spain
The Kootenay Gallery is once again offering the popular fundraiser. Monday Night at the Movies and happy to announce the showings will be in the Old Theatre, Castlegar (formerly the Castle Theatre).
Mark your calendars for The Commune on November 27th at 7pm, the third in a monthly series of 8 movies. Individual movie tickets ($9) are available at the Gallery or at the door.
"The new film by lauded Danish director Thomas Vinterberg (The Celebration, The Hunt) examines the fallout from the social upheavals of the 1970s through the microcosm of a Copenhagen commune. Anna (Trine Dyrholm, who won Best Actress at the 2016 Berlinale for her performance) is a television newswoman; her husband, Erik (Ulrich Thomsen), teaches architecture at a university. When Erik's father passes away, the couple must decide what to do with the huge house that Erik grew up in, as it's too expensive for them to occupy on their own. Erik prefers selling, but Anna – who has become frustrated with Erik's dour outlook and longs for something new – suggests that they use this opportunity to experiment with communal living (which was all the rage in Scandinavia at the time). Energized by the era's relaxed taboos, Anna and Erik assemble a diverse, rather motley crew of cohabitants and embark on their adventure, but soon take very different paths. While Anna is anxious to stay home and experience life with her new extended family, Erik finds a more traditional way of reinvigorating himself: an affair with one of his students. When Anna tries to reconcile these two situations, the commune – and the marriage at its core – begins to unravel." (from Rotten Tomatoes)
---
Santa Ornament
with Sarah Elizabeth
November 30 from 6:00 – 9:00
$50 for members,
$60 for non-members
This fee includes instruction, materials and supplies and your own needle felted block and two needles to take home. Ornament is approximately 3 inches round.
Enjoy making the perfect Christmas Santa ornament for yourself or as a gift. Learn a new skill, come back to an old one or just come have some fun. All needle felt supplies included.
Contact the Gallery at 250-365-3337 or kootenaygallery@telus.net to register.
---
The Gallery Lounge
We are continuing our conversation series called 'The Gallery Lounge' which features stories and interviews with our Board Directors, staff and volunteers. We are so lucky to have a group of visionary and committed people helping us govern and lead the work of the Gallery. This month we are showcasing our board member, Judy Wearmouth so you can get to know her better and understand the work she is involved with at the Gallery.  Read it here.
Past Interviews
---

We accept exhibition proposals by professional artists and curators who create critically engaging work. Read the Submission Procedures here.
If you are an artist or craftsperson who wants to sell your work in our Gift Shop, read about it on our Gift Shop page.
---
2017 Exhibition Schedule
The new exhibition schedule has been set and is available here.
We acknowledge the financial support of the Province of British Columbia.