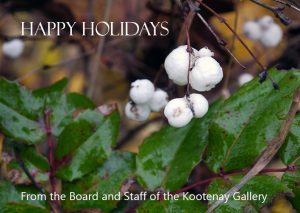 Current Exhibition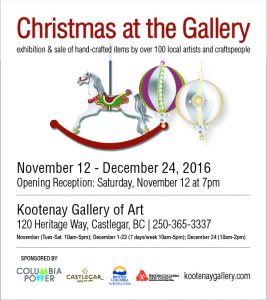 It's that time of year again! The entire Gallery is filled with treasures to make your holiday season one to remember. We have a wide range of your favourite high-quality Christmas ornaments, jewelry, pottery, soaps and other hand-crafted items. We also have unique items from a number of new vendors to offer you more selection.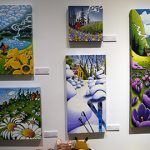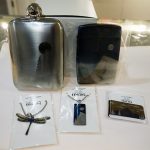 See more images here.
From December 1 until the 24, the Gallery will be open 7 days a week from 10:00 am to 5:00 pm for your convenience. Come check it out!
Late Night at the Gallery
If you want some assistance shopping or would like your gifts wrapped, come to Late Night At the Gallery. We will have volunteers to assist you, goodies to enjoy and more.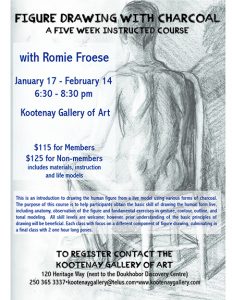 A Five Week Instructed Course
This is an introduction to drawing the human figure from a live model using various forms of charcoal. The purpose of this course is to help participants obtain the basic skill of drawing the human form live, including anatomy, observation of the figure and fundamental exercises in gesture, contour, outline, and tonal modeling.  All skill levels are welcome; however, prior understanding of the basic principles of drawing will be beneficial. Each class with focus on a different component of figure drawing, culminating in a final class with 2 one hour long poses.
Get a course description here.
Classes run on Tuesday evenings from January 17 – February 14 from 6:30 – 8:30 pm
$115 for Members, $125 for Non-members, includes instruction, life models and materials
To register, contact the Gallery at 250.365.3337 or email us at kootenaygallery@telus.net
New Blog Post – The Gallery Lounge
We are excited to introduce a new conversation series called 'The Gallery Lounge' which will feature stories and interviews with our Board Directors, staff and volunteers. We are so lucky to have a group of visionary and committed people helping us govern and lead the work of the Gallery. This month we are showcasing our Board Chair, Audrey Maxwell Polovnikoff, so you can get to know her better and understand the work she is involved with at the Gallery.  Read it here.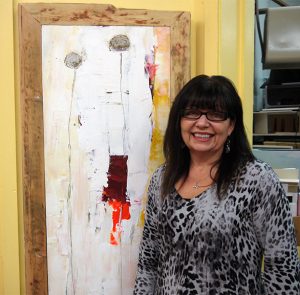 New Submissions Procedures
Artists and curators! We have updated our Submissions Procedures. We are now accepting submissions via email. Read the new Procedures here.