---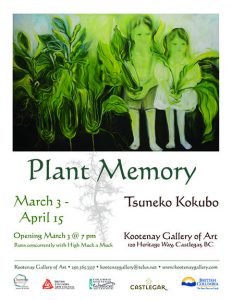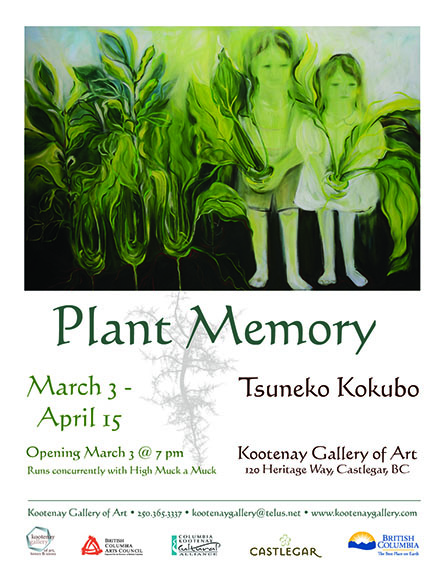 March 3 – April 15 (East Gallery)
The inspiration for this exhibition of large size paintings is based on the artist's own family history. Kokubo's family spent time in the internment camps in the Slocan Valley.  The plants in her mother's garden originated from BC Coastal communities and before that from Japan.  This realization led to an exploration of the connection between the origins of plants and the movement of immigrants as they came from Europe to eventually settle in the Kootenays. The paintings not only depict images of plants but also reference what historical or cultural story they may tell.
---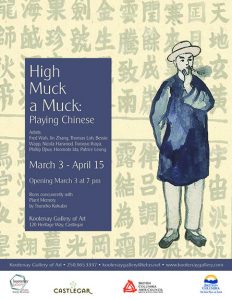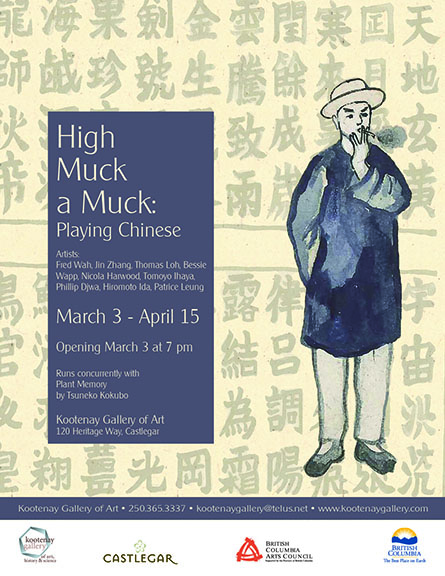 Fred Wah, Jin Zhang, Thomas Loh, Bessie Wapp, Nicola Harwood, Tomoyo Ihaya, Phillip Djwa, Hiromoto Ida, Patrice Leung
March 3 – April 15 (West Gallery)
This interactive media installation explores the theme of Chinese immigration to British Columbia, both historical and contemporary and the tensions that exist between them. The exhibition is largely directed by the viewers who participate in an historical Chinese lottery game resulting in the projection of a fortune. The random nature of the fortune reflects the uncertainties faced by new immigrants and often echo the tradition of Chinese proverbs and fortune telling.
---
April 20 – May 27
Young Visions is an important part of the Kootenay Gallery's community outreach program. In celebration of a year-long endeavour, the students and teachers from School District 20 are provided with the opportunity to exhibit their visual interpretations of life and community in the Kootenays. In mounting this exhibition, the gallery staff introduces the participants to the professionalism that is involved in an artist's career, and provides a site where the many talents of students and teachers alike can be presented to the community at large.
---
West Kootenay Camera Club Photo Salon
Photographs by members of the West Kootenay Camera Club.
The annual Photo Salon, presented by the West Kootenay Camera Club, is part of the Kootenay Gallery's ongoing community outreach program. In its 20th year, this exhibition provides an opportunity for both professional and amateur photographers to present their recent photographic work in a professional gallery setting. Participation in this four day exhibit is determined through an adjudication process carried out by adjudicators from the National Association of Photographic Arts.
---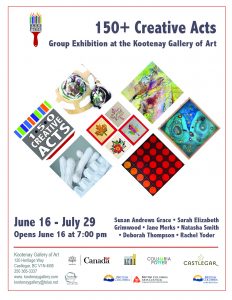 Susan Andrews Grace – Sarah Elizabeth Grimwood – Jane Merks – Natasha Smith – Deborah Thompson – Rachel Yoder
June 16 – July 29
Six artists' response to the theme 150 Creative Acts. Join us for this special show to acknowledge the anniversary of Confederation. The original pieces of work are striking both individually and as a group.
In the West Gallery, the community has an opportunity to try their own creative acts with stations for drawing, painting, weaving, writing and collaging.
---