---
The Kootenay Gallery's Exhibition season begins in March and runs until November. In November, we offer Christmas at the Gallery, a show and sale of a fine collection of hand-made artisan goods created by West Kootenay residents.
In January and February, the Gallery shows larger two-dimensional works, such as paintings, prints and photos that are for sale through the Gift Shop. Please come by and browse these works.
Our 2018 Schedule will begin on March 2. See information about our Exhibition Schedule here.
---
East Gallery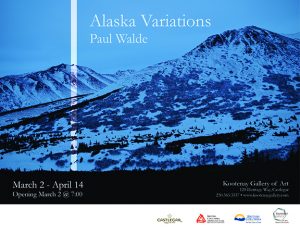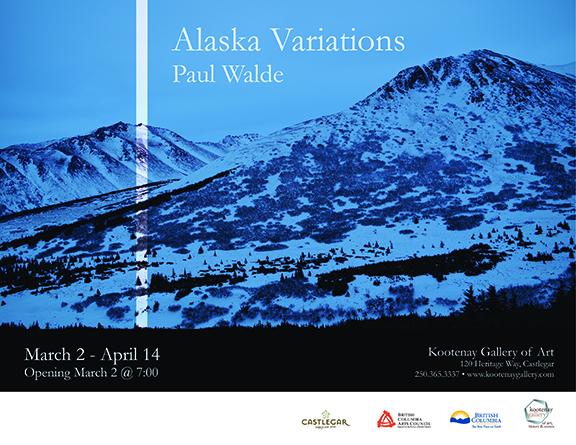 Alaska Variations
Paul Walde
March 2 – April 14
Alaska Variations was conceived as an "album" of performative sound and music compositions responding to the Alaskan landscape and elements within it. The scores combine scientific experimentation and observation with experimental sound and music practices and are a combination of instructional texts, standard notation, and graphic notation. The performances of these scores were captured as a series of audio/video recordings which when shown in combination with each other form a larger portrait of the landscape around Anchorage, Alaska.
West Gallery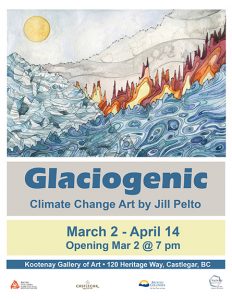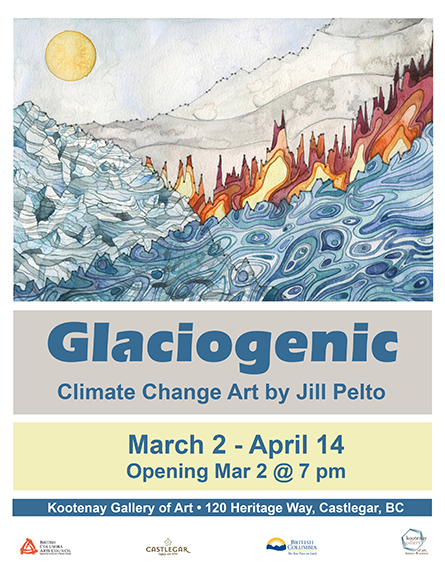 Glaciogenic
Jill Pelto
March 2 – April 14
"Scientific research and data fuel the content of my artwork. I create pieces to raise awareness about interesting and important environmental topics. The key topic in my portfolio is Climate Change data: melting glaciers, rising sea level, threatened species. I hope to cover both positive and negative issues which depict the reality of our current ecosystem."
Jill Pelto is currently in post-graduate studies in Climate Science. She has accompanied both her father and her brother on research trips to study the Columbia Basin glaciers on both sides of the border. This is her first exhibition in Canada.