---
See information about our Exhibition Schedule here.
September 21 – November 3, 2018

East Gallery
PAN-dulum
Deborah Thompson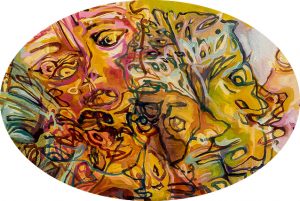 This show investigates the pandemic state of anxiety and its shadow of compassion that exists in our society. The project asks how do we meet the current state of global anxiety that is in and all around us? And hopes that in recognizing our own ambient anxieties we can then cultivate compassion for those most afflicted?  Can we find compassion to work with our collective madness?
---
West Gallery
In Between Time
Carol Wallace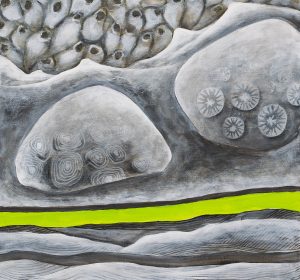 Imagery of fossil forms, some as old as 3 billion years, examines the vast concept of geologic time. Paintings include detail of delicate yet resilient early life forms, those that survived several extinctions. Our own insignificance is implied.
---