The Kootenay Gallery is once again offering the popular fundraiser. Monday Night at the Movies and happy to announce the showings will be in the Old Theatre, Castlegar.
Next film: Loving Vincent

February 26 at at 7:00 pm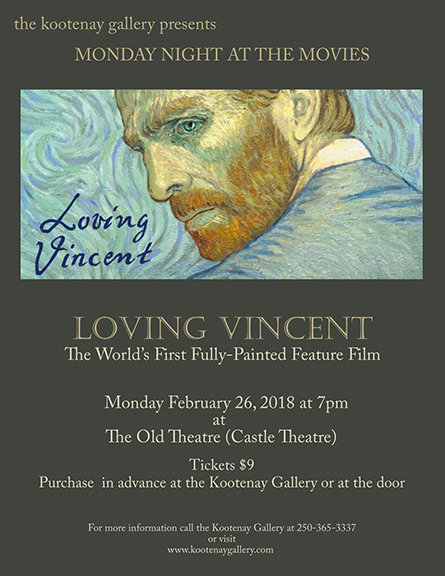 Be prepared for a real treat on Monday February 26th, 7pm at the Old Theatre , Castlegar, when the  Kootenay Gallery sponsors  LOVING VINCENT,.the world's first fully painted feature film. This multi-award winning production by Dorota Kobiela and Hugh Welchman is an animated biopic of Van Gogh's life and the mystery surrounding his death, shown in all the glorious colour and drama of Vincent's paintings.
Awarded the top animation prize at the European Film Awards in Berlin, Loving Vincent went on to gain nominations from BAFTA and the Golden Globes. The week before his death, Vincent wrote in a letter "We cannot speak other than by our paintings." so the producers ran with the idea of telling his story through his art . His tragic death is well known but the mystery is – why he came to be shot.
Thanks to Lowell and family at the Old Theatre for your continuing support of our film event.