---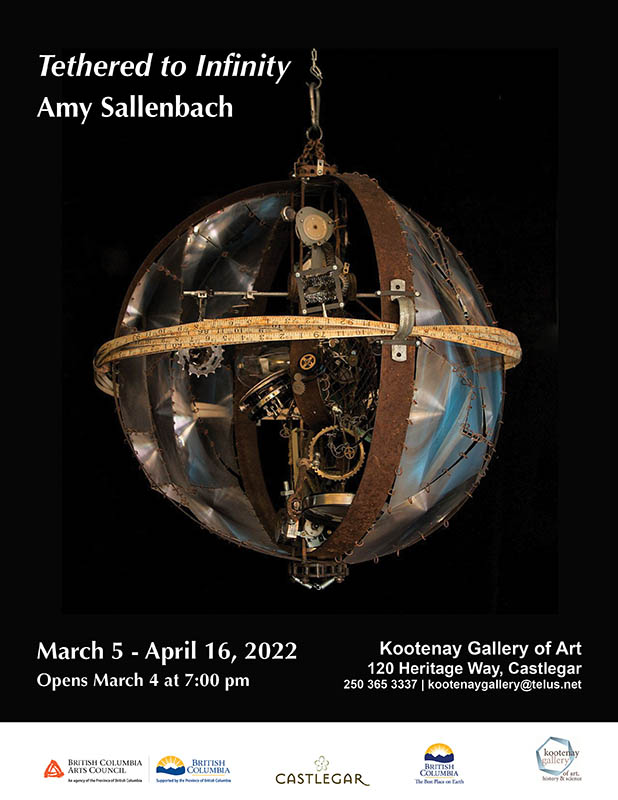 Tethered to Infinity
Amy Sallenbach
March 5 – April 16. Opens March 4 at 7:00 pm, pending health guidelines
The serpent pursues its tail, the wheels of time revolve, the universe pirouettes, and it all comes around to the circle. Representing returning to our roots in life, they are symbolic of protection as well as connection. My explorations are multi-disciplinary; reflecting on our world through assemblage mobiles and observational works balanced by a gravitational pull.
The Orbit mobiles were born of an investigation in to my childhood desire to become an astronaut. It taps in to the collective fascination of exploring the unknown. While utilizing found and collected objects, Orbit speaks of boundless possibility tethered to the human condition. They are time machines made of heat, debris and memory, protective forms housing delicate interiors. They are the toys of our theories circling the same dogmas over again until understanding expands, and we perceive a whole new universe. The form the mobiles take reference early astronomical and navigational equipment circa the 13th-19th centuries. The materials used are specifically found object, as being influenced by material circumstances is so often key to one's perception of reality. The act of collection and deconstruction becoming a homage to transformation, the habits I've established surrounding making these discoveries evolving in to an almost separate practice. I select and dismantle many curiosities to use, from timepieces to toasters to avionics, and all are a revelation, a new opportunity to learn how things tick.
The second aspect of Tethered to Infinity are the mixed media and assemblage works from the Atomo Series. Atomo is an exploration of pathways and patterns beginning with the smallest unit of ordinary matter, the atom. This is via a deliberately loose and instinctual method that allows the media to have significant influence on the outcome. It connects atomic musings with earthen textures, drawing a connection with our natural tendency towards the circle.
Together they become the vehicle and the map for an extraordinary journey.