---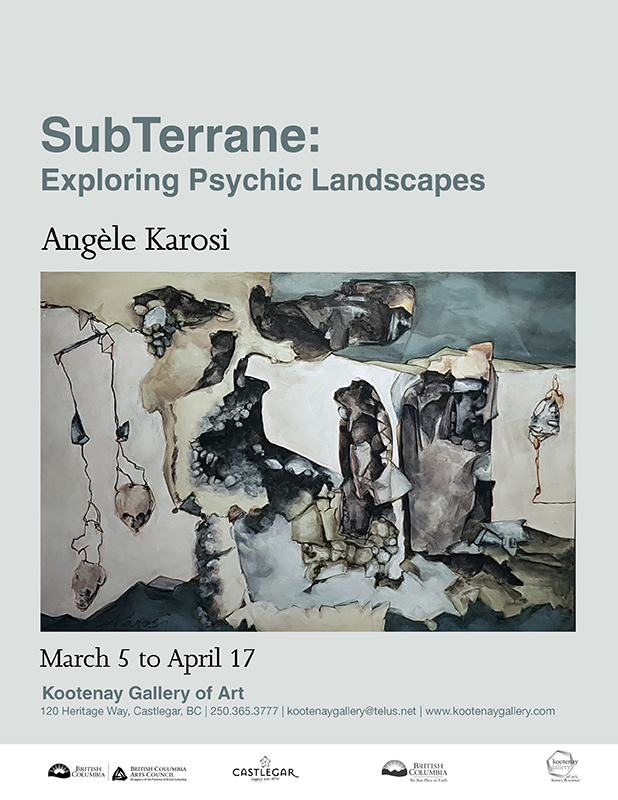 SubTerrane: Exploring Psychic Landscapes
Angèle Karosi
SubTerrane is a visual exploration of consciousness and intuitive creation. This series is represented as psychic landscapes, similar to geological mapping, with varying layers and buttresses, membranes and barriers, caverns and canyons.
The large scale of this series is intended to help create an immersive environment in which viewers can simultaneously take in the larger, broader universe or dive down into a myriad of pocket worlds, each having their own depth of details. In this way, the work functions a bit like a "choose your own adventure" story. These experiences may inspire a sense of discovery and excitement, like walking around a new city, or feelings of isolation and discomfort, like being caught at dusk on a dark path disappearing into the forest.
At a quick glance, the paintings may appear to be large abstractions or resemble asymmetrical Rorschach tests. Just as Rorschach tests are used to analyse cognition and perception, my work functions in a similar way, inviting the viewer to engage with the rhythm and movement of composition, initiating their own journey through the visual field and divining their own personal meaning through self-reflection. My goal is to amplify feelings of isolation, anxiety, insignificance, awe and excitement in and by the vastness of it all; the mind, the universe and the individual and collective experience.

Artist Bio

A multidisciplinary artist based out of Edmonton Alberta. Her work blends conceptual and process art that bridges surrealism and abstract expressionism. She is an avid reader and self-educator. She is currently studying Environmental Sciences at Selkirk College in Castlegar, British Columbia. Past education includes Studio Art and Art History at Concordia University in Montreal, Quebec and Arts and Cultural Management at MacEwan University. Angèle has worked in the not-for-profit arts community, as the General Manager of Mile Zero Dance Society and previously as the Gallery Services and Exhibition Coordinator at Harcourt House Artist Run Centre. She curated the Blue Plate Diner and is the Co-founder and Director of Dead Vinyl Society.