---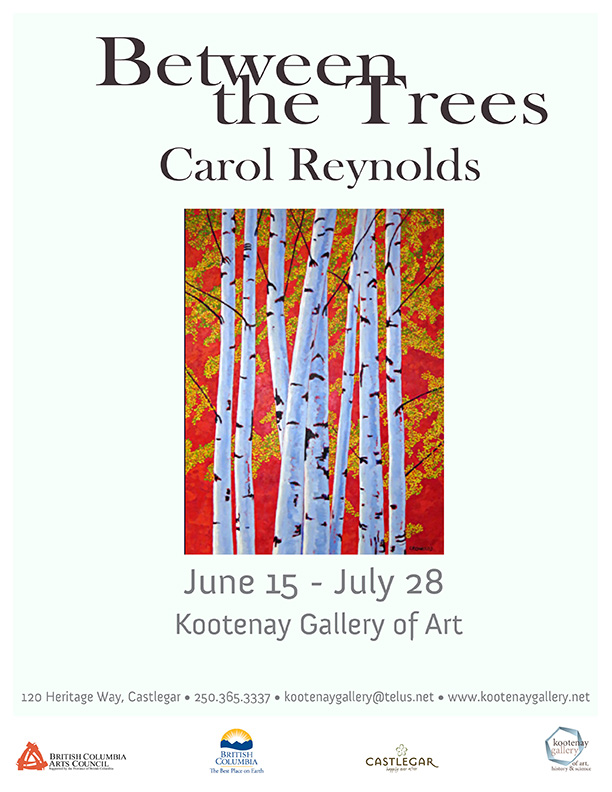 Between the Trees

Carol Reynolds
June 15 – July 28
Opens June 15 at 7:00 pm
Carol Reynolds has adeptly captured the landscapes of both Nelson streets and Kootenay birch groves in her popular colour-rich canvasses. Those of you familiar with the Kootenay Gallery building will have seen the mural she completed on the front of the Gallery in 2009.
Entitled Between the Trees, Reynolds' exhibition is selected from several bodies of work, but largely from her tree paintings.  As Reynolds' compositions have focussed on birches, the background beyond and between the trees has interested her as much as the primary subjects themselves. The result is a collection that is sometimes contemplative, sometimes electric and never dull.
The paintings on display include early pieces when she lived in Campbell River up to work completed this May in her Nelson studio.
Join us for the opening of the show at 7:00 pm on June 15. The exhibition continues until July 28.
Artist Statement
When I started kindergarten I discovered crayons. I loved colouring and I've never stopped loving it. As a teacher I enjoyed the art my students produced. They taught me a lot.  Don't be afraid – just go for it. And I did.
I went to night school and took art courses from many different instructors.  John Cooper taught me a lot about colour. I took early retirement and became an artist. I worked with clay, watercolours, acrylics and oils. It was all so much fun! I have decided now to just paint with oils. The colours are so rich.
The work in this exhibit is a collection of pieces from the last twenty years. At first I was trying to capture colour and realism. I have gradually changed to playing more with composition and texture. I don't know where I am headed but I plan to just keep on painting.
Thank you for coming to see my work.
Curator Statement
In our discussions in preparation for the show, Carol Reynolds would comment "I like the background as much as I like the trees." I agree with her. Looking at her early paintings, Reynolds would faithfully paint a blue sky as a blue sky. But over the course of her work, the backgrounds have evolved. The mountains in the distance dance with stripes of blues and lavenders, golden leaves burst forward against the flame red of the background. There is something going on here.
Prior to my art career, when I taught at a private college in Nelson, the faculty took part in a workshop with a Japanese educator and philosopher. He talked about an important concept in Japanese culture of the spaces in-between, a concept that had its roots in Zen Buddhism. Typically, we look at objects without seeing the space between or beyond. He explained this space is rich because it is in this space where possibilities exist. It is a space where we can meet to create something new. His reference in the context of the workshop was of two cultures coming together. But in Reynolds' paintings, space becomes an exploration of imagination.
At this stage in her career, Carol Reynolds is still uncovering new elements in her process. She has moved into the realm of the imagination where colour flashes, flows and dances. In releasing her imagination she is stimulating our imagination to join her in the spaces in between, a space of emotion, expansion and mystery.
Interview with Carol Reynolds
q. How did you get your start in art?
a. I went to night school in Campbell River three times a week. I'd teach all day then go to school. I did mostly drawing and painting. I tried watercolour and acrylics and finally tried oils. That was in the early 90's. One night, I saw the clay studio and they had these bags of left over clay. I was so tempted I stole half a bag and stayed up til 3:00 am working on a figure. I paid for the clay later. It was the only thing I ever stole in my life.
q. Did you enjoy working with clay?
a. I did. At some point, I had to decide between clay and painting.
q. Why painting?
a. It's always been in me. As a kid I never had any supplies at home or did much art. We lived in Europe for a while but never when to any museums. I took art in Grade 12. I was lucky. I had a good teacher. When I was a child, I won 2nd prize in a contest
q. You re-discovered art as an adult?
a. Yes, after high school, I went on to be a teacher. Art was always there. It started when my kids were young. I worked but then took early retirement to paint full-time. I paint and work with clay all the time. I've gotten better as I've gone along. Choosing Nelson was good. When I first moved here, I was still teaching then took evening classes at Kootenay School of Art. John Cooper taught me a lot. One night I'd work with John Hodges, an architect, drawing precise lines. The next night, I'd have Cooper. We could be doing anything – painting with brushes in our mouths. He fired me up and taught me so much about colour.
I painted a variety of houses and back alleys. I'd walk around with a camera. I was attracted to light and shadow, to colour and to shapes.  I did some portraits of people.
q. How did you get into painting trees?
a. I just love the trees, especially birch trees and the light they reflect. It's all about light and shadow. I'm always looking. The backgrounds of the trees have evolved. At first it was so real. Now I'm escaping realism and playing. I'm thinking about colour. It takes me days to paint a painting. I don't know why or how it happens. Sometimes I get excited – it's fun. So many retired people don't know what to do. I want to stay in this house as long as I can and do what I do.