---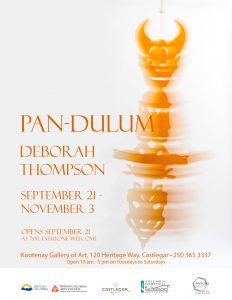 Pan-dulum
Deborah Thompson
September 21 – November 3
Artist Reception September 21 at 7:00 pm
Call to Unreason : A Manifesto
My project, Pan-dulum: a call to unreason (formerly Like Cures Like) is a response to pandemic extremes of copious anxiety and ecstatic escape.  These polar states are rooted in instinctual responses to the social and political climate  of dis-ease and dramatic turbulence in which we live. These manifest in a variety of ways, acts of uncontrolled consumerism and avarice lifestyles on the one hand and potentially dangerous substance use and personal paths of rapture on the other hand. The title of the project,  Pan-dulum: a call to unreason, departs from the mythic God Pan whose presence  and actions brought out a state of Pan-ic and is a new source of wisdom born from unreason.
My investigation of these topics has broadened my understanding of the issues around addiction and mental health in our society. I have previously explored my relationship and curiosity to instinct through several bodies of work. In would say, that some aspect of instinct lies within all of my work and is thus a central theme in my opus. Without a healthy connection to our instincts we lack the responses that bring compassion and care out into the world. We lack the ability to make decisions that foster self care and survival of both ourselves and the sentient world we inhabit. Finally, I would say that this work chose me rather than my hunting it.
As a woman artist, working and living in a patriarchal society, our instincts are cut off at every bend in the road. Starting from birth …young girls our emergent voices and vitally important self-development is channelled in to socially acceptable shapes that serve the dominant culture of gender inequality and misogyny.  We are cultured to please a system that does not serve us and refuses our individuality. Becoming like that which is oppressing us we move out into the world with our hands cut off. Our instincts of caring, nourishing and relation building are seldom seen and absent from the dominant discourse. Everyone suffers. And so we swing from the extremes of our instinctual wisdom the throngs of high stress and over achieving to the escapes in forms of transcendence. This body of work, then explores those familiar states in their expression in the human face. It can be seen as the workings of Pan who inhabits our society at this time and in desperate call for something different: a wisdom born of unreason in a culture driven by reason.
Deborah Thompson
Biography
Deborah Thompson currently lives and works in Nelson , British Columbia. She completed an
associate degree from the Ontario College of Art (OCADU) in 1984, a Bachelor of Southwest
Cultural Studies from Prescott College in 1989 and a Masters of Fine Art from the University of
Montana in 1997. Between her degrees she taught at Outdoor Education Schools in Southern
Utah, Alaska, the Yukon and Kenya. She has taught at the University of Montana in the Fine Art
Department, the Kootenay School of Arts at Selkirk College and the Oxygen Art Centre. She is
a founding member of the Oxygen Art Centre. She was the curator at Touchstone Nelson:
Museum of Art and History from 2009-2013. In 2015, she was the recipient of the 2015 Canadian
Museum Association award for outstanding achievement in exhibitions for a pop up exhibition
that she curated for the Columbia River Treaty conference. She has been awarded several grants
for both her curatorial work and studio practice. She exhibits regularly in both solo and group
shows. Her work has been reviewed in Border Crossings Magazine.
Gratitude
I would like to thank my daughter for her quiet support and insightful critiques and to the many friends and peers who encouraged the growth and direction of the project along the way.
And to Maggie Shirley and Val Field of the Kootenay Gallery who said yes to my proposal when was in its infancy! For their discussions and studio visits that helped keep the project moving along.
Also I would like to acknowledge the technical abilities of MoFab Manufacturing, Heather MacAskill and Carl Schlichting in the helping create the Pandulums.
Lastly, I would like to acknowledge the generous support of the Columbia Kootenay Cultural Alliance in helping to manifest this project.