---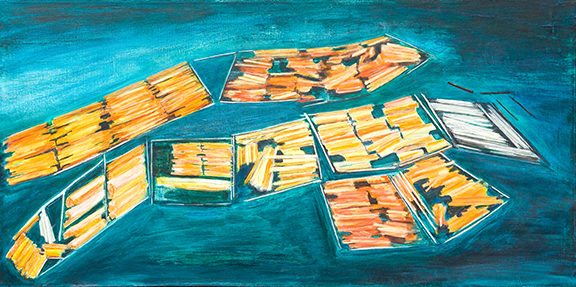 Dianne has been painting and drawing since her early twenties. Though her paintings are primarily landscapes of the west coast where she currently lives, and the prairies where she grew up, she is also challenged by filtered light across an old bathtub or the image of a sleeping soldier.
Dianne is a long-time member of the North Shore Artists Guild (nsartists.ca) where she has studied and participated in exhibitions. The Guild has been supporting and promoting artists from Howe Sound, West Vancouver, North Vancouver to Deep Cove since 1947.
Over the years, Dianne has participated in a number of group and juried exhibitions and her work is in private and public collections.
Artist Statement
I am attracted to shapes, colours, light and figures which bring me a deep empathy. I have always had a deep connection with nature in its varied form and a desire to express myself and tell stories with paint.
My landscapes are inspired by Canada's prairies and small west coast islands. Sometimes I will work from a reference photo or even newspaper cuttings with preliminary drawings; at other times, it's straight to applying paint to canvas. My favourite part of the painting process is when the painting itself seems to be guiding me.
Dianne Clark
Curator Statement
As a curator, I am intrigued by her point of view and her subject matter, both of which are often unusual and risky. In the absence of formal training, her self-directed study and practice has resulted in work that is fresh, experimental and unselfconscious. There is a continuity to her paintings that is consistent with that of a working, evolving artist who is accomplished in both oils and acrylics.
I am reminded of several artists when looking at Dianne's work: Takao Tanabi, particularly his west coast and prairie landscapes, and landscapes by Expressionists Marsden Hartley and Georgia O'Keefe. That said, Dianne's approach is entirely her own and it never feels as if she is 'borrowing' from anyone.
The focus of the exhibition is still being determined; however, Dianne and I are enthusiastically discussing the possibility of including landscapes of the Kootenay area produced specifically for this exhibition. The intent is to offer both the artist and exhibition visitors an opportunity to experience, and respond to, a landscape that is unfamiliar to the artist while deeply familiar to many who will be viewing the paintings.
Jane Ritchie
Opening Night