---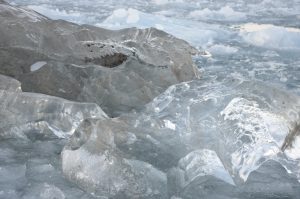 East Gallery
Fata Morgana
Hildur Jonasson
March 1 – April 13, 2019
A Fata Morgana is the name of a complex form of mirage that distorts distant objects often to the point of non-recognition. Fata Morgana, the exhibition, features a new body of work by Jonasson that explores nature and our relationship to it through a northern lens. The viewer will experience the essence and ephemeral quality of Arctic nature while allowing space for introspection.

---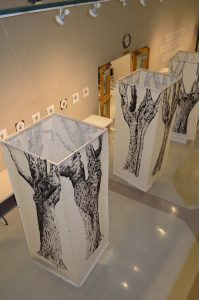 West Gallery
Relative to Trees
Helena Wadsley
March 1 – April 1
Globalization is typically regarded in terms of human migration resulting through necessity or tourism, and the massive scale at which manufactured goods and foods are crisscrossing the planet, but trees may also be considered as signs of globalization. Trees have become an integral part of my art practice as I explore what it means to be, or not to be, of a place.
---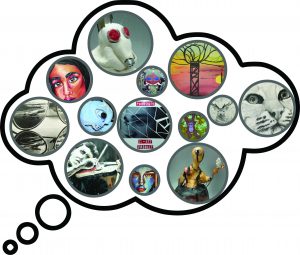 East and West Galleries
Young Visions
Students & Staff of SD 20
April 18 – May 2
Young Visions is an important part of the Kootenay Gallery's community outreach program. In celebration of a year-long endeavour, the students and teachers from School District 20 are provided with the opportunity to exhibit their visual interpretations of life and community in the Kootenays. In mounting this exhibition, the gallery staff introduces the participants to the professionalism that is involved in an artist's career, and provides a site where the many talents of students and teachers alike can be presented to the community at large.
---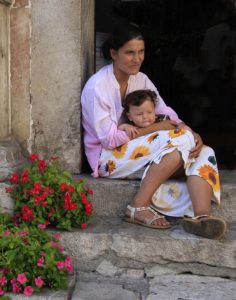 ---
East and West Galleries
West Kootenay Camera Club Photo Salon
Photographic competition by members of the West Kootenay Camera Club
May 31 – June 7, 2019
Join the Camera Club as they mount their annual photo show and competition. Local photographers enter their best work to receive feedback from professional adjudicators from the National Association of Photographic Arts. In its 21 year, this exhibition provides an opportunity for both professional and amateur photographers to present their recent photographic work in a professional gallery setting.
---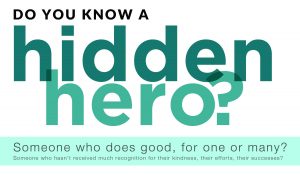 East Gallery
The Hidden Hero Project
Claire Dibble & Castlegar Citizens
June 21 – August 24
The Hidden Hero Project is a portrait series celebrating the everyday heroes who live and give in Castlegar BC. Inspired by Kootenay Gallery of Art, photographed by Claire Dibble, and supported by the Province of BC Community Resilience Through Arts and Culture Grant, the project honours the lives of everyday citizens. These heroes aren't necessarily saving lives or stopping crime, they are people who contribute in large or small ways everyday. They are young and old and of many backgrounds. The project will include an opening community celebration, portraits of 25 heroes, a full list of all the nominees and an opportunity to add to the list.
---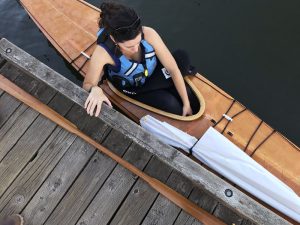 West Gallery
Watershed Moments: Connecting Source to Sea on the Columbia River
Claire Dibble
June 21 – August 24
Watershed Moments is a solo paddling expedition and social-engagement art project that will cover all 2000 kilometers (1243 miles) of the Columbia River between the source (near my home in Golden, British Columbia) to the sea (beyond Astoria, Oregon). Start date of July 1, 2019. I'll be creating and presenting a growing series of images in two art galleries along the river as I travel; the Kootenay Gallery in Castlegar, BC and Columbia Art Gallery in Hood River, OR. Each week I'll upload a new batch of 10 photographs to be printed and shipped directly to the galleries.
---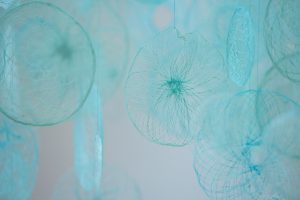 East Gallery
Consumed by Clouds
Amanda McCavour
September 6 – November 2
The site specific work created at the Kootenay Gallery of Art explores thread's subtle quality versus it's accumulative presence. This installation consists of multiple low hanging "clouds" or three dimensional scribbles that will be made entirely out of thread. Each cloud will consist of hundreds of sewn elements inspired by "spirographs" that will hang from the ceiling with individual threads. This dense collection of sewn lines is made of saturated thread colours like neon green, yellow, orange and pink. These bright hues colour the space, creating a vivid atmosphere filled with saturated lines. Viewers will move around the embroidered environment through paths and will be invited to lay underneath the installation. The pieces will move slightly with the movement of air, creating a surreal synthetic environment enveloping the viewer in line and colour.
---
West Gallery
I Love You
George Koochin
September 6 – November 2
Come in, relax and enjoy a moment of solitude as you ponder this "Kootenay love poem" – George Koochin's monumental visual meditation on "why there is life".
---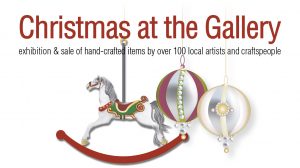 East & West Galleries
Christmas at the Gallery
100+ Artisans
This very popular exhibition and sale is a celebration of local and regional artists, craftspeople and collections. While providing artists with an opportunity to bring their work to the marketplace, this event attracts views and buyers from throughout the region. Christmas at the Gallery serves as an artists' showcase and audience-building event.
---