---
See information about our 2019 Exhibition Schedule here.
Upcoming Exhibition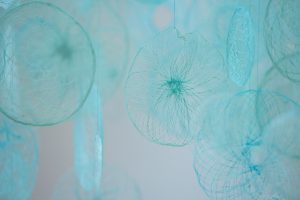 East Gallery
Consumed by Clouds
Amanda McCavour
September 6 – November 2
The site specific work created at the Kootenay Gallery of Art explores thread's subtle quality versus it's accumulative presence. This installation consists of multiple low hanging "clouds" or three dimensional scribbles that will be made entirely out of thread. Each cloud will consist of hundreds of sewn elements inspired by "spirographs" that will hang from the ceiling with individual threads. This dense collection of sewn lines is made of saturated thread colours like neon green, yellow, orange and pink. These bright hues colour the space, creating a vivid atmosphere filled with saturated lines. Viewers will move around the embroidered environment through paths and will be invited to lay underneath the installation. The pieces will move slightly with the movement of air, creating a surreal synthetic environment enveloping the viewer in line and colour.
West Gallery
I Love You
George Koochin
September 6 – November 2
Come in, relax and enjoy a moment of solitude as you ponder this "Kootenay love poem" – George Koochin's monumental visual meditation on "why there is life".
---