---
See information about our 2019 Exhibition Schedule here.
March 1 – April 13, 2019

East Gallery
Fata Morgana
Hildur Jonasson
A Fata Morgana is the name of a complex form of mirage that distorts distant objects often to the point of non-recognition. Fata Morgana, the exhibition, features a new body of work by Jonasson that explores nature and our relationship to it through a northern lens. The viewer will experience the essence and ephemeral quality of Arctic nature while allowing space for introspection.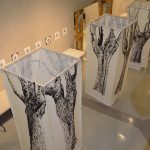 West Gallery
Relative to Trees
Helena Wadsley
Globalization is typically regarded in terms of human migration resulting through necessity or tourism, and the massive scale at which manufactured goods and foods are crisscrossing the planet, but trees may also be considered as signs of globalization. Trees have become an integral part of my art practice as I explore what it means to be, or not to be, of a place.
---
---