---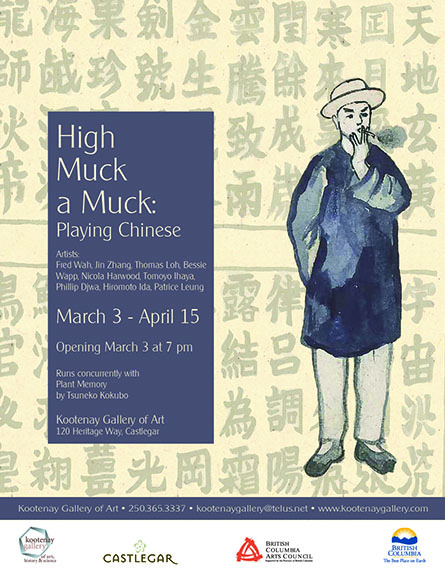 High Muck a Muck: Playing Chinese
Fred Wah, Jin Zhang, Thomas Loh, Bessie Wapp, Nicola Harwood, Tomoyo Ihaya, Phillip Djwa, Hiromoto Ida, Patrice Leung
March 3 – April 15 (West Gallery)
Opens March 3 at 7:00 pm. Everyone welcome.
High Muck A Muck: Playing Chinese, an interactive installation and website project, is a collaboration between nine Canadian artists and writers including Fred Wah, Canada's Poet Laureate (2012-2014), composer Jin Zhang, writer and designer Nicola Harwood, video artists and performers Thomas Loh and Bessie Wapp, dancer Hiromoto Ida, visual artist Tomoyo Ihaya, filmmaker Patrice Leung and web developer Phillip Djwa. The programming was by Simon Lysander Overstall and Haley Hunt-Brondwin. Community members who contributed oral histories include Karin Lee, Sid Tan, Cameron Mah and Lawrence Mah.
High Muck A Muck: Playing Chinese is a multi-disciplinary work that expresses experiences of Chinese immigration to Canada. The project plays with the notion of fakery, of imitation, of wearing the master's clothes; of a reversal of roles as white Canada now strives to serve a Chinese economic master. High Muck A Muck: Playing Chinese expresses some of the internal community struggles that erupt between different generations and classes of immigrants and it challenges the racist paradigm of an all white Canada into which Asian immigrants enter but are never fully allowed to arrive. The artists on the project represent some of these complexities with some whose families arrived in the first era of immigration to those who arrived post Tiananmen Square to those who came to Canada via Taiwan and Trinidad.
The work strives to bring the body, the sensual, the handmade and homespun (paintings, drawings, voice, dance, community stories) to life within the digital landscape. This juxtaposition of content and form, fakery versus authenticity, old versus new, runs throughout the project. Wah's experimental poetic aesthetic suddenly erupts into narrative; Zhang's music pushes the sounds of ancient handmade instruments against digitally created sound art; and the videos work to combine images of the body in bondage with the repetition and accumulation of objects from both past and present. Ihaya's delicate paintings, which comprise the foundational visual interface of the project, employ a hand-made painterly aesthetic, disrupting the usual the gleam of the computer generated or photo based, graphic world of digital media works.
"High Muck a Muck" is a term meaning "big shot" from Chinook jargon, a pidgin trading language from early contact on the west coast of North America that combines facets of Indigenous Coast Salish, Chinese and English. Referencing this language in the title, as well as "Playing Chinese," suggests the complexities of mimesis at the vortex of diaspora and globalism. Here is an opportunity to scrutinize the reflective nature of "playing" with dreams: is the gold of "Gold Mountain" perhaps shifting back to Asia? And, beyond a Chinook jargon, what accouterments of hybridity have we recuperated from the contact zone? As artists, how can we offer some mediation between history and what has become an increasingly "mixed up" world? In the rapidly developing west of Canada, buildings disappear, stories disappear, histories disappear and historic anti-Asian racism goes underground, shaping continued and subtle patterns of exclusion.