---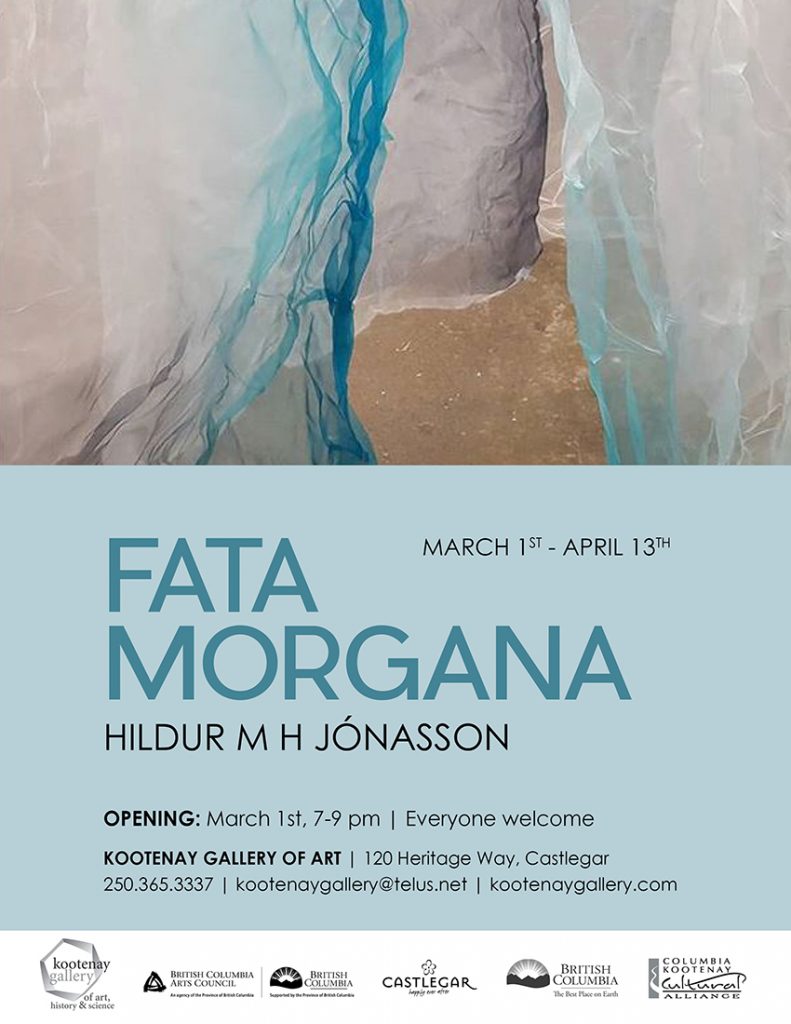 Artist Statement by Hildur Jonasson
In Fata Morgana, I investigate the visceral quality of ice as part of our relationship to nature within the context of climate change. This body of work is an exploration of natural phenomena, the magical Arctic and plastic pollution.
In the fall of 2017 I participated in The Arctic Circle artist residency, sailing on a tall ship in the waters around Svalbard, Norway. The nature and landscape of the high Arctic is otherworldly. I observed how I became spellbound by this stunning environment. This experience underlined the magic and wonder of this icy nature – I became a child again discovering mother earth for the first time. My senses were heightened with the absence of the noise of a busy, modern life. I was able to soak up my environment in the stillness.
For this body of work I selected materials of silk, paper and glass alongside plastic rubbish brought back from Svalbard that I've employed in an attempt to translate my experience. The reflective and translucent qualities of the silk and glass intuitively steer me in the creation of some of the work. The plastic trash present as forms and textures that I ink to print as monoprints. It was shocking to see plastic pollution in this otherwise pristine, untouched landscape, but the ocean current does not discriminate where it deposits our rubbish. The prints speak of our complex dependence on plastic where it becomes an unexpected component transformed into an ephemeral gestural form.
In the piece Fata Morgana, I researched dyes and studied the Japanese Bokashi brush dyeing technique. I investigated silk textiles before settling on silk organza – this silk seems to float in the air, emanating the essence of the Fata Morgana I witnessed. The almost complete transparency of the organza gives a ghostly impression that whispers at the possibility of glaciers becoming myths. The viewer is invited to walk through the installation and be enveloped by this ghost glacier where your silhouette may become visible to a viewer from outside of the installation proposing the idea that we are part of nature. As one walks around Fata Morgana, the cloud-like material billows hinting towards humans disturbing their environment. The work is monolithic in its volume, yet fragile in it's transparency. This work references Ann Hamilton's "In the event of a thread" although on a much more demure scale. There is also the commonality of invoking a particular place.
Thirty souls is a culmination of frozen ice puddles, sea kelp and an ornithological wasteland on an island that was an abandoned bird colony as nesting season was over. Scattered throughout the island was the evidence of the circle of bird life – there were eggshells still intact save for a hole large enough for a bird to feed on, a bird wing scattered here, bird skeletal remains there. There was complete stillness in this sublime nature save for thirty artists soaking it all in without a spoken word.
Each day was a gift that presented itself with something entirely different from the day before. And every day, I thought I had seen all the ice there was to see, but by the end of the voyage, I realized that ice comes in infinite forms, like it's microscopic pattern of it's beginning – the snowflake. By the completion of this adventure it occurred to me that there is something magical about ice.
Curator Statement by Maggie Shirley
A Fata Morgana is an illusionary phenomenon which results when light bends as it passes through a temperature inversion (cold air below warm air). A Fata Morgana is a mirage but it is more complex and changes more rapidly than common mirages. Named after Morgan le Fay of Arthurian legend, it hints both at the supernatural and of potential danger. The phenomena of Fata Morgana are seen often in the Arctic seas and early sailors believed this type of mirage was created by fairy spirits to lure them to their deaths.
Hildur Jonasson sailed on the Tall Ship Antigua in the International Territory of Svalbard, near Norway, in 2017. Jonasson observed and embodied her experience in this place, previously unknown to her but in ways similar to her native Iceland. She has adeptly captured elements of that voyage and brings us along through a variety of forms and media – fabric, glass, and ink, among others.
Though there are whispers in the art of a mystical past from Morgana la Fay and from Jonasson's own Icelandic roots, the work is contemporary. For the printwork series Human Traces, Jonasson collected pieces of plastic that had floated and landed on the shores of the Svalbard Territory to create a unique series of prints. Thirty Souls, circle of glass enclosing organic fragments, speak of ice sheets de-evolved into spots of ice bobbing on their own in the water, too fragile to hold a bear or seal. The fabric glacier, Fata Morgana is a monument to what Jonasson observed during the excursion but for how long will glaciers last? The term "calving" usually implies birthing in mammals but for glaciers, it means dissolution and death. There is much beauty in the work but there is also a thread of grief. Viewers become ghost-like to those on the outside as they pass "beyond the veil" and walk within the installation.
Through the reference to illusion, Hildur Jonasson invites us to look twice at her work in the gallery and at the world in general. As we hear of fake news and listen to debates about everything from climate change to borders, how do we determine what is real and what isn't? Can we trust what we see and hear in this age of digital editing? What we can trust is our own embodied experience in the natural world. The body knows, even when the eyes question. The natural world can fool us momentarily in the form of mirage but reveals its true self when we study it. With this exhibition, Hildur Jonasson guides us into a deeper look at the northern realm, a gaze into a crevice of the contemporary world.
Artist Bio
Born and raised in Iceland, Hildur María (Hallgrímsdóttir) Jónasson grew up close to nature in a surreal landscape of volcanoes, geysers and glaciers. Jónasson's Nordic culture of folklore and mythology is deeply rooted in nature and has a strong influence on her art.
Jónasson graduated from Alberta College of Art & Design (ACAD) in 1993. She majored in visual communications (B. Des) and enjoyed a successful career in the graphic design industry. In 2006 Jónasson started participating in art workshops and exhibitions as she commenced her career transition into fine art. In 2015, Jónasson completed a post-baccalaureate program at Nova Scotia College of Art and Design University (NSCAD).
Jónasson self describes as a printcentric multi-disciplinary artist – her work can range from small, jewel-like sculptures to large ephemeral installations of ghost-like glaciers. She allows her projects to dictate the medium she applies to her work. Jónasson holds work in public collections and has exhibited in Canada, Iceland and the United States. She has participated in numerous artist residencies including The Banff Centre and The Arctic Circle and is a recipient of various grants and bursaries.
Jónasson has resided in the Kootenays since 2003. In 2011, she took a four year hiatus that brought her to Whitehorse (Yukon), Reykjavík (Iceland) and Halifax (Nova Scotia), for professional development, educational pursuits and to further her fascination with glaciers and other natural phenomena.