---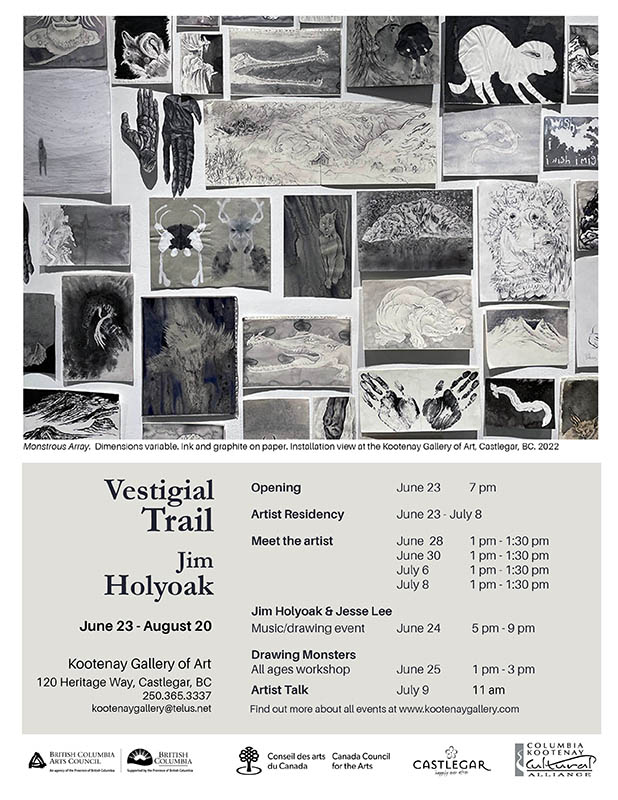 Vestigial Trail
Jim Holyoak
Exhibition: June 23 – August 20, 2022
Residency: June 23 – July 8, 2022
Exhibition Catalogue – limited editions available in print. View or download below:
---
Programming Schedule
Opening Night – June 23 at 7:00 pm
Meet the Artist – 1:00 pm to 1:30 on June 28, June 30, July 6 and July 8. This will be an opportunity to meet and ask Jim questions about his art and process while he is in residence creating new artwork.
Jim Holyoak & Jesse Lee – Music and Drawing Event – June 24 from 5:00 pm – 9:00 pm. Attendees will be invited to draw (or not) while watching/listening to an improvised collaborative performance between Jim Holyoak (drawing with crayons, pencils, brooms and brushes) and Jesse Lee (making music with guitar, keyboard, loopers and percussion).
Drawing Monsters – Workshop – June 25 from 1:00 pm – 3:00 pm. We will try a variety of monster-drawing exercises using pencils and wax crayons. Participants of all ages and skill levels are welcome.
Artist Talk – July 9 at 11:00 am. Join Jim along with curator Maggie Shirley to find out more about the exhibition and Jim's artistic career.
---

Artist Statement
"Fantasy abandoned by reason produces impossible monsters. Fantasy united with reason is the mother of the arts, and a source of wonders." -Francisco Goya
My art practice is comprised of drawing, ink-painting, artists' books, comics, and room-sized drawing installations. Throughout my life, drawing has been a way of contemplating animals and monsters, perception and fantasy, the real and unreal, metamorphosis and hidden worlds. What we think about, remember and imagine has powerful effects on how we perceive and experience, on what we believe and how we behave. This is what prevents me from dismissing the imaginary as completely unreal.
Over the last twenty+ years, I have amassed an enormous collection of papers – ranging in scale from postcards to murals – drawn, written, wrinkled and saturated with ink. Some are pieces unto themselves, some are pages for hand-bound books and zines, and some are materials for dense installation-environments, tailored to the architecture of the rooms that they occupy.
Though the content of my work ranges from the biological to the phantasmagorical, there is a persistent interest in human empathy for other species, and in the difficulty of fathoming deep time – the world millions of years ago, and the world ahead. The animals I contemplate most are the species that never existed, that no longer exist, and those that are on the brink of extinction. For example, dinosaurs fascinate me because they are completely real and completely imaginary – they are monsters for real. This tension between what is real and imaginary, what once existed and no longer exists, is the uniting principle in all my work.
Just as fairytales often serve a cautionary function, I hope these drawings of monstrous beings and lonely places will cast shadows of doubt over assumptions of human preeminence.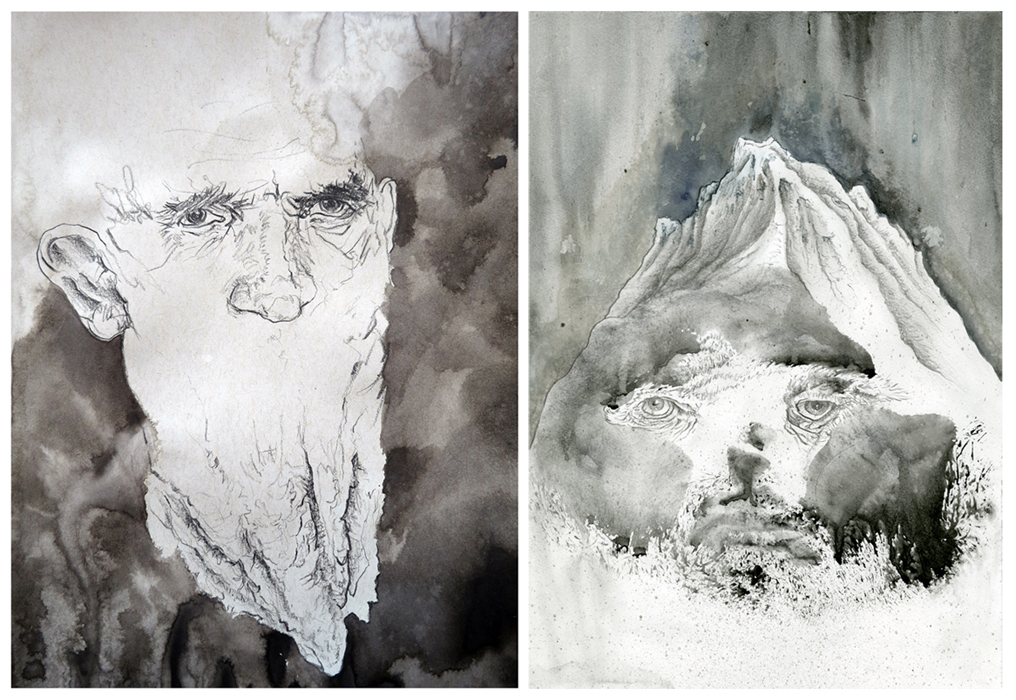 Artist Biography
Jim Holyoak's discipline consists primarily of drawing and writing, artists' books and large-scale drawing installations. He received a BFA from the University of Victoria, an MFA from Concordia University, and studied as an apprentice to master ink-painter Shen Ling Xiang, in Yangshuo, China. In parallel to his solo practice, Holyoak has orchestrated numerous collaborative drawing projects, often with fellow artist Matt Shane, and sometimes involving hundreds of people drawing together. His work has circulated widely, including at the Musée d'art contemporain de Montréal, the GEM Museum of Contemporary Art in The Hague, the Drawing Association in Oslo, the Latvian Centre for Contemporary Art in Rīga, the Carnegie Mellon International Drawing Symposium in Pittsburgh, and the Drawing Museum in Sweden. Holyoak has attended artist residencies in New York, Los Angeles, Mumbai, Banff, The Netherlands, Finland, Sweden, Iceland, England and throughout Norway. His work will be included in the 2022 publication, 'Drawing in the Present Tense.' Also in 2022, his first graphic novel, 'Book of 19 Nocturnes,' will be published by Flask Press. Since 2018, Holyoak has been based in Nelson, BC, where he teaches remotely at Emily Carr University of Art + Design.