---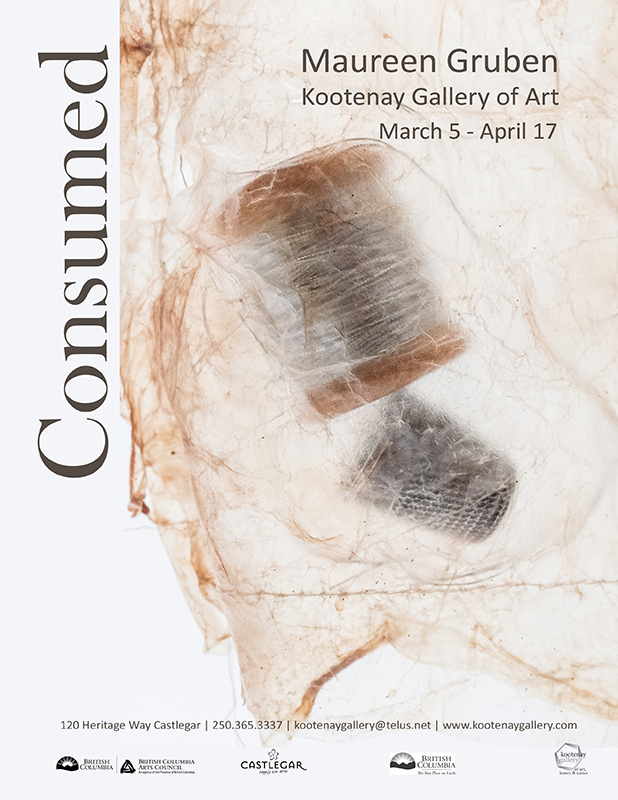 Consumed
Maureen Gruben
Consumed (2017) 
Focusing in on issues of accumulation and waste, Consumed (2017) addresses the immense volume of "things" we manage to gather around us in life, questioning the inscribed social values they bring with them and their cumulative impact on us. Gruben has stitched a wide array of items into translucent, papery segments of beluga whale intestine, which she dried herself according to a traditional process that has now fallen into disuse. The collected selection includes elastic bands, ear phones, a rosary, a condom, a cut-up credit card, matches… a disparate grouping that touches on how thoroughly multiple dimensions of our life are seeded with largely prefabricated objects. This, of course, has profound implications for our planet and ourselves; through food chains laced with industrial chemicals and microplastics, we do genuinely consume toxic byproducts from our massive scale of production. The presence of religious paraphernalia in this collection emphasizes that our objects are not ideologically passive either—the things we physically interact with affect us, psychologically and emotionally. Further to this, Consumed questions perceived mind-body divisions regarding how we process our world and our emotions, as all of the objects it comprises are—literally—held in guts.
Maureen Gruben is an artist based in Tuktoyaktuk, NWT.

About The Work
Maureen Gruben employs an intimate materiality as she disassembles and re-combinines disparate organic and industrial elements. Polar bear fur, beluga intestines, seal skins and gathered kelp encounter resins, vinyl, bubble wrap and metallic tape, forging critical links between life in the Western Arctic and global environmental and cultural concerns. Gruben was born and raised in Tuktoyaktuk. Her parents were traditional knowledge keepers, and she spent much of her childhood sewing with her mother and trapping with her father. She has a tacit knowledge of Arctic land and the rich but increasingly precarious resources it offers for both survival and creation. Frequently addressing themes such as melting ice, Persistent Organic Pollutants (POPs), and the rights of indigenous hunters to maintain their way of life, Gruben's practice is permeated with activism while at the same time allowing generous room for her materials themselves to speak. In her work, abstraction of form sits in active tension with the acutely 'real' presence of her geographically and culturally embedded mediums. While referring explicitly inwards to localised acts of hunting, gathering, and communal preparation and sharing, her work, equally, extends decisively outwards, exploring new visual languages that offer compelling and often urgent global associations.

Bio
Inuvialuk artist Maureen Gruben graduated with a BFA in 2012 from the University of Victoria, where she was awarded the Elizabeth Valentine Prangnell Scholarship Award. She has since exhibited regularly across Canada and internationally. Her work is held in national and private collections. Prior to her BFA, Gruben studied at Kelowna Okanagan College of Fine Arts (Diploma in Fine Arts, 1990), the En'owkin Centre in Penticton (Diploma in Fine Arts and Creative Writing, 2000 and Certificate in Indigenous Political Development & Leadership, 2001). She has been recognized by Kelowna's En'owkin Centre with both their Eliza Jane Maracle Award (1998/99) and their Overall Achievement Award (1999/2000).