---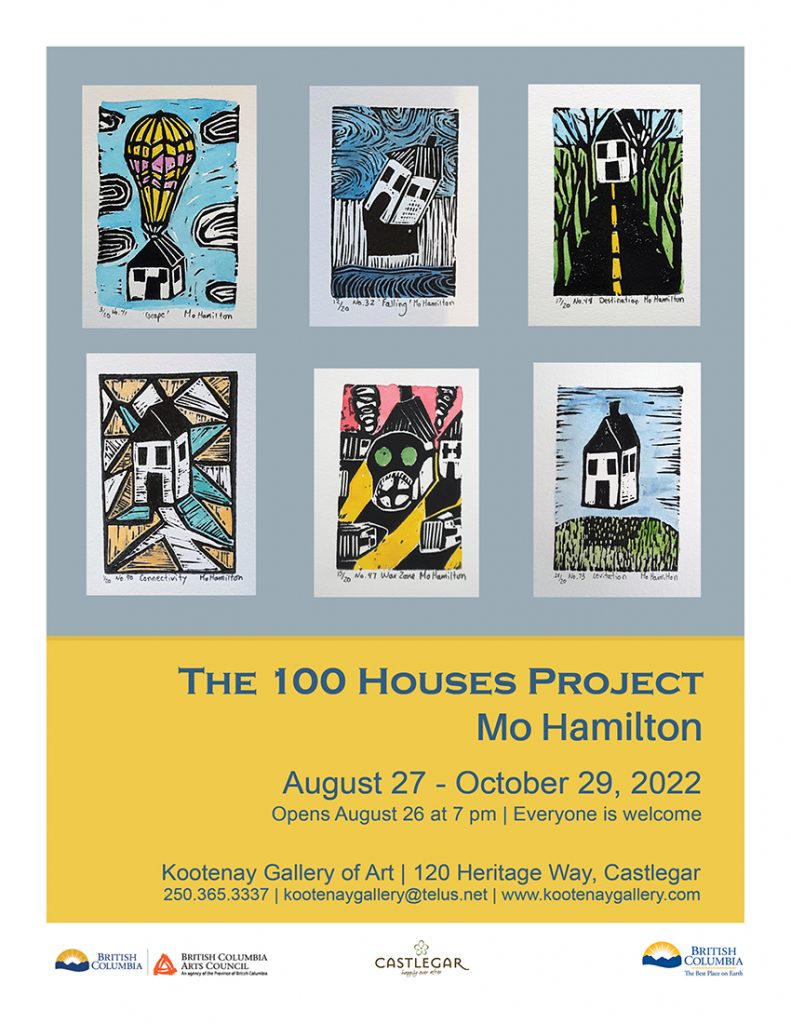 The 100 Houses Project
Mo Hamilton
August 27 – October 29
Opens October 26 at 7 pm. Everyone is welcome.
Artist Statement
The 100 Houses Project is a compilation of 100 block prints depicting houses in different scenarios. I began this project in 2016 as a means to explore varying concepts of home and to consider the state of our contemporary time. As a whole, the project represents a cross section of human experience, capturing both every-day life and the impact of large-scale events.
Some of my prints are based on relatively familiar circumstances, such as moving from one community to another. Other prints consider the effects of wildfire evacuations, economics, environmental disaster, war, and homelessness. In spite of presenting seemingly negative situations, this body of work also reveals moments of joy and community, inferring positive experiences can prevail even through difficult times.
Within my work the house represents the self and is an expression of identity. For me, home is a refuge – a place where one can be their truest self and find respite from the worlds outward expectations. I believe that we all have a need to experience home in this way, but acknowledge that sometimes events beyond one's control can disrupt any sense of security they may have. In this way, The 100 Houses Project tells a story of how humans adapt to life's changes and challenges.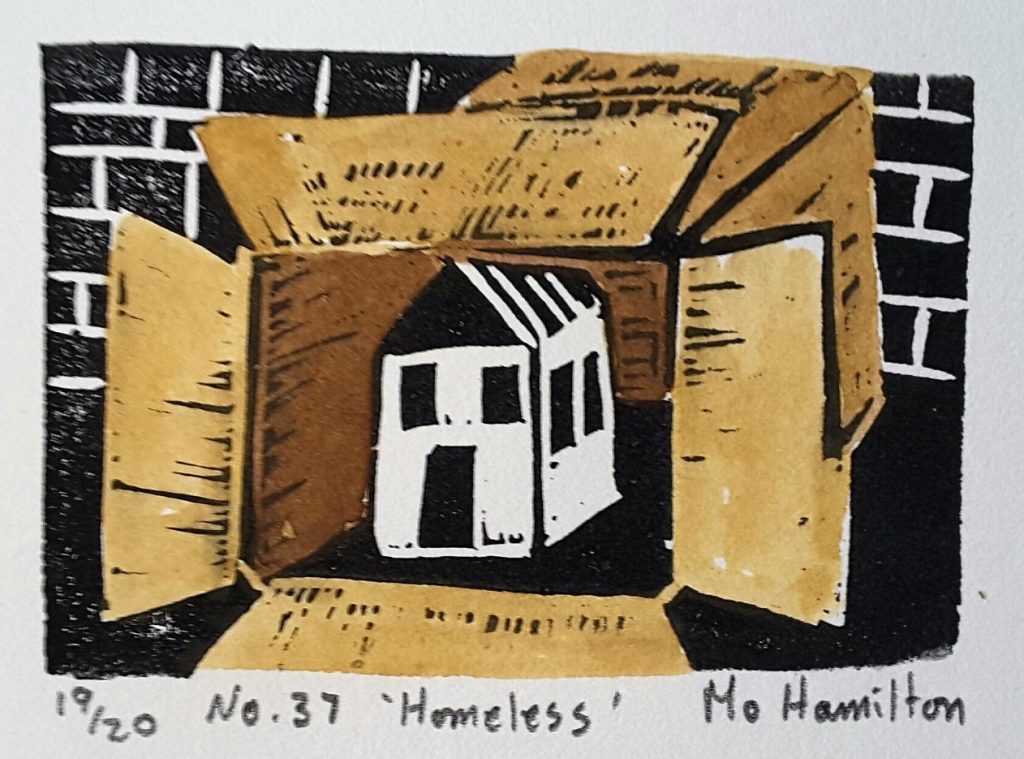 Artist Bio
Mo Hamilton is a BC painter and printmaker whose inspiration comes from current events in the external world around her as well as the internal world of her imagination. Mo reduces her images to their essential elements so she can bring simplicity, myth and storytelling to her work. In her paintings and prints she explores themes of uncertainty, instability and disruption and how these impact our sense of security. She often uses humour in her work as a way of expressing human's ability to adapt to change with the idea that it is better to laugh than to cry. Mo's intuitive multi-layered paintings incorporate collage, words and found images to reveal her inner narrative.
Mo Hamilton has exhibited and sold  her work in many galleries throughout BC. She facilitated the Art Heals Program at the Northern Health Hospital in Prince George for many years as well as taught art workshops at Two Rivers Gallery, Smithers Art Gallery, Terrace Art Gallery, Kootenay Gallery of Art, Island Mountain Arts and also MISSA. Mo studied art at Camosun College, has done a couple TOAP mentorships at IMA in Wells and continues to learn  and follow her curiosity  as it applies to art making. She has lived and worked in  many communities across BC but now works as a full time artist  in her home in Prince George, BC.