---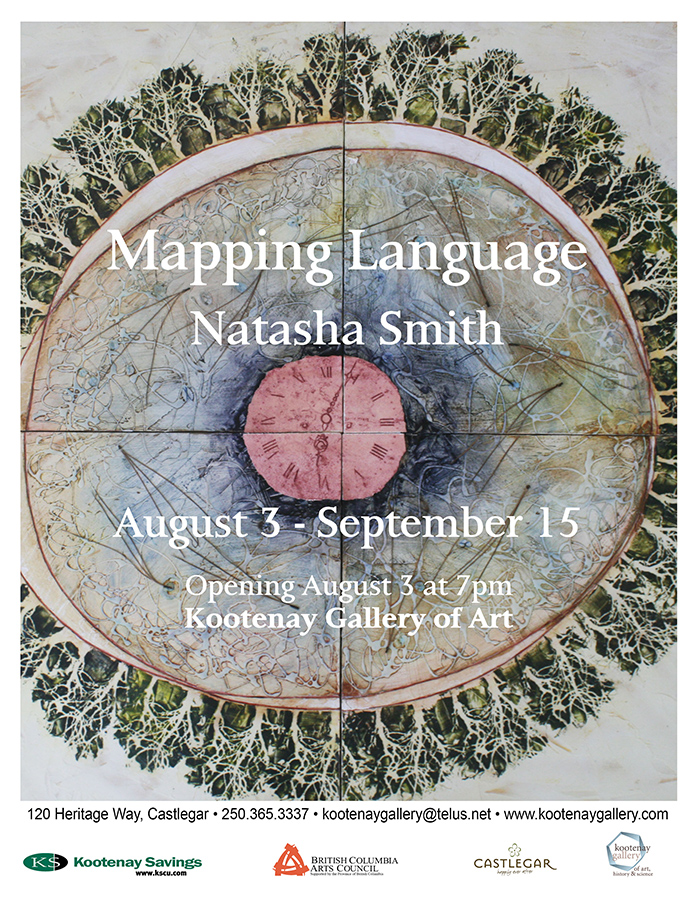 Mapping Language is an exploration in to the development of my own visual language. In this body of work I muse on the question of how much of the development of visual language is instinctual and potentially universal in nature and what aspects are molded by the accumulation of experiences, memories and place. It is an investigation into ways to store this information and to document and reflect on discoveries by incorporating and referencing artworks created over my last 20 years of artmaking. Over these years I have acknowledged that certain images and marks continually appear when creating in an intuitive way, and by their nature appear quite primitive and pure. Some I can identify as referencing experiences and memories of place, where as others are shapes that take on symbolic significance like whispers from the unconscious or possibly collective unconscious? In my project Joining Worlds, I investigated the development of my son's visual language and identified hieroglyph like imagery and mark making. This body of work led me to the research of Rhoda Kellogg who believed that the expressive gestures of the infant evolve from certain basic scribbles towards consistent symbols and these basic patterns that gradually become the conscious representation of objects, where signs become a visual image. Every child, in its discovery of a mode of symbolization, (no matter where they are from in the world) follows the same graphic evolution. I am interested in this hypothesis, that there is a universality to the development of visual language in the early years and when or do artists then depart from this point? I am excited by the idea that there are still unknown instinctual or hidden forces still guiding my work. In this body of work I reference some of the early marks or origins of my own visual language, juxtaposing print elements with natural objects I explore various ways of documenting, preserving and combining this information with inspiration from the now.
ARTIST STATEMENT
I have been a printmaker for 20 years. From the time I pulled my first print, there was an excitement I found in the indirect nature of their creation. I discovered that through the printmaking process, accidental marks and discoveries can be made that are often more compelling than the intended elements. Along with the infinite possibilities of plate creation and manipulation, I have found constant inspiration to investigate ideas.
My work teaching in schools as part of the Artstarts Artist in Education Program has informed my research into the development of visual language. I have created, facilitated and worked on many different projects, working with elementary and secondary students where my intent is to inspire and develop the creative possibilities for young people. I have had the privilege to observe and learn from their discoveries as they develop their visual language and this inspires and informs my work.
I have developed an intuitive way of working drawing on collected materials that combine printmaking and various collage painting techniques, including carving the substrate and then layering and building complex surfaces. Shadow boxes have become a way for me to include actual pieces of the real world moving ideas into 3D space, juxtaposing unusual objects and combining them with collaged 2D works to create unusual visual stories. My personal and physical environment is a constant source of inspiration. I work intuitively, allowing process, landscape and a love of the primitive mark to inform my work.
ARTIST BIO
Natasha Smith holds a BA Hons. in Fine Art Printmaking and has been a practicing visual artist for over 20 years. Natasha's personal and physical environment inspire her most recent work, which combine printmaking, collage, painting and assemblage. Natasha is a self-defined teaching artist and has taught at the Kootenay School of the Arts and Oxygen Art Centre (where she was a founding member), Red Deer College Summer Series and Metchosin International Summer School of the Arts. Natasha has been an artist in residence in Slocan Valley and Nelson schools as part of the Artstarts, Artists in Classroom program. Natasha exhibits her work regularly and works from her Studio in Krestova.