---
Alaska Variations – Paul Walde
March 2 – April 14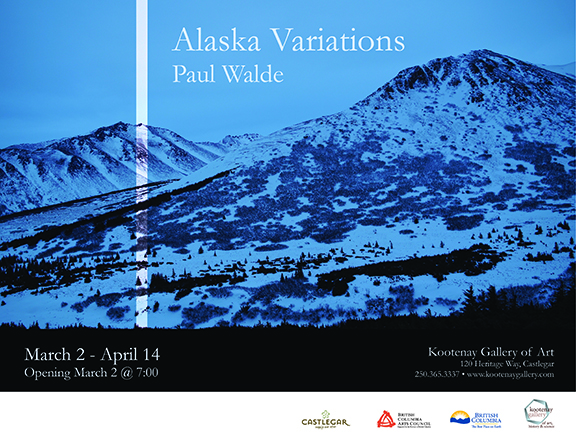 Paul Walde: On Alaska Variations
Alaska Variations was conceived as an "album" of performative sound and music compositions responding to the landscape and elements within it.  The scores combine scientific experimentation and observation with experimental sound and music practices and are a combination of instructional texts, standard notation, and graphic notation.  The performances of these scores were captured as a series of audio/video recordings which when shown in combination with each other form a larger portrait of the landscape around Anchorage, Alaska.
Background:
Music and sound composition have been a part of my artistic practice since the year 2000 when I started work on Northern Symphony, an installation that featured a score for a string quartet based on beaver-gnawed markings left on a tree felled in front of my studio in Northern Ontario, Canada. In this work, classical music composition was used as a cultural signifier in contrast to information found in nature.  This approach to using standard music notation was more recently used in Requiem for a Glacier, a live, site-specific sound performance featuring a fifty-five-piece choir and orchestra on the Farnham Glacier in the Purcell Mountains.  The Requiem was a four-movement oratorio derived from found texts relating to the politics of the site and climate data. Also significant to the development of Alaska Variations is the fact that the Requiem was adapted into to a sound and video gallery work. This work combined performance footage with additional footage of the site and performative vignettes featuring some of the players from the initial performance.
During the past twenty years I've also worked with graphic notation, in which visual information describes the music to be played instead of standard music notation.  Most of my work in this area has been in arranging information from nature directly and performing from these arrangements of materials, such as mushroom spores.  In addition to this, I've been interested in verbal notation, or instructional scores, in which prose is used to give direction to the performers.  This type of score makes the most sense when the goals of the work are less musical, more conceptual, scientific or indeterminate.  Over the years I've amassed a fairly large collection of these scores, which for the most part are unrealized.  Indeed many are unrealizable due to their visionary nature.
Since I began my professional practice in 1994, I've used landscape as a device to discuss issues of identity, technology, and the pressures facing the environment. Global warming became a focus of this investigation in 2003 follow a research trip to the Yukon during which I became aware of the issue of melting permafrost and the impact this is having on the global climate.
Polar Lab:
In 2015, at the invitation of Anchorage Museum Director Julie Decker, I visited Alaska for the first time in a preliminary visit to prepare for my Polar Lab residency the following year. During this visit I spent much of the time experimenting outside with available materials and interacting directly with the landscape.  On a day trip to Matanuska Glacier with Anchorage artist Michael Conti, I became interested in the sound of our ski poles piercing the snow in an otherwise silent landscape. Walking onto exposed ice under which the water had receded I noticed that the ski pole, when traversing the ice, could make a sonic description of the thickness and character of the ice and space under it.  This was the origin of Ice Record one of 9 pieces in Alaska Variations.
Upon returning to Victoria BC, where I currently live and work, I added this score to others that I had previously written.  It occurred to me then that several of these scores could be realized in Alaska and that realizing them in this environment would produce variations of these pieces that would reflect the specifics of the time and place that they were realized.  As a collection they would resonate metaphorically in concert with each another, producing a sort of portrait of this environment.
In addition to the instructional scores, I wanted to revisit the approach I used for Northern Symphony using the translation of found environmental information, as well as graphic notation based on forms in nature.  My subject for both approaches presented itself shortly after arriving in Anchorage in February 2016 when I visited the Glen Alps Trailhead and View Point, which is part of the Chugach State Park, but located within the city of Anchorage.  I went to Glen Alps to scout locations for potentially realizing some of the instructional scores as I was looking for relatively quiet spaces near the city that would accommodate travelling with equipment, crew and musicians. While there I became interested in the distribution of the flora on the side of Little O'Malley peak, which according to subsequent research is in flux due to climate change. I decided to map the existing vegetation and translate the location and size of the trees and shrubs in to standard notation each species being represented by a group of instruments.  The result was Glen Alps: a score written for tenor, soprano, string quartet and percussion.  Four variations of this composition were prepared for the installation, a musical theme that would help tie the disparate elements of the album together.  The libretto was based on the Latin names of the flora depicted in the work.
On the initial visit to the Glen Alps, I also discovered a high concentration of moose gnawings on the trees on the trails leading to Little O'Malley.  I have been working with evidential markings left by animals in the environment in my work since 1995 but hadn't revisited this branch of investigation for over a decade.  Though I'd grown up in Northern Ontario near the Great Lakes and had spent a good part of my adulthood there, I'd never seen moose gnawing to this extent as the moose in the area use the trails for easy access to these trees.  Previously in my work I'd used printmaking techniques for recording this information- relief printing and rubbings; however, in this situation the marks were too big and too inaccessible to capture in a practical manner.  Some initial experiments with photography also proved impractical due to the nature of the markings, as well as the scale, height and location, which were off-trail in deep snow. In the end I decided upon a method that I hadn't yet used in crafting a graphic score – video.  Panning up and down and across the tree trunks, I was able to capture these markings and in post-production I was able to orchestrate the order in which the markings were to be played, as well as the speed and duration.  While shooting the score, I imagined the voicing and techniques for realizing the score, and the work of New York cellist Alex Waterman came to mind, inspiring the outcome of the score. Waterman is not only a tremendously accomplished instrumentalist but also a musicologist with extensive knowledge and experience with graphic notation.  Alex graciously agreed to interpret the score entitled Gnaw 9, which revisits the titling of previous gnaw-related works from the early '90s, and which in turn were named after a Janine Antoni work of the same title.
During my Polar Lab residency I decided to work on realizing a series of scores for the camera that would serve as the basis of a multi-screen sound and video installation. I started with 8 scores all written prior to the residency, five of which were realized: 5 Planes, Battery (retitled All Terrain), Ice Record, Experimental Climate Change Research No.1, and Dance 1, as well as an additional variation of the Ice Record: Ice Groove and the aforementioned Gnaw 9 and Glen Alps.
The score for Glen Alps was written while in residency and immediately recorded at Surreal Sound by Anchorage Producer Kurt Reimann, with a quickly recruited ensemble of local musicians including soloist Judy Berry of the Anchorage Opera Company.  Video shoots were conducted at the former Love Church (now artist studios in Spenard) and on location at the Glen Alps Trailhead and Lookout.  Four variations of the recording were created post-production and videos incorporating live performance, performances for the camera as well as animations of the score were combined to accompany the variations. The Glen Alps Variations include a straight recording which is used to accompany the church shoot: a respatialized version which sounds as though it's in a huge cathedral which is used with the location shoot of the vocalists, a backwards version in which the animation of the score plays backwards and a final version which combines footage and audio from all of the scores into a mashup of the entire album.
Alaska Variations was an opportunity for me to realize several ideas that I'd been developing for several years, including a variety of modes of scoring, work with local artists and musicians, and the creation of a work whose focus is determined largely by its adherence to a particular time and place.  The intersection of urban Alaska to the vast wilderness that surrounds it allowed for a unique glimpse into human encroachment into northern wild spaces, and the effects of our presence there and on the planet, while suggesting what is at stake in these relationships.
About Paul Walde
Paul Walde is an artist, composer, and curator. Walde's body of work suggests unexpected interconnections between landscape, identity, and technology. Recent exhibitions of his work include: Records and Wireframes at Dundee Contemporary Arts as part of the NEoN Festival of Digital Media in Dundee, Scotland (2017) and The View from Up Here at the Anchorage Museum and the Nordnorsk Kunstmuseum in Tromsø, Norway (2016/2017).
In 2013, he completed Requiem for a Glacier, a site-specific sound performance featuring a fifty-five-piece choir and orchestra live on the Farnham Glacier in the Purcell Mountains. Requiem for a Glacier was subsequently developed into a multichannel sound and video installation which has been the basis of solo exhibitions at WKP Kennedy Gallery in North Bay, On (2017); L' Université Laval Art Gallery in Quebec City, QC; Art Gallery at Evergreen, Coquitlam, BC; Oxygen Art Centre in Nelson, BC, (2014) and The Langham Cultural Centre in Kaslo, BC (2013).
In 2012 he relocated to Victoria, British Columbia, where he is Associate Professor of Visual Arts and Department Chair at the University of Victoria. Walde is a founding member of Audio Lodge, a Canadian sound art collective and EMU Experimental Music Unit a Victoria-based sound ensemble.