---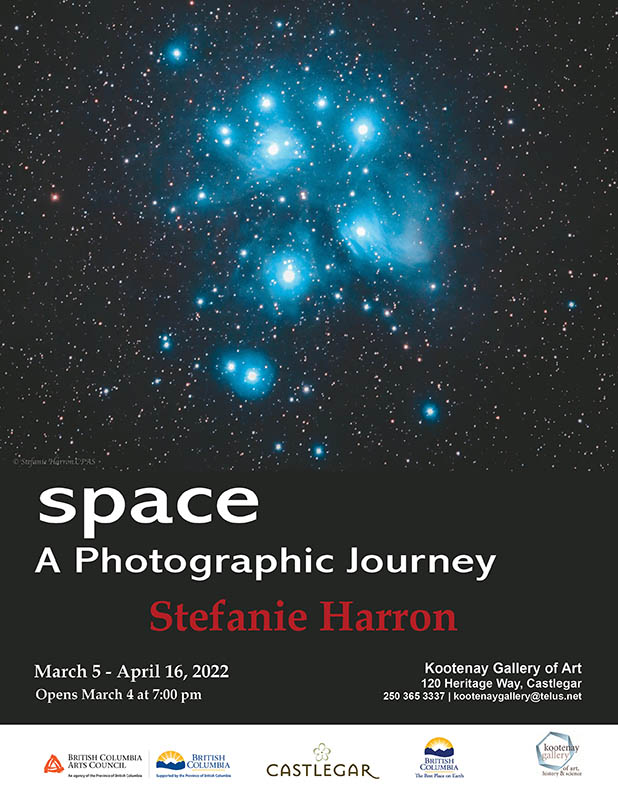 Space: A Photographic Journey with Stefanie Harron
March 5 – April 16
Opening March 4 at 7 pm, pending PHO health guidelines
Artist Statement
"Resting in the forest, on a mountain peak, or on rocks by a remote stretch of ocean, is where you'll find me. I find comfort there, and myself."
I was born in Belfast Ireland 1968, and raised during the Troubles. Since immigrating to Canada I use photography to capture the beauty of my surroundings which are in stark contrast to atrocities I've suffered in life.
Having settled and made my home in the City of Castlegar, British Columbia, has provided vast opportunities with being surrounded by seemingly endless mountains and forests. Since a young child I have had a deep heartfelt connection with wilderness and wildlife in its' natural habitat. There's a strong spiritual connection that brings me a deep sense of peace and leaves me feeling balanced.
Family introduced me to photography at young age of 9, developing film and prints in the darkroom. My interest and education in Photographic Arts progressed to studying Videojournalism at George Brown College (Toronto) and a Diploma of Photography, from the accredited Photography Institute.
I choose to use my abilities to advocate for health and wellness, wildlife conservation, habitat preservation and formal education for Photography.
Where is the "Art" in the taking of a Photograph ? I suggest it's having curiosity and respect for the world, coupled with a desire to transcribe it visually. Photography most importantly must be done without adding or omitting from the Photograph.
Therapeutic Photography is very good for working through trauma, especially those experienced in childhood. Artistic expression of emotions and painful memories is a path to healing and wellness. Photography allows us to explore complicated emotions throughout the picture taking process in decisive ways.
Whether used as a hobby, profession or therapy for for P.T.S.D , Depression or Anxiety, Photography is a gift for others and oneself.
Photography for me, is a tremendous tool for managing PTSD. Holding my camera gives me the feelings of being present in the moment. It's a distraction from hyper-vigilance and anxiety. It allows me a sense of control. What do I want others to see? What do I want others to feel ? How am I going to compose an image? How can I position the camera to make an interesting composition? How much light am I going to let in to the camera? How dark, or how light, do I want the photograph to be? How much detail within the composition do I want to bring to the photograph through use of the Depth of Field.
I strive to convey my experiences in the capture of fleeting visual impressions of my sense of reality. I want to transmute pain and suffering into the wonders of beauty, peace and joy.
I learned that my Photography is a welcome base for helping others cope with personal pain. I founded the Non-Profit Organization called Canada Photographic Arts Society with proceeds forwarded to formal organizations that help sexually assaulted children and troubled youth such as The Little Warriors Foundation and The Vancouver Police Foundation.
"Space" contains some favourite subjects and challenges for a Photographers' considerations. There are "short" exposures of several seconds with a camera mounted on a tripod to multiple hour exposures with camera on a motorized equatorial mount. If one decides to point one's camera towards to night skies, the vastness of Space contains hundreds of thousands of subjects to photograph, from neighbouring galaxies, planetary nebula, emission nebula, comets and meteors.
Member of: The Royal Astronomical Society; The Planetary Society; and The Canadian Association of Journalists.
The stars belong to everyone!