---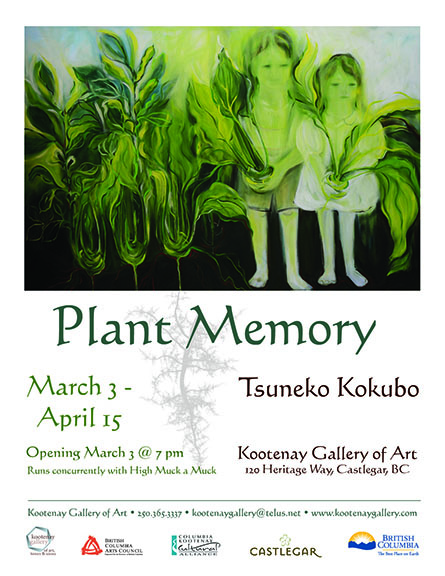 Plant Memory
Tsuneko Kokubo
March 3 – April 15, 2017
Artist Statement
Plants and their seeds move in various, and sometimes mysterious ways, using a variety of means to travel and propagate.  They take advantage of currents of wind and water, and they use insects, birds, animals, humans and human transportation, in order to spread.
There are many analogies between the plant world and the human world.  Human history is marked by a constant reaching out and pushing of boundaries – of exploration, and often of invasion and conquest.  Similarly, some plants are aggressive and invasive, while others establish a symbiotic relationship with native plants and eventually become part of a balanced eco-system.
Before the European invasion of what is now called Canada occurred, there was already a rich variety of plants used and revered by First Nations peoples.  Over thousands of years, these peoples may themselves have moved plants, intentionally, through trade, or accidentally. Then a few hundred years ago different waves of settlers started to arrive, often bringing seeds and plants.
I have been thinking about these 'immigrant plants' for many years. One day I was talking to my 99 year old mother about her internment experiences in Lemon Creek in the Slocan Valley, and I realized that many of the plants grown in the Nikkei (Japanese-Canadian) internment camps in the Slocan had originally come from BC coastal communities, and before that from Japan.  Plants that I had seen growing in Nikkei gardens in New Denver, were the same ones growing in my mother's garden in Steveston. I began to wonder how the plants (or the seeds) had made these journeys – perhaps tucked away in a suitcase, or even concealed in a bridal gown by a picture bride coming to meet her new husband.  These 'foreign' plants were not just sources of food and medicine, but reminders of Japan, and later, reminders of the BC Coast.  I wondered, too, about other cultures bringing plants or seeds.
As Sharon Lynn Rempel notes:  "Each culture has nurtured various plants for spirit, mind and body. The plants that have been selected over time have become a part of each culture, through art, music, food, ritual, healing, landscape and legend. When settlers first came to Canada they brought with them seeds of their homeland. They brought their visions of paradise as well as their comfort foods and plants. Some of the seeds died, not able to adapt to the different climate. However, many survived, and were passed along generation to generation and shared with neighbours and friends. As new immigrants arrive in Canada they bring with them their visions of the gardens and plants of their homeland."  Sharon Lynn Rempel (Heritage Gardens….Inspirations from our Past  1997)
In these paintings I am exploring some edible and medicinal plants as repositories of history and culture (living archives) in the Columbia Basin, but I am not a historian or a botanist.  I am simply a gardener who also loves to paint.  My unsystematic explorations of this subject are manifested through art – often inspired by my own garden, or by the stories of local Kootenay folk.    I talked with many people in the area, but most specific memories of how plants or seeds actually arrived in this area are lost in the mists of time.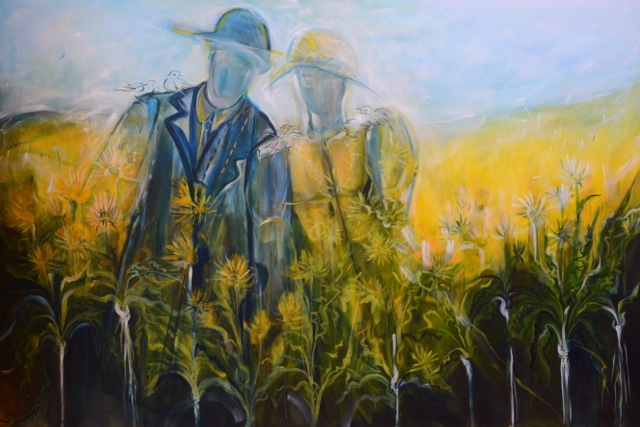 Mr and Mrs Needham's Scarecrows Protecting their Dandelions
40″ x 60″
acrylic on canvas
Tsuneko Kokubo 2017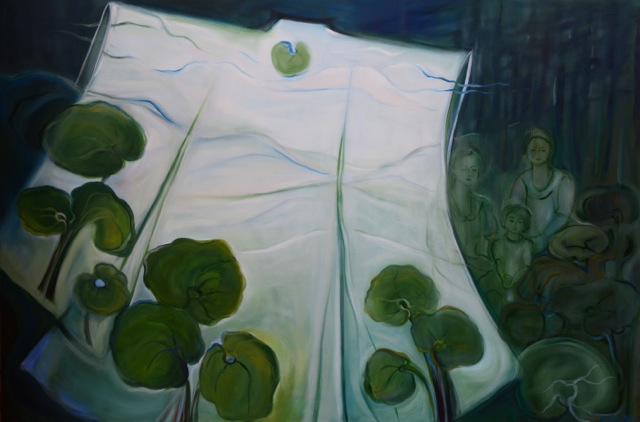 Junko's Fuki
40″ x 60″
acrylic on canvas
Tsuneko Kokubo 2017