---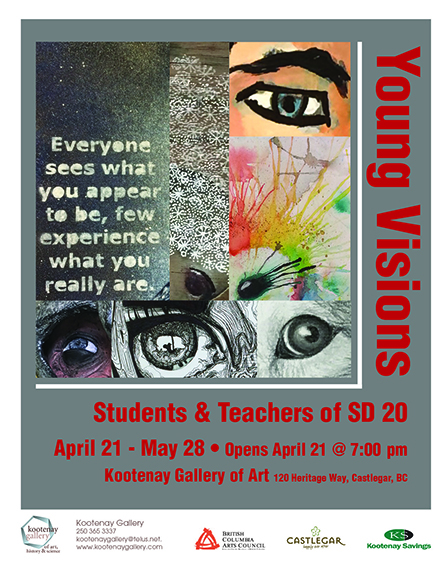 Young Visions 2016
April 21 – May 28
Opens April 21 at 7:00 pm. Everyone welcome.
Admission by donation, free for Gallery members.
Young Visions is an important part of the Kootenay Gallery's community outreach program. In celebration of a year-long endeavour, the students and teachers from School District 20 are provided with the opportunity to exhibit their visual interpretations of life and community in the Kootenays. In mounting this exhibition, the gallery staff introduces the participants to the professionalism that is involved in an artist's career, and provides a site where the many talents of students and teachers alike can be presented to the community at large.
The exhibition runs from April 21 until May 28. 2016. The opening reception is on April 21 at 7:00 pm at the Kootenay Gallery of Art. Please come and show your support for these emerging artists in our community.