---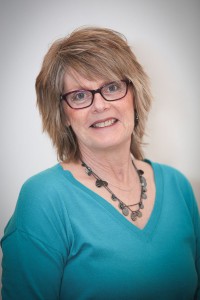 Beth Hickey is a multi-talented woman whose skills are invaluable to the Kootenay Gallery Board and staff.  Originally from Manitoba, she met and married her husband Doug in the Kootenays and has lived here ever since. Doug is a familiar figure in the community through working as a Principal in School District 20. Beth is likewise well-known, having been the community Notary Public for many years. She now is a consultant on business and financial matters.
How did you get involved in the Kootenay Gallery Board?
I worked with many sports and cultural organizations that my son and daughter belonged to when they were children. After they left home, I took a break. Around the time that I wanted to get back to community service, Audrey (Board Chair, Audrey Maxwell Polovnikoff) called and invited me to join the board.
Why are you part of the Kootenay Gallery Board?
I have a love of art. I'm interested in writing and art as a hobby. I also have business experience which is useful. I think of myself as a creative person, not so much in art but in the way I approach my work. I like to challenge myself to make it interesting. By being on the board, I've gained some great friends. I've also shared in the excitement of the growth of the gallery in the community. I feel satisfaction to offer service to the community. The Gallery Board is a good fit for me and for the skills that I offer.
You are the Board Treasurer and have done a fabulous job of keeping the Gallery in a healthy financial state. What are the biggest challenges to the position?
One of our sources of funding is government grants. As grants become less consistent, additional sources of creative input are required. We have developed a focus on increasing Earned Revenue as we go forward in our period of potential change that may require a new funding vision. We have big dreams but we need to be fiscally responsible as we realize them.
What are Earned Revenues?
There are six categories of Earned Revenues – the Gift Shop, Memberships, Sponsorships, Donations, Fundraising and Workshops. We need to meet the challenge of identifying ways of creative means of increasing earned revenue without taxing the staff and board who are busy. There's been an increased interest from the community in programs and exhibitions.
If and when we do relocate the Gallery, there will be even more demand on staff on the operations side of things. The Gallery hopes to realize growth in Gift Shop revenues and the number of donations through a rise in visitors but it is hard to forecast. We are looking for ways to increase all the channels of Earned Revenues. The obvious option is fundraising but we need to utilze all options of Earned Revenue.
We would like to challenge our members and the public to be cognizant of supporting us as we strive to meet the needs that have be identified by the community.
Thank you, Beth.
Gallery Lounge – Beth Hickey