---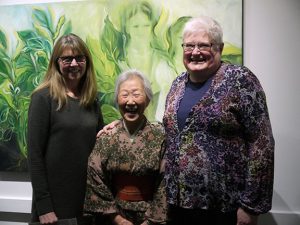 Curator/Assistant Maggie Shirley (right) with ED Val Field and artist Tsuneko Kokubo
The Gallery Lounge
Maggie Shirley joined the Kootenay Gallery in 2015 after moving to Castlegar. Maggie had lived in the Kootenays, in and around Nelson throughout the 90's. In 2001, Maggie spread her wings and moved to Ireland for seven years where she studied art. In 2008, she returned to Canada and lived in Banff and Kelowna before returning to the Kootenays.
How did you get involved with the Kootenay Gallery?
I'd been to the Gallery off and on over the years but when I moved to Castlegar, I was looking for work and also to get involved with the community. I joined the board and a few months  after that, when (former assistant) Joelle Beaulieu had to leave, I applied for the job of Gallery Assistant and luckily, I was hired.
What do you enjoy about your job?
Just about everything! My job now includes curatorial duties which is both a challenge and a delight. I love working with Val. She's the cat's pajamas. And the Board is so great – it works together well and we all respect each other. We have great discussions and we're moving ahead on projects but in a wise and responsible manner. I also enjoy that I get to do curatorial projects that fuel the artist in me, like 150+ Creative Acts.
The 150+ project is happening at the moment. How does this relate to curating?
I have several passions in my curatorial and artistic practice. One of the is community-engaged or socially-engaged work which means that I like to establish projects where the public are actively involved in making things. For a long time, I think some people have felt excluded from art and art galleries. I believe they should be open and welcoming to as many people as possible, places and activities where we can experience fine quality art by professionals and also celebrate art and creativity of everyone. Art has a greater impact on people if they can respond to it or engage with it, rather than being a passive viewer only. This goes against the traditional notion of a gallery. Art galleries can have  important roles to play in a community as spaces where relevant issues are examined and new ideas are developed. At the same time,  we can move art outside the gallery walls to public spaces and digital spaces – like we have with Sculpture Walk and in other experiential ways, like I'm attempting with 150+ Creative Acts
So why 150+ Creative Acts?
Well, celebrating 150 years of Canada is a socially-charged event, particularly given our history with our First Nations communities. I think we as a nation have a lot to celebrate but we also have a lot to account for. I wanted to address the future of Canada. How are we going to move forward as a nation with issues including climate change, including economic and labour force change? There seems to be growing intolerance and racism. We need to come together, to work on reconciliation and cooperation.  One thing that can help us find solutions is developing our creativity. It is an attitude as much as an activity. It's about celebrating uniqueness in our thinking and expression. I have no illusions that this project will bring about world peace, or anything. But I know for myself how expressing my creativity has changed my own life and I hope others can experience that as well.
Thank you, Maggie. If you would like to check out the project web site, click the link below.
Kootenay Gallery Lounge – Maggie Shirley