---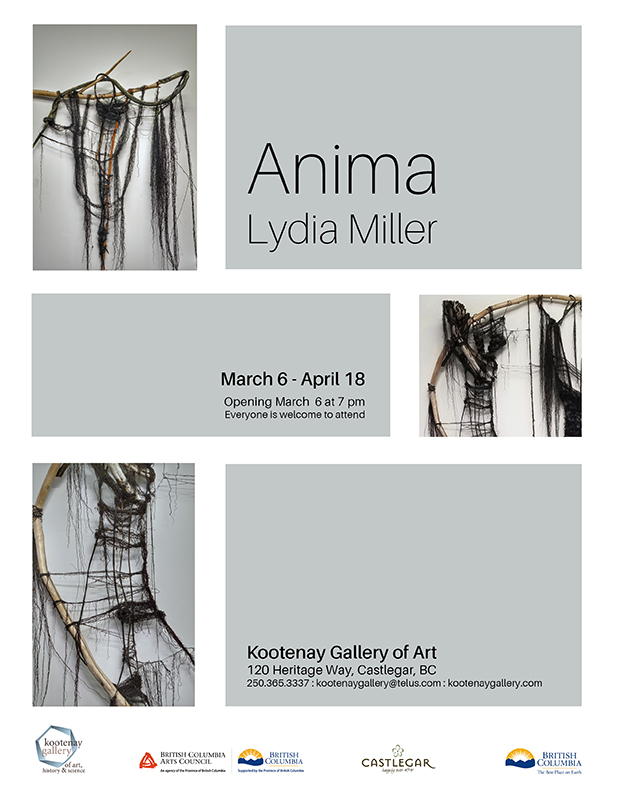 Anima
Lydia Miller
March 6 to April 18
Artist Statement
In order to impel change, it is important to stay connected to our individual selves, to the environment that allows us to live, and to those who support us through our true vocations. My autonomy has been given existence through weaving: a process that functions as a metaphor for life and its survival. This series of sculpture acts as a transcript.

In 'Anima', relationships are woven between the Ocean and the Mountains. Life is reflected through the remains of the animals and plants who once contributed to their environment. Every facet of our Earth has a soul, countless years of energy, which has amalgamated into physical beings.
Now the Earth is suffering because of a desire to accumulate, to feed an ego, to serve a culture that is all consuming with no return. Even after death, humans feel the need to take up space for fear of being forgotten.
This god complex has fractured the connection between the natural world and our place in it. The infectious and fictional ideas that we are greater than the stars we come from and the soil we will inevitably lie beneath, presume our 'intelligence' surpasses the worth of any other form of life on this shared planet.

The cycle of life is inescapable, once each organism has served and fulfilled its space on Earth, it must return to the dirt to make room for new blooms. May 'Anima' help to ignite the importance of our cohesive ecosystems and remind us that there are superlative forces to us, forces we must once again respect if we so choose to survive.