---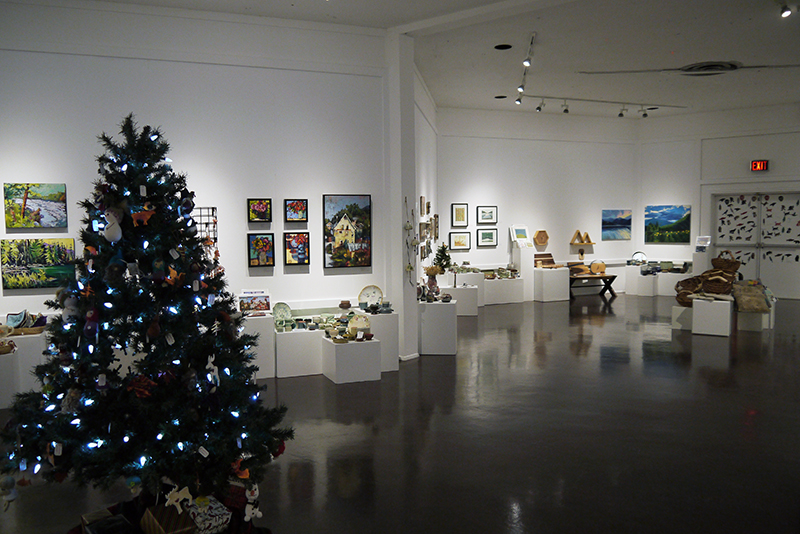 The Kootenay Gallery of Art is offering Christmas at the Gallery, the annual exhibition and sale of creations by local artisans that runs from November 13 until December 24. . To celebrate this seasonal event, the gallery is hosting an opening celebration, beginning at 4 pm on November 12 and ending at 8 pm. Join the Gallery Board and staff and find gorgeous gift items, holiday treats and more.
The Selkirk Weavers and Spinners Guild will also be hosting their annual Fall Show at their studio in the Doukhobor Discovery Centre at the same time. Check out both events.
This year, the Gallery will also be organizing a Christmas surprise in the windows at 310 Columbia Avenue, the future home of the Kootenay Gallery. Keep watching that space for something special.
Why choose to shop at the Kootenay Gallery this holiday? Not only does it feature a wide variety of potential gifts, but they are almost all made here in the Kootenays by local artisans. All of the goods are here, not waiting on a container ship. You can come by the gallery anytime without paying an admission fee to get in (although donations are gratefully accepted).
The Kootenay Gallery is located at 120 Heritage Way, across the highway from the airport, between the Doukhobor Discovery Centre and the West Kootenay BC SPCA. From November 13, the gallery is open Tuesday to Saturday, 10 am – 5 pm. In December, the gallery is open seven days a week from 10 am to 5 pm, until December 23. Christmas Eve hours are 10 am – 2 pm.
Wherever you shop and however you celebrate, the gallery wishes everyone a healthy and happy holiday.
Shop Locally This Holiday Season