---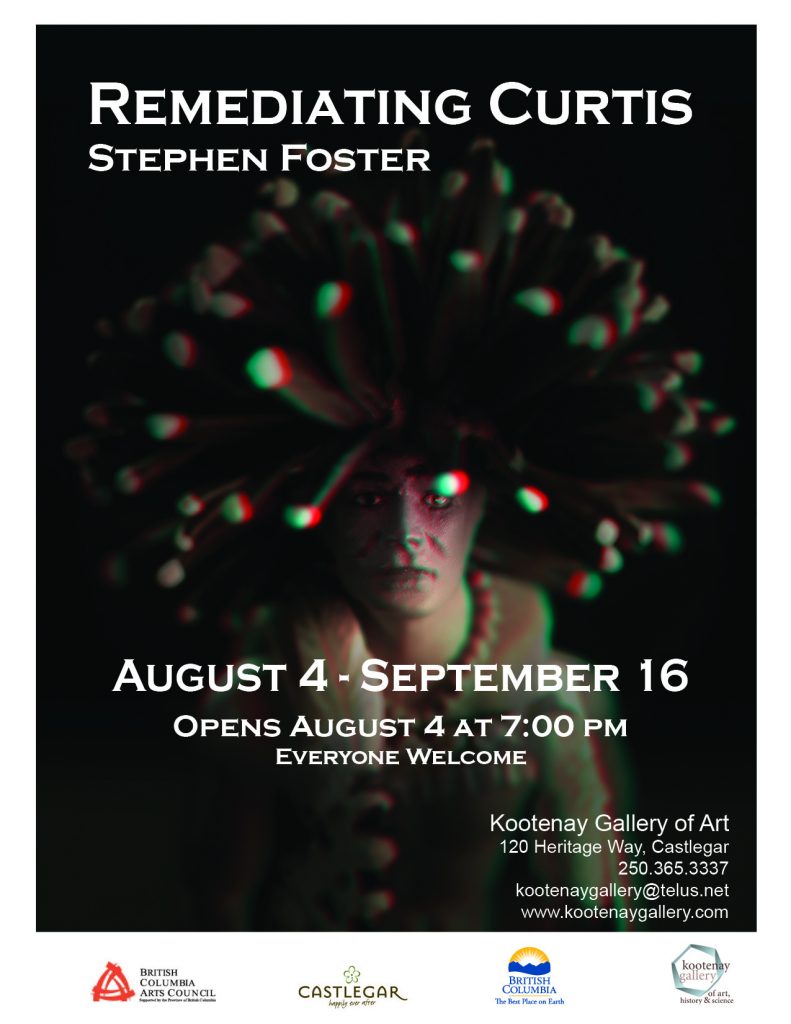 Remediating Curtis
Stephen Foster
August 4 – September 16, 2017
Artist Statement – Stephen Foster
The exhibition consisted of two parts in the larger series Remediating Curtis.

Remediating Curtis: Toy Portraits
Toy Portraits is a photo series documenting toy Indian figurines in the pictorialist style of Curtis' portraits. Edward Sherriff Curtis is most famous for his photographic portraiture in his major work the Encyclopedia of the North American Indian. The portraits themselves are immediately recognizable and are apart of mainstream popular culture. While these images are considered important documents and even primary sources in the tradition of ethnography they have also become sources for popular images of 'Indianess' in movies, cartoons and toys. In my series of Toy Portraits, I have reproduced select portraits from Curtis as well as some of his more famous images. The resulting photographs are large-scale backlit inkjet prints for light boxes and presented using stereoscopic techniques. The project is specifically meant to connect the portrait photography of Curtis with the current representations of indigeneity in tourist shops and children's toys as well as contemporary films like Avatar. The anaglyph stereoscopic effect on the image not only references the current film industry obsession with a more immersive experience as in films like Avatar but, also reference a nostalgia for 50's cinematic pop-culture, in particular films like Rock Hudson's Taza, Son of Chochise (a 3D western from the late 50's).
Remediating Curtis: Remix
Using interactive installation techniques, the multi-channel and multi-screen video installation remixes the original film by Curtis with some of the more heavily influenced Hollywood films. A complex multi-channel soundscape interacts with the video footage in the installation creating a unique ambient sonic environment. The audience controls the sound and video elements through interactive motion sensors allowing the audience to change the video and audio elements creating their own remix of the original Curtis' film. The central image in the video installation is a computer-generated reconstruction of the original set for the Curtis' Film. The central image is presented as a motion stereographic animation that can be viewed with anaglyph glasses. The two side screens present audio and video collage elements.
In the Land of the Head Hunters (later titled In the Land of the War Canoes) is an early ethnographic film by Edward S. Curtis. The film was produced on Deer Island near Port Hardy on Vancouver Island. While In the Land of the Head Hunters (1914) has been referenced and discussed in both Anthropology and Contemporary Art discourses, little work has been done focusing on the temporary village constructed on Deer Island (part of the traditional territory of the Fort Rupert Indian Band) as a set for the film. In the Royal British Columbia Museum, there is a significant presentation of Curtis' work in relation to Northwest Coast Culture as part of the First Peoples Gallery. The Gallery presents segments of Curtis' film as well as large-scale versions of his portraiture. As a person of North West Coast heritage and an individual who grew up on Vancouver Island, I have always found the exhibit problematic as it does not acknowledge or reflect on Curtis' film and his images as being largely a romanticized and imaginary construction.  This work is an attempt to deconstruct Curtis' film and the imagined history it reports to represent as a pivot cultural expression at the foundation of modern popular culture and our socially constructed concept of indigeneity.
The video contains processed footage from Curtis' film and the preliminary 3D recreation of the Curtis set. The video sequences show remixes of the Curtis film with various Hollywood westerns including the most recent version of the Lone Ranger starring Johnny Depp.
To accompany this exhibition, Nisgia;a poet Jordan Abel gave a reading at the Gallery on August 24.
About the Artist:
Stephen Foster is a video and electronic media artist of mixed Haida and European background. His work tends to deal with issues of indigenous representation in popular culture through personal narrative. He has exhibited in solo as well as group exhibitions both internationally and nationally as well as participating in various festivals with video installations and single channel works. In 2007 Stephen received his first opportunity to present a retrospective screening of his video work at the Dawson City International Short Film Festival. In addition to his exhibition record, Stephen is a published author, presented lectures and has participated on panels for new media, video art and contemporary indigenous art at national and international venues. He has taken part in residencies at the Banff Centre For The Arts, Klondike Institute of Art and Culture, Oboro in Montreal and more recently at La Chambre Blanche in Quebec City.
Stephen holds two college diplomas, as well as a BFA and a MFA. For his Masters of Fine Arts degree at York University he received the Master's Thesis Prize, one of three given University wide, for his thesis exhibition and support paper entitled 'Behind a Sheet of Glass'. More recently, Stephen was awarded a large Research/Creation Grant from the Social Sciences and Humanities Research Council of Canada for exploring interactive and experimental approaches to documentary. In 2009 he was nominated Best New Media Project at the ImagineNative Film and Media Arts Festival for his interactive DVD video project titled The Prince George Métis Elders' Documentary Project.
Stephen is currently an Associate Professor in the Creative Studies Dept. and is the Director of the Summer Institute for Interdisciplinary Indigenous Graduate Studies at the University of British Columbia – Okanagan. He is also the coordinator of the CanWest Global Centre for Artists' Video and instructs courses dedicated to video production, digital media and visual and cultural theory.