---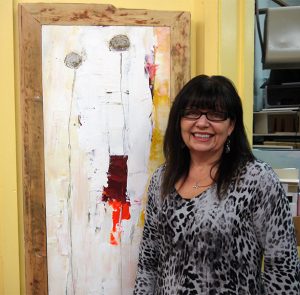 We are excited to introduce a new conversation series called 'The Gallery Lounge' which will feature stories and interviews with our Board Directors, staff and volunteers. We are so lucky to have a group of visionary and committed people helping us govern and lead the work of the Gallery. This month we are showcasing our Board Chair, Audrey Maxwell Polovnikoff, so you can get to know her better and understand the work she is involved with at the Gallery.
Audrey Maxwell Polovnikoff
Audrey is a performance artist and dancer at heart who cares deeply about arts, culture and community development. She was born in Dublin, Ireland and grew up in Vancouver and fell in love with dance after hearing her best friend talk all about it. Her parents asked her to choose between piano and dance, and she chose dance and never looked back. After moving to Castlegar and spending many years teaching for the Recreation Complex, Audrey eventually opened her own dance studio on a part time basis while working full time.
Audrey has been involved in leading and supporting multiple community arts and cultural initiatives. She has been on the Kootenay Gallery Board for the past 7 years and Board Chair for 5 years. She loves being a part of the Gallery, and working with an amazing staff, board and volunteers who are not afraid to roll up their sleeves and get to work for the benefit of the arts.
Interview:
What's the most enjoyable part of being the Chair of the Board?
For me, it's getting to know the people on the Board. And of course being involved with an amazing staff and volunteers  that celebrates and promotes art and artisans.
What's been your biggest initiative as Chairperson?
I would say the Relocation Project is definitely the biggest initiative I have been involved with to date. Ensuring the Gallery is more visible and accessible to people in Castlegar and the whole region has been on our radar for a long time. So a few years ago, during a Strategic Planning Session, we decided it was time to move on this.
What's been done so far?
Well, we formed a strong Relocation Committee, which includes myself, Beth Hickey, our Treasurer, Val Field, our Executive Director, Rachel Schmidt, one of our Board Members, Maggie Shirley, our Curator/Gallery Assistant and Geoff Yule. Christy Anderson was also a key player on the committee initially but is now in an advisory role.
The Committee so far has put a strategic plan together to move forward – which included a strong community engagement component. Data gathered from surveys and a Round Table showed support and interest in a relocation initiative. So we got support from the City of Castlegar, the Columbia Basin Trust and RDCK Areas I and J to hire a consultant to do a Feasibility Study. This was our first real step in a five year plan.
What did the Feasibility Study show?
The preliminary findings show that this is going to be a long-term, labour intensive project which we expected. This is not something that's going to happen in a matter of months or even next year. It's going to take planning, consultations, fundraising and more. Our next priority is to secure funding for a Project Manager who can help our staff and Board chart the course for a possible relocation.
What else will the Project Manager do?
They will be responsible for ensuring our strategic plan is on track with realistic timelines, evaluating location possibilities, identifying possible foundations and grant opportunities, and developing a fundraising plan. The Project Manager will also assist the Relocation Committee with Communications so that we keep our members and the community informed and engaged in this exciting project. We really need everyone to help make this happen.
Who can people contact if they have questions?
Anyone can contact Val Field, our Executive Director at 250 365 3337 if they have any questions or feedback about the Gallery Relocation Project. There is also great video we watched as a Committee, which tells a story about a gallery relocation project in England, and really explains the process we are involved in.
Anything else you'd like to add?
I would just like to thank the staff and volunteers that work so hard and give their valuable time to the art gallery.  Also, to remind everyone to come and shop for Christmas at the Gallery, which supports over 100 local artists and craftspeople.
Thank you, Audrey
Here's a link to the video that Audrey refers to above.
Stay tuned for 'The Gallery Lounge' next month where you will meet our Executive Director, Val Field.
The Gallery Lounge – Audrey Maxwell Polovnikoff