---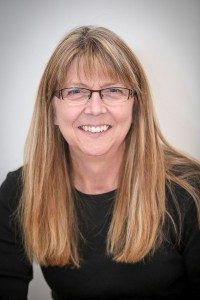 Val Field, Executive Director of the Kootenay Gallery
Valentine Field is the Executive Director of the Kootenay Gallery. Many people in Castlegar will recognize her warm smile from the Gallery or one of her many other roles in the community – volunteering at the Food Bank, helping to organize the Kootenay Festival or maintaining the sculptures for Sculpturewalk. She also is the new President of the Castlegar Arts Council. Val tends to avoid the spot light, letting artists and others shine.  She truly leads by example with her hard work, wisdom and graciousness.
How did you become the Executive Director at the Kootenay Gallery?
I grew up in the Okanagan in an artistic family. My mother, Percival Ritchie, had quite a successful career as a painter.  I volunteered at the Penticton Art Gallery for years. When I arrived in Castlegar, I decided to volunteer here and did so for about nine years. In 2005, I was asked to become the Executive Director and have continued since then.
What's your favourite part of the job?
I'd have to say it's the people that I meet – the artists and the public. Everybody.
What are you working on at the moment?
Well, we're quite busy at the moment. The opening of the Exhibition Season starts in March so we're preparing for that. It's also grant writing season both for operating funds and for special projects. Our major fundraisers are coming up – Soup for the Cultured Soul in February and another Pour Your Art Out in March. Kids' Camp is coming up during March break so we're planning for that. It's also the annual inventory so I'm working with volunteers every day this week to find and count all the items in our Gift Shop and in storage. All this work makes me more aware of how much we need to move and how easier it would be to organize in a place with proper storage and work space.
Speaking of which, there was a stakeholder engagement session for the Relocation project here recently. How did that go?
Really well. All sectors of the community were represented. There was a great response to our invitation. There was very good feedback to move forward with the project and all sorts of ideas for what that can look like. The Relocation Committee is going to take a look at all the information and put it together for the Project Manager.
Audrey talked about the Project Manager in the December Newsletter. What will they do?
We're hoping to find funding to support a Project Manager for the next three years. They will be working with the Relocation Committee to create a Business Plan to determine the best location, potential partnerships, funding sources and so on. This is a huge project and requires somebody with expertise beyond what our current staff has, and also requires someone to dedicate themselves to the project. Both Maggie (Curator/Assistant) and I are already stretched to our full capacity. At first when we began to look at it, I think we all thought two or three years. That was about three years ago! I now understand that this is going to be a long-term project that will take years to complete.  It's a step-by-step job of building a vision and relationships and momentum as well as building or renovating a structure.
Anything else you'd like to add?
I'm really looking forward to the planned exhibitions this year. We have an exciting line up. I'm also looking forward to keeping the enthusiasm and momentum for relocation that was created at the Engagement Session going. If anyone has any questions about the Gallery or relocation, please feel free to call me at 250 365 3337 or email me at kootenaygallery@telus.net
Gallery Lounge – Valentine Field