---
The Gallery Lounge
This month featuring Vice Chair Denise Chernoff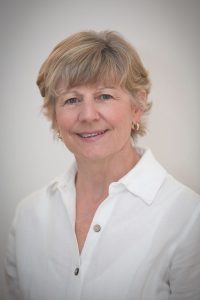 The Kootenay Gallery is fortunate to have Denise Chernoff as our Board Vice Chair. Denise is a true "people person" and full of energy. Born in the Lower Mainland, raised in the Okanagan, Denise and her husband Ed have lived most of their adult lives here in Castlegar. Both she and Ed are creative people, in different ways. Ed is known locally for his photography (including the photo of Denise above). He designed and built their home in Ootishenia. Denise is a dancer, musician and crafter. As Denise says, all arts cross over and support each other. Denise has been a Board Member for approximately 5 years.
What do you like about being on the Kootenay Gallery Board of Directors?
I like the interaction with people; the people on the Board and also the people in the community who come to the Gallery. I like to be involved with something important to the community. The Gallery is an arts organization that has a big impact on the community.
Are you involved with other boards in the community?
Right now, I'm on the Sculpture Walk Board and on the board of the Kootenay Old Time Fiddlers. I've been quite involved with running the Fiddle Camps each summer.
You are Vice Chair and are also part of the Membership Committee. Is the Gallery looking for new members?
Yes, we are. The neat thing about being a member is that people don't realize how much the Gallery depends on it's membership. We have to demonstrate to our funders that we have community support and appreciation. Also, artists depend on the Gallery. We can support the artists by purchasing art and of course, this also supports the Gallery. Many people have never been to the Gallery and they get so excited when they do come. They feel a sense of community. And when they take that next step and become a member, they find they are now even more a part of the community. They are part of a club. They can give feedback and support.  We all want to belong. People want well-rounded experiences for their kids – swimming, hockey and art. We provide an important part of that. Everyone can appreciate fine art and beauty but not everyone can create it. So we can experience it through the Gallery. I think when people see new things they get inspired. Inspiration comes in many forms.
Is it difficult to recruit new members?
It can be challenging to spread the word as to what people can gain by becoming members. So we hope our current members will encourage their friends and co-workers to join. We hope that people who receive the newsletter who haven't signed up yet will do so. But, honestly,  we are gaining new members every month as more people come on board.
What would you say to current members?
As a Board Member, I have to say how much we appreciate our current members. We are grateful for your support and feedback. As an organization, we hope to return your good will, to earn your support. We do that by providing art shows and programs but also we try to make our fundraising fun and offer social events, like Pour Your Art Out! and Soup for the Cultured Soul, the New York lotto, and so on. We hope to continue this. Not everyone has time or energy to volunteer for the Gallery but they can support us by getting a membership. Memberships mean a lot.
What does the money go toward?
Memberships (and fundraising) are important because we can get grants from the government for specific projects, like putting on exhibitions. With money from the community, we have flexibility. It can go to operations, or to the relocation project or be put towards a project that we can't get funded through grants. So that means that our members and the collective community are our partners in creating a successful Gallery.
Gallery Lounge – Denise Chernoff