---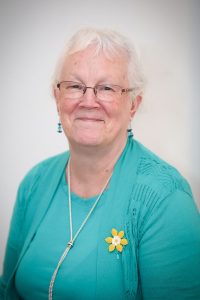 The Kootenay Gallery has been fortunate to have Marian Craft give her time and energy for over 17 years as a volunteer, Board Member and bookkeeper.  Marian and her husband Ed semi-retired here in Castlegar twenty-four years ago, after years of moving throughout BC. At a time in her life when most people fully retire, Marian followed her calling and became ordained as an Anglican Priest in 2017.
How did you get involved with the Gallery?
All throughout my life, I've connected through art. I took painting classes, I went to exhibitions and so on. In around 2000, Derek Lepsoe at the church asked me if I'd help at the Gallery. It had just re-opened after it's closure and they needed help with setting up the Gift Shop. Sandy Korman and I worked hard. We even took a trip to the East Shore to find artisans. Shortly after I volunteered, I became a Board Member and aside from a couple of years as Bookkeeper, I've been on the Board ever since.
What do you like best about being on the Board?
I like the camaraderie and I like how it gets things done. I love seeing how it has grown. When I started, we were on a shoe string budget, with a strict business plan. I've enjoyed watching it grow. The Gift Shop has always fascinated me and my husband Ed. I love to see the variety of work done – pottery, art,  jewelry. There's so much talent in the area.
What are you looking forward to?
The move to something bigger and more visible. Continued growth and more involvement in the community. I look forward to coming to the openings, especially to the kids' one. When I think about the struggle we started with to now, it's just WOW!
Thank you Marian, for you dedication. Your long-term experience is invaluable.
Gallery Lounge – Marian Craft