---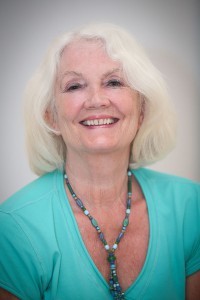 This month, we are featuring a long-time Board Member and a woman who is familiar to many in our community. Judy Wearmouth has been a part of the Kootenay Gallery Board since 2003. Born in England, Judy moved to Canada with her husband and three children. Judy worked for the Castlegar 29 years, presiding as Head Librarian for twenty-five of those years.
How did you get involved with the Kootenay Gallery of Art?
Well, I have always been very interested in all the arts. When I was retiring from the Library in 2003, Sandy Korman, who was the Executive Director at the time, made a personal request. I've taken a couple of breaks to have hip operations and for a while, I was on the Board as a Member-at-Large but now I'm back on the Board as a full Board Member.
That's fortunate for us. What do you enjoy about being on the board?
It's very stimulating and fun. I like the camaraderie of the board. I also enjoy feeling as if we are doing something for the community.
You are on the Fundraising Committee. Why did you volunteer for that one?
I'm not afraid to ask for money and I've initiated quite a few events. The Gallery gets the majority of their funds from grants but they are quite specific as to what the money can be used for. They have to be used for specific operating costs or specific projects. The Gift Shop is wonderful but it doesn't make enough money to fully support our needs. Through our fundraising, we can have more flexibility to arrange art exhibitions beyond those ones that are funded or to do special programming or to do miscellaneous things, like planning the relocation.
What fundraising activities have you been working on recently?
I'm on the committee that is organizing the Monday Night at the Movies. We showed Maudie in September which was well attended. We're hoping for a good turn out for all of them, including Their Finest.
We had organized the Great Dinner Lottery but unfortunately we had to post-pone that event. I went to a similar event organized by Selkirk College and it was a lot of fun so I'm looking forward to putting that on later.
Are there any events coming up?
We are talking about doing another Lottery similar to the one we ran two years ago. And there is Soup for the Soul coming up in February.
Thank you Judy, for both the interview and for being so effective on our Fundraising Committee. We appreciate the dedication and spirit that you bring to the board.
Gallery Lounge with Judy Wearmouth