---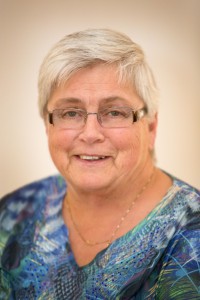 This month we interview Board Secretary Linda Miller
Linda Miller has been an integral part of the Kootenay Gallery Board since joining in 2014. Linda took on the task of being the Secretary for which we are grateful.
Linda, her husband Rick and two daughters moved to the area in 1993. She has spent 42 years nursing and continues to work in semi-retirement.
How did you get involved with the Kootenay Gallery?
I've come in to the Gallery off and on over the years. I paint, I draw. I've always enjoyed and appreciated art in all forms all my life. It's the most amazing thing to see how people create. I appreciate the creativity and thought processes that go into it. I'm semi-retired now so I thought I could contribute my skills to the Gallery Board.
What do you enjoy about being on the board?
I enjoy working together with a group of people with a common goal. I like seeing the progression of projects we're working on. I want to see the completion of the relocation project, not having a clue in the beginning how it would come about. Since sitting on the board I've gained an appreciation of all the connections and networks within the community. We're such a diverse group with a variety of backgrounds but we all have the same commitment to our goals.
What strengths do you bring to the board?
I'm a hard worker – I don't mind work. Give me a task and I'll do it. I'm also practical minded. I'm the one who asks "Why would you want to do that?"
Those are great skills, Linda. We've definitely benefited from them. What excites you about the relocation project?
I think it will raise our profile so people can see all the possibilities the gallery has to offer. It will be a better place for local artisans to be promoted. It will be a central point in the community to showcase the huge talent pool that we have in the area. I see it as a comfortable place to exhibit art – I'm hoping anyone in the community can come, feel welcome and see what's going on. We'll also be able to offer more programs – we'll have the space and a better location.
Thanks, Linda. We appreciate all that you bring to the board.
Gallery Lounge with Linda Miller