---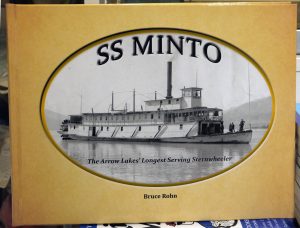 The Gift Shop has three new book titles this month. Bruce Rohn has spent several years researching and writing a book about the SS Minto, which was the longest serving sternwheeler on the Arrow Lakes. Rohn's research for this project brought him to the Kootenay Gallery on several occassions. The Gallery still houses a collection of archive photos of the area. We are thrilled to have been a small part of this much bigger project, published by the Arrow Lakes Historical Society. The Gift Shop also received copies of two books of poetry authored by Ernest Hekkanen. Both False Memories and I'm Not You are available for sale here at the Gallery, along with several other of Hekkanen's publications.
Fabric artist Sarah Elizabeth came by to refill her stock. She brought beautiful hand-painted scarves in two sizes, felted soaps to clean and scrub at the same time, and packages of dryer balls, a natural (and beautiful) way to soften clothes.
While June Mills no longer lives in the Kootenays, she still sends us packages filled with her carefully-crafted fabric dolls, doll clothes, puppets and masks. It's like an early Christmas present to receive her packages.
Speaking of Christmas, Val and Maggie are already preparing for Christmas at the Gallery. If you are a vendor here at the Gallery who wants to bring in extra stock, we will be in contact shortly. If you are an artisan who you would like to be a vendor here for Christmas, please get in touch with us. We will need to receive your stock by the end of October.
With tourist season winding down, the Gift Shop slows down as well. This means it is a great time to browse to your heart's content and have lots of attention (if you want it) from the staff or volunteers behind the counter. See you soon.
What's New in the Gallery – September 2018