---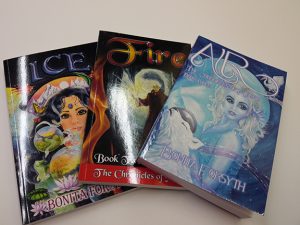 There hasn't been too much stock coming in, as many artists and crafters are preparing for the holiday shopping season. One new item that has come in is a new book from Bonita Forsyth. Forsyth has written books for both younger children and tweens. She has just released the third in a trilogy of fantasy novels in the series called The Chronicles of Mineria. This third title, Air, complements Fire and Ice. The whole series is available here at the Gallery, along with her other titles aimed at younger readers..
Ted Crosfield brought in a few wood-turned bowls and dishes. As always, he has used a selection of woods including sumac, which has a beautiful glow and a yellow cedar burl. Each piece is unique.
Terry Weiss of Doodle Bug Chocolate makes regular trips to the Gallery to bring us more of her treats. At the moment, we have Peppermint Truffles, Crunchy Peanut Butter Bites, Salted Caramel  (our favourite) and for those who like choice, the Variety Pack. By the way, we also serve Doodle Bug Chocolates as part of Pour Your Art out so there is even more reason to come to our November 22 event.
Activity in the Gift Shop ebbs and flows between seasons. While things have slowed down somewhat following Labour Day, we are still seeing quite a number of tourists, visitors and Castlegar residents.  Thank you for your patronage. You are supporting your local gallery and local artisans when you make your purchases here.
What's New in the Gallery – October 2018