---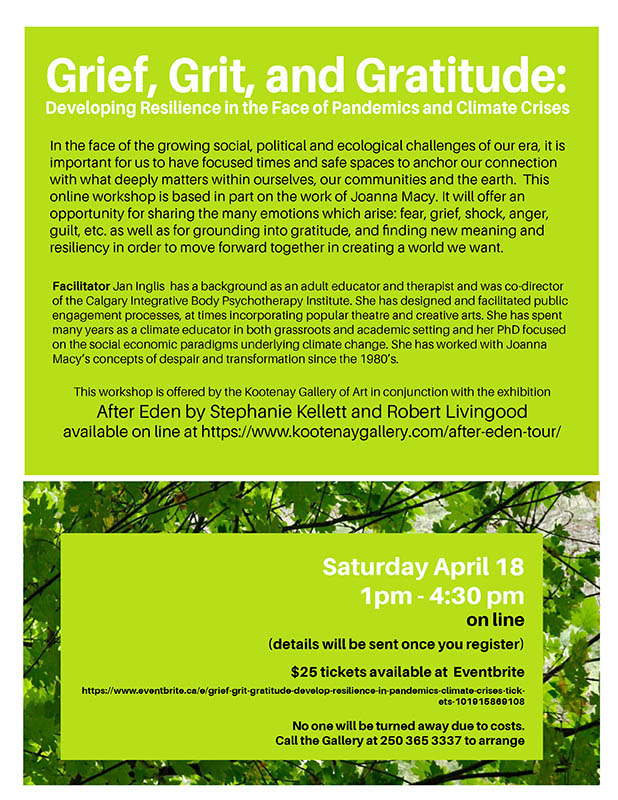 Grief, Grit and Gratitude: Developing Resilience in the Face of Pandemics and Climate Crises
Postponed
Workshop is postponed – please contact the Gallery to be put on a contact list for a future date.
Contact kootenaygallery@telus.net
In the face of the growing social, political and ecological challenges of our era, it is important for us to have focused times and safe spaces to anchor our connection with what deeply matters within ourselves, our communities and the earth. This online workshop is based in part on the work of Joanna Macy. It will offer an opportunity for sharing the many emotions which arise: fear, grief, shock, anger, guilt, etc. as well as for grounding into gratitude, and finding new meaning and resiliency in order to move forward together in creating a world we want.
About the facilitator…
Jan Inglis has a background as an adult educator and therapist and was co-director of the Calgary Integrative Body Psychotherapy Institute. She has designed and facilitated public engagement processes, at times incorporating popular theatre and creative arts. She has spent many years as a climate educator in both grassroots and academic setting and her PhD focused on the social economic paradigms underlying climate change. She has worked with Joanna Macy's concepts of despair and transformation since the 1980's.
View the exhibition After Eden by Stephanie Kellett and Robert E. Livingood
Grief, Grit and Gratitude – Postponed