---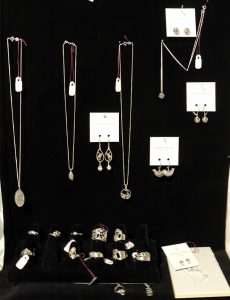 The Gift Shop received a new shipment of jewelry from Jocelyne Veilleux. Jocelyne's silver, gold and pearl earrings, pendants and rings are always popular so check them out  while they last. Veilleux is based in Quebec but did her training in Nelson and has family here in the local region.
Photographer Douglas Noblet gathers a collection of Kootenay mountain landscapes and wildlife and publishes a calendar every year. The 2019 Calendar is here and is as stunning as previous years. It's a great (packable) gift to take with you on your travels. Noblet also dropped off some beautiful cards as well.
Darcy O'Hearn is a local children's author who works with illustrator Adam Young and photographer Lee Rentz. O'Hearn is working on a series of books called Legends of the Forest. Previously, she has written about Cedric the Cedar and Leonard the Larch. Now, Friesen Press has released Wendy the Whitebark Pine. The book includes a story, fun facts and activities for kids to do. The Gift Shop carries all three titles and there are more to come from O'Hearn and company.
Speaking of things for children, our favourite knitter and crotcheter, Kathleen Terry has dropped off a new collection of toys, including a Princess Lea doll for Star Wars fans. Terry's work is high quality while remaining very fairly priced.  Kids love them and adults do too.
For us at the Gallery, it's a real source of pride to have so many local artists and artisans selling works in the Gift Shop. We get so many appreciative comments from visitors from the rest of BC, Canada, the US and beyond. Come see for yourselves what the tourists and travelers rave about.
What's New in the Gift Shop – August '18