---
Our 'new' item in the Gift Shop is actually an older item that has been re-issued. Thirty years ago, a group of Castlegar and area women got together and called themselves The Hen Party. They collectively wrote and published Cooking without Mom, a survival cookbook for young adults who are on their own for the first time. The collective got together again, updated the book and re-published it with new tips and new recipes. It makes a great grad gift or present for those off to college. The publisher of the cookbook,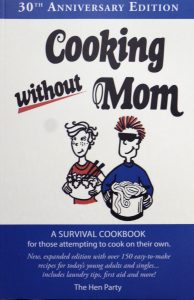 Sandhill Publishers also recommended that we carry the young children's book British Columbia Lullaby. It is a collaboration between author PL McCarron, illustrator Joy Steurwald and musician Keith Andrews. It features words and images inspired by various spots around the province.
Rita Wege is a local artist we discovered this past year. Rita has developed an interesting abstract style. We featured her in Christmas at the Gallery  and have carried her work in the Gift Shop since then. Rita just brought us a few new paintings. Come and check them out.
Some of our most popular pottery is from Heath Carra and Victoria Henriksen under the name "Shprixie Land Studios". The pair have recently restocked their collection of playful and inspirational mugs and tumblers. The items have been selling rapidly so be sure to come in before they are gone again.
The Gift Shop is stocked with work by a number of local artists and craft-makers. By purchasing from us, you are supporting local artisans and you are also helping to keep the Gallery open and offering art exhibitions and programming to the community. It's a win all around.
What's New in the Gift Shop – July 2018